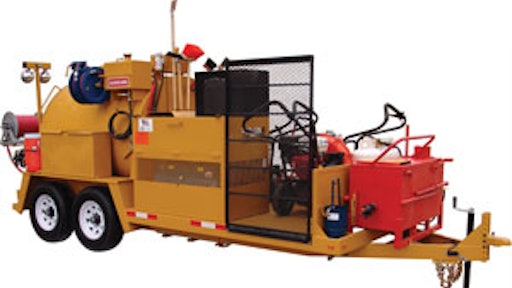 The economy is the "elephant" in the room. It dominates virtually every discussion from large boardrooms to small kitchens. All industries are experiencing fallout, yet if you're in the sealcoating business, you may be providing just the right service at the right time.
"From a property owner's perspective, sealcoating is protecting an important investment," says Seal-Rite CEO Brent Loutzenhiser. "With the housing market on hold in most parts of the country, homeowners are staying put and spending money on maintaining their homes. Sealcoating will protect their driveways and is much less expensive than an asphalt overlay. Similarly, property managers and owners of commercial establishments also understand the value of preventive maintenance on their parking lots."
"The work is there," he adds. "It's up to the sealcoating contractor to deliver a quality job as efficiently as possible. It's no secret that one of the most critical factors for being a success in this business is having the right equipment. Just as your service is an investment for your customers, your equipment is an investment in your business, and your sealcoating equipment will likely be the biggest investment you will make."
Loutzenhiser emphasizes that whether you are buying your first machine or upgrading to a larger unit, the decision should not be made in haste. "Do your homework," he says. "Determine the types of jobs you will be doing: primarily residential driveways, primarily commercial parking lots, or a little bit of both. If you're just starting out, will you be working part-time or full-time? How far are you from your material supplier? Being close and making fewer trips to get sealer will give you a definite advantage over a competitor who is two hours from his supplier."
Size counts
Seal-Rite manufactures a full-line of sealcoating equipment from a small, portable spray system with no tank to a self-contained spray system with tank, trailer, and extras such as an on-board gravity feed fuel tank, extra-large deck, room for a melter, lots of storage space, and lights for nighttime use.
"One mistake that buyers make is purchasing a tank that is too small," Loutzenhiser says. "No matter how big or small an operation is, you will need storage; and remember, most material suppliers are not open on weekends. Some will even offer a discount when contractors purchase a quantity of sealer in the 500-gallon range."
Steve Rapp, Equipment Division Manager for SealMaster agrees. "Some contractors would prefer to buy smaller equipment and then move up as they need more capacity. Instead, most should consider starting with nothing less than a 575-gallon tank. Downtime is tough in this market."
SealMaster manufactures a full line of sealcoating equipment, including self-propelled, trailer, and skid units, as well as economical portable spray systems. Self-propelled models SP 300 Dual and SP 575 Dual give operators the option to spray on sealer or use a squeegee.
Spray versus squeegee
Both manufacturers note that spraying has gained in popularity over the years, in large part because misconceptions about the process have been dispelled. "One misconception is that you apply more with a squeegee than you do with a sprayer," Loutzenhiser says. "In reality, the spray wand eliminates variables that one would encounter with a hand application, either using a brush or a squeegee. These variables include quantity of asphalt, proper mixing, and so forth. When spraying, the application is determined entirely by contractors: the mix design, the pressure at which they spray, the height of the spray wand, the speed at which they walk, and the spray tip they're using. It literally puts the control in their hands.
Adds Rapp, "Spraying is particularly beneficial when sealing rough areas where normally a squeegee would fill in voids, wasting material. Conversely, there are applications where a squeegee's ability to fill in voids can be useful."
Competitive market
Because maintaining pavement tends to do well in a down economy and getting into the business requires a relatively small investment, competition, from both full- and part-time contractors could be very keen this year. "All it takes is a blower to clean the pavement, a squeegee or brush to apply the material, and a source for product and you're in business," says Rapp. "Of course, this is an unrealistic scenario for the serious contractor, yet it demonstrates how important it is to be competitive, in terms of equipment being used and material being applied.
"Using a higher-grade material wears better and can provide a niche for contractors looking to provide something different for customers," he adds. "The selling point is that the additional cost is far outweighed by longevity."
Steve Dixon, vice president of Dixon Sealer & Supply, Scranton, PA, sells Nealco sealcoating equipment, SealMaster sealer, and Billy Goat blowers. When asked how he qualifies customers, Dixon, whose family has been in the sealcoating business for 40 years says, "If they're doing strictly driveways and plan to stay at that level, I'll likely steer them to our 300-gallon trailer or skid model. If they're anticipating sealcoating both driveways and parking lots, I'll suggest the 550-gallon unit, with hydraulic pumping for adding sand. Nealco also offers 760-, 990- 1500- and 2000-gallon tanks.
"Most of my contracting customers who are growing their businesses upgrade by buying an additional sealcoating machine, instead of trading an old one in. This gives them the ability to add an extra crew."
Choices
As Dixon explains, the pumping system on all Nealco models from the 550 on up are identical. Again, the biggest decision his contracting customers will likely make, he emphasizes, is buying the right size unit. Beyond that, they may add a spray bar or second spray wand.
Depending on the Seal-Rite machine, contractors can choose between hand-agitated and power-agitated tanks, Loutzenhiser says. "Hydraulic agitators are easy to use; just an adjustment of the lever to engage the agitation for three to five minutes and material is mixed. After a long day, it might be tempting for employees to slack off a bit when working with hand-agitated units. The only issue when using power-agitation is over-mixing. Doing so won't harm the mix, but it simply creates unnecessary wear on parts."
Rapp has seen many changes in sealcoating equipment since joining SealMaster in 1976. As he puts it, "All manufacturers have added 'bells and whistles,' but the important point for anyone in the business is purchasing a unit that is easy to service, with components that are replaceable, and bearings that are easily accessible."
Loutzenhiser adds that having brand name components and overall ease-of-use are two other important considerations. "Buying right, whether this is your first sealcoating machine or an upgrade, requires matching the machine to the application and finding the best one that fits within your budget. Among other big choices is selecting between a skid-mounted unit and a trailer system. The trailer is perfect for those contractors who seal part time and for those who do not want to invest in a separate vehicle for a sealcoating operation. A trailer can simply be unhooked at the end of the day freeing up your truck."
Still, the biggest decision they will have to make is tank size. The choice is less about gallons per se and more about taking the long view. Operators will never outgrow a large tank, and having excess capacity reduces road time and other down time - two negatives in any service business.
Match the equipment to the application and then allow for expansion and growth, they add. Doing so will help seal an investment in the business of sealing properties.
For more tips see the featured online article "How to Compete in Sealcoating ? Have the Right Equipment".
Companies in this article