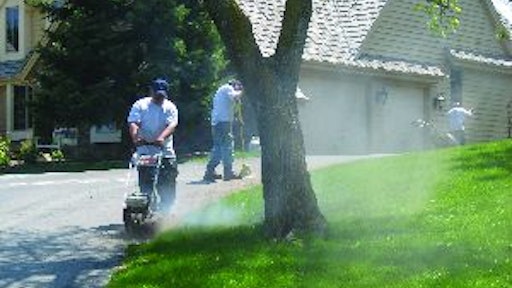 A good reputation is more valuable than money, Publilius Syrus once said. No matter what industry we work in, building a reputation - and a good one at that - is an essential part of what we do. For Jeff Schmitt and Kettle Moraine Asphalt Maintenance, building a good reputation has been a goal and a source of pride.
The beginning
Schmitt has been the owner of Kettle Moraine Asphalt Maintenance, North Prairie, WI, since he first started the company 25 years ago. Schmitt, whose father worked for an asphalt company, learned his trade early. As a child, he would sealcoat his 850-foot-long driveway every other year. Eventually, Schmitt started to sealcoat his neighbors' driveways, and when he graduated from high school he started his own company.
"I had the niche to do it, and there weren't a lot of people around doing it," Schmitt says of starting a sealcoating company. Plus, since he had grown up sealcoating he already had plenty of experience under his belt.
In the beginning it was just Schmitt, a pickup truck, and a 300-gallon sealcoating tank. Twenty-five years later, Kettle Moraine has a crew of five employees and a name for itself in the southern Wisconsin market.
Sealcoating has always been Schmitt's core business, comprising 75% of his work, he says. But Kettle Moraine offers other pavement maintenance services, too. "As far as the maintenance part, it all goes hand in hand - the patching (both regular and infrared), crack filling, and sealcoating," Schmitt says. He doesn't see patching and crack filling as an extension of his services but as a necessary part of what he does.
The majority of Kettle Moraine's business is in the residential market - 75% residential, 25% commercial - Schmitt says. And that hasn't changed much, even with the downturn in the economy.
But what is even more impressive is that most of Schmitt's customers have stuck with him for years. "I've been in business for 25 years and I've had some of the same clients for 25 years," he says.
Building a rep
Maintaining a good reputation is a driving goal for Schmitt. And he has seen the spoils of what a good reputation can offer a company. "The name pretty much sells itself," he says about his business now.
In order to keep its reputation intact, Kettle Moraine makes quality work and service a priority. To Schmitt, this means being to a job at the time he says he'll be there. The only excuses he sees for being late is an equipment malfunction or an emergency. And these things will happen a few times a year, he says.
Another aspect of offering quality work is knowing what he is talking about, Schmitt says. This comes with experience, and after 25 years Schmitt feels he has gotten the experience he needs to ensure customers of his knowledge. "There aren't too many things in the asphalt business I haven't seen. I know the easy way and I know the hard way," he says.
To Schmitt, knowing what he is talking about isn't just about knowing what has to be done; it's also knowing what doesn't have to be done. In fact, Schmitt isn't hesitant to tell potential customers that they don't need the service they are requesting if it isn't necessary.
For example, Schmitt says if a customer wants a driveway resealed every year, he will tell that customer if sealing that often is unnecessary. Schmitt says honesty is extremely important in creating good customer relationships, even if it might mean losing some extra revenue.
Educating customers about possible and/or common problems is another aspect Schmitt considers as part of offering quality work. He will explain to customers how a sealer will react in the environment and surface it is placed on. For example, if a customer has a shaded driveway that retains moisture, Schmitt will explain that it may need to be sealed more often than a driveway that gets a lot of sun.
And it isn't just sealcoating problems that Schmitt educates his customers about. Cracks are another common problem Schmitt addresses with his customers. In the freeze/thaw, snow-plowed environment Kettle Moraine's customers are in, cracking and damage to pavement is common. And Schmitt makes sure his customers know this. He also makes sure to explain why these things happen.
"I'll tell them straight out. 'This is what happened.' I tell them this is the reason why so they get an understanding of why this is happening," he says. "If a crack opens up it's going to open up every year," Schmitt tells customers. But that doesn't prevent Kettle Moraine from offering the best possible repair for the customer.
Making a memory
Schmitt doesn't just make sure his customers remember him. He makes sure he remembers his customers, too. With every job he bids on or goes to, Schmitt makes a conscious effort to remember all the details. He knows the client's name, location, service requested, and any issues such as sloping land, exposure to moisture, and cracking on the site.
If a customer calls with a question or a request for more service Schmitt has all the details stored in his memory and can discuss the concerns with the customer even without notes or being on site. "I try to keep conscious of a driveway so if they talk to me over the phone I know exactly what they are talking about. There are a lot of people that are amazed by it."
Growing while staying small
Growth is important for every business, but for Schmitt growth isn't necessarily about growing in size. "I don't want to get out of control," he says. "I still want to keep the smalltime business with the good quality rather than a big-time company with the quality going down."
So Schmitt is content keeping his company small with five employees. "The bigger you get the bigger the headaches," Schmitt reasons.
But Schmitt says Kettle Moraine is still growing. Instead of getting bigger in size and employees, it is adding service offerings in addition to its regular pavement maintenance services. "Whatever I find in the industry that there's a need for I try to get ahead, such as the decorative asphalt or small paving work," Schmitt says.
Decorative asphalt is something Kettle Moraine got involved with four years ago. Schmitt says he decided to add decorative asphalt to provide his customers with another service and an alternative to regular asphalt.
Kettle Moraine offers two types of "stamped" asphalt. One is a spray-on coating that you use with stencils to give a brick or stone look. This coating is sprayed on with a hopper gun and provides a decorative, non-skid surface on either asphalt or concrete.
Infrared also provides Schmitt with another decorative asphalt option. This product, known as "Streetprint," uses infrared heating and wire mesh bars. After heating up the existing asphalt the wire is placed on the heated pavement. A compactor presses the template into the asphalt, creating an imprint that looks like bricks.
Colored sealer is yet another decorative service Kettle Moraine offers. Colored sealer can be added to a Streetprint job to give the stamped asphalt a different color, or it can be used on its own as a sealer to color driveways or other asphalt surfaces. Kettle Moraine also offers tennis and other sports court coating using colored sealers.
Schmitt admits that decorative asphalt is more costly than regular asphalt and sealing, and sometimes the price is a deciding factor for customers. But he says there are still customers who won't blink an eye at the cost and who want that "something different" that decorative asphalt provides.
Kettle Moraine has also added services to keep the company productive during its off-season. Because he is based in Wisconsin, Kettle Moraine has to contend with a long winter season. Ten years ago Schmitt says the company started offering snowplowing services to keep busy and make money in the winter.
Four years ago, Schmitt expanded his off-season services even further by offering concrete services such as epoxy coatings, acid staining, and overlays. This allows him to do indoor work when nothing can be done outside.
The most recent addition to Schmitt's company was three years ago when he started selling bulk sealer and products from SealMaster. Schmitt says this has helped him save on both material and fuel costs. Plus, since his company does a lot of work on weekends it provides them with materials they wouldn't be able to get on days their suppliers are closed.
Another obvious benefit is the extra money selling sealer brings into the company. Schmitt says there aren't any close places to go buy sealer and products in his area, so his competition is often buying from him.
Reputation pays off
Kettle Moraine advertises its business in the phone book, and Schmitt says he has recently created a website to get a bigger client base and allow customers to see his work. He also places company signs near all of his work so passersby can see the job and know who performed the work. But the majority of business comes from word of mouth and referrals, he says. That's how he knows the company's good reputation is paying off.
Schmitt says he has good relationships with non-sealing pavement maintenance companies around the area. Some of the larger paving companies, for example, will refer customers to Kettle Moraine for sealcoating services. He even gets referrals to do small paving jobs that other big companies don't want to take on, Schmitt says.
The reason Schmitt says these companies refer clients to him is because they know he will follow through, get the job done, and get it done right. And for Schmitt it's a two-way street. He will also refer his customers to other companies who offer services he doesn't. For example, Schmitt says he has a close relationship with a striping company that he will refer customers to. And he'll also refer clients who have larger paving requirements to the paving companies that refer him.
There's no doubt that word of mouth referrals indicate Schmitt's focus on reputation has paid off. But probably the best example of what a good reputation can do for a business comes from a client Schmitt got without referral.
Last year, Kettle Moraine sealed a driveway for a member of the Better Business Bureau. Schmitt asked the customer why he chose his company. He answered that he saw Kettle Moraine had been in business for 25 years and had no complaints or problems on its record. The customer went looking for a good, reliable company, and he found Kettle Moraine.
Yet another reason a good reputation can pay off: You never know who your next customer will be.