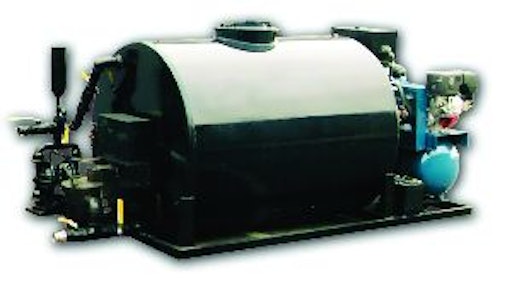 Whether you are a sealcoating contractor just starting out or a veteran looking to update your fleet there is a variety of sealcoating units available to suit your needs. Units can vary in types: ride-on, truck mounted, skid mounted. They also vary in tank sizes, features, and application capabilities. And many of the units available to contractors aren't size specific. That is, one unit could be used for smaller jobs in a large company, but the same machine could be the biggest unit in a smaller company's fleet. The size and type of jobs a unit is going to be used for is often an influencing factor when it comes to purchasing.
The following is a selection of equipment from 9 manufacturers. The companies focused on features and benefits each unit provides sealcoating contractors. Read on to discover different options available, what each unit has to offer contractors, and what type of contractor can find each unit beneficial.
Able Industries offers variety of skid units
Able Industries manufactures a line of seven skid-mounted sealcoating units from 300 all the way up to 2,000 gallons, says Tim Dye, president of Able Industries. The 500-gal. skid unit is Able's second-smallest but ranks high in popularity. Features of the unit include a Wilden PV4 pump, a heavy-duty steel tank, a patented no-spill lid, and a standard agitation and hydraulic system.
The 500-gal. unit can cover a wide range of jobs, according to Dye. "It will handle commercial work with spraying sealer with varying amount of sand loads," he says. But it also can be used in residential work. "It will do as small as you want it to, as small as you can fit your truck into a neighborhood." Between the two markets, Dye says the 500-gal. unit is used more in commercial jobs, and Able's 300-gal. unit gets more use in the residential area.
Dye says the 500-gal. machine is valuable for a wide range of contractors. "With the large contractor this probably fits in with the smaller end of their units that are going to be doing some of their smaller jobs," he says. "We'll certainly sell these to a lot of small contractors as the largest unit that they have."
Dye says that the size of the unit a contractor should buy is directly proportional to the size of the job and the contractor's distance from his supplier. If a job is larger or farther away from a supplier he says a larger unit is better. However, if a contractor does smaller jobs or jobs close to his supplier Dye says he might suggest a smaller unit instead.
Able's variety of units includes its trailer units. What's unique about these units, Dye says, is that they are a separate skid unit mounted onto a trailer. So another option for contractors is to buy a 500-gal. trailer unit. Then, if the contractor wants, he can unmount the skid unit, put in on a truck or another trailer just like he would with any skid unit, and use the original trailer for another purpose. "Our trailer units are unique," he says. "We try to give the customer some flexibility."
Asphalt Paving Equipment focuses on benefits
The Anders 325 Dual Applicator ride-on unit from Asphalt Paving Equipment LLC is loaded with features that allow contractors the ease of sealcoating an entire job from the unit's seat, says Lamarr King, sales manager. With the Anders 325 Dual Applicator a contractor has the choice to squeegee, spray, or do both at the same time. The unit comes with four squeegees, a five-nozzle rear spray bar, a hand spray wand, and a water misting system.
Unique to this machine is the curbing hose that spreads the sealer right up to a curb or parking bumpers. Also, the sealer - which can have up to 4 lbs. of sand per gallon - can be added to the unit three ways: the rectangular hopper, the quick-connect coupler, or directly with the DA's own piston pump if a contractor wants to mix on site, King says.
Each of the five hydraulically-controlled spray nozzles can be individually controlled or shut off, King says. "It has incredible versatility," he says. "You can spray 17 in. wide on bike paths or up to 8 or 9 ft. wide on streets or lots." This versatility allows the Anders 325 Dual Applicator to be used on jobs ranging in size from small driveways up to large shopping mall parking lots, city streets, or airports. Plus, the unit can handle a wide range of terrains and temperatures, King adds.
He says this sealcaoting machine is typically bought by contractors who are doing a lot of jobs or have recently gotten a big job. "No matter how big or how small they [contractors] are, if they typically work full time, this machine can fit their needs," King says. However, he says the 325 DA is not designed for the occasional sealcoater. "This machine would be for any user who does do consistent sealcoating through his season."
With all the features the unit offers contractors King says it is still easy to learn and use the Anders 325 Dual Applicator. He says one of the biggest benefits this unit offers is that it can make any job a one man operation. "You can go from a five- and six-man crew to a one-man show," King says. This can result in tremendous labor savings for contractors.
Equipt markets units as universal
Equipt's truck-mounted sealcoating machines have a broad range of uses and offer contractors the opportunity to have a "one machine fits all configuration," says Craig Erickson, vice president and company founder. Equipt - which is a part of the Cimline Pavement Maintenance Group - offers four tank sizes of truck-mounted sealcoating machines: 350, 550, 825, and 1100 gallons. Erickson says he sees the purchasing trend leaning toward the 825 and 1100 units.
"Our 825- and 1100-gal. custom truck-mounted units are popular because we are able to configure these in a way that allow the contractor to not be required to have a CDL (Commercial Driver's License)," Erickson says. The Equipt patented Polypro tank weighs less than traditional steel tanks, which allows these units to stay under the required CDL weight limits. However, Erickson says contractors should still verify state and local DOT requirements.
Erickson says another beneficial feature of Equipt's truck-mounted units is the curbside control panel. "It puts all of the major machine controls on a safe curbside location that allows the operator to control all the major controls while standing on the ground," Erickson says. He says the location of the control panel improves safety because it eliminates the need to continually climb on and off of the truck to access controls.
The 825- and 1100-gal. units can be used on a range of jobs, according to Erickson. "They're universal machines. You can go and do a small residential driveway all the way up to a large, large commercial parking lot," he says. Plus, the sealcoating machines mounted to "cab-over" trucks typically have a tight turning radius, making them very maneuverable. And although Erickson says the 825- and 1100-gal. units aren't typically purchased by new contractors, he says that all sizes of sealcoating contractors buy these machines because they have the capacity to fit a contractor's growth.
With increasing fuel prices, Erickson sees the 825- and 1100-gal. truck-mounted units as a good investment for sealcoating contractors. These large, but not too large, tanks can save contractors time and money because they require fewer trips back and forth to the sealer supplier, according to Erickson. The truck-mounted sealcoating machines can also tow additional equipment, such as a crack sealing machine, eliminating the cost of multiple trucks on the jobsite.
Neal Manufacturing DA 350 is a "labor saver"
Neal Manufacturing's ride-on dual applicating units first came on the market in the mid-1980s, making Neal Manufacturing the first to build this type of machine, according to Eric Humphries, sales manager for Neal Manufacturing.
At present, the company manufactures a 350-gal. unit (the DA 350) for contractors. Features of the unit include direct drive, a 35-hp Kubota diesel engine, rear-wheel drive, and a 100-gpm pump. The DA 350 has a piston pump system - Neal Manufacturing was the original designer of the piston pump, according to Humphries. The DA 350 ride-on spray/squeegee unit is also able to turn a 180° turn and start spraying in seconds, Humphries adds.
With the DA 350, "you get more production with less labor," Humphries says. Plus, the DA 350 offers the option to squeegee or spray. He says most contractors believe that for the best sealcaoting job, squeegee the first coat, filling all the voids with sealer and providing a smooth surface. Spraying the second coat creates a wearing surface that is uniform and looks good. "By spraying the second coat you are able to leave a thicker application of sealer on the wear surface, which is the top of the aggregate to the top of the dried film of sealer," he says. And that second spray coat will cover anything the first squeegee coat may have missed, Humphries adds.
Humphries says the unit is often used by medium- to large-sized sealcoating or paving contractors. But, no matter what size a company is, the DA 350 can be used for almost any size of job. "As long as you have a feeder tanker on site you can do pretty much any size job you want to do with that machine," he says.
According to Humphries, time on the job is one of the largest expenses a contractor can incur. The two-in-one nature of the DA 350 is ideal for contractors who want to cut down on both labor and time spent on a job but still make sure they do a quality job.
Nealco offers upgrades and options
The ESP-550T trailer unit is Nealco Equipment LLC's most popular sealcoating unit, according to Rick O'Donnell, customer service representative. Some of the unit's key features include a 550-gal. tank, a 10,000-lb. load capacity trailer, and a hydraulic driven pumping system. Nealco bought the rights for the 550T from Ingersoll-Rand (Blaw-Knox) in 2005 and started producing the unit in January 2006, O'Donnell says. He says Nealco made some improvements to the unit including a larger and higher manway to prevent material from splashing out, a larger material filter, and a quieter version of the hydraulic pump.
Aside from what comes standard on the 550T, Nealco allows contractors the choice of a 50- or 100-gal. pump at no additional charge. "That way they can set up the machine and make it what works best for them," O'Donnell says. "Some guys only want the smaller pump, but other guys want the bigger pump and the second hose. We have quite a few options."
Steve Dixon, Dixon Sealer and Supply, a Nealco distributor, says the 550T is good for contractors who are just starting out, but contractors of all sizes purchase the unit. Dixon says the 550T can cover about 27,500 sq. ft. with two coats of material and is used for both driveway and parking lot work.
Dick Dixon, also of Dixon Sealer and Supply, says he likes the convenience of the front hitch on the 550T. "Now, with just switching two bolts, they [contractors] can switch the hitch from a Pintel to a ball hitch," he says. "If a guy's truck won't run on a certain day he can switch to a different truck by just switching the hitches."
Steve Dixon says the biggest benefit the 550T offers contractors is its hydraulic-driven piston pump. "The big advantage of the hydraulic-driven piston pump is that you can put a lot of sand in it," he says, adding that the 550T hydraulic pump allows a contractor to put six pounds or more of sand to the gallon in the machine.
Pacific Coatings designs for asphalt-based mix
The Pro Mix PS 550 is Pacific Coatings' most popular unit, says Gerry Guertin, president of Pacific Coatings. This 550-gal. spray tank, which can be skid or trailer mounted, has an air-driven diaphragm pump and a 13-hp powered air compressor. But the design and strength of its agitation system is something Pacific Coating feels it does differently than other manufactures, Guertin says.
"We're located on the West Coast, where asphalt-based sealers are the predominant materials being used," he says. The Pacific Coatings' agitation system consists of four individual blades that each sweep one quarter of the bottom of the tank with each revolution. Guertin says this blade system works well with asphalt-based sealer mix and requires less power. "Our agitators are built stronger than most, but that's what we know we need to have for these people that are turning these extreme materials."
Pacific Coatings also manufactures a different filter basket for contractors who use asphalt-based material. This filter basket has larger orifices that allow fillers and fibers to pass through but filter out chunks of aggregate that could cause a clog in the spray tip. Contractors have a choice of which filter basket they want in their unit depending on the type of material they are using.
Guertin says most contractors who purchase the PS 550 are mid-sized contractors looking to use the unit mostly on commercial jobs. He says larger companies may have two or three 550 units in their fleets so more jobs can be done at one time. "The unit typically has enough gallonage on it to keep most people busy for a day," he says. Guertin adds that contractors often look to the 550-gal. unit as a way to work all day without worrying about going back to get more material.
He says contractors who use coal-tar sealers shouldn't rule out the PS 550. "There is no real downside to somebody buying a unit that is overkill for what they do," Guertin says. "Somebody who is spraying just clear coal tar is going to find that our equipment works great for them. The difference is our tanks will work on the other end of the spectrum where people are spraying the most difficult materials."
Rayner Equipment goes for longevity
The PavementSaver II from Rayner Equipment is built for quality, performance, and durability. Vice President of Sales Gordon Rayner says his own workers were the influence behind this unit. "Our initial goal was for a machine that we would use ourselves, no shortcuts."
The 400-gal. diesel unit can be used to spray or squeegee. Some key features of the PSII include three-wheel drive, a joystick operator control center, and what Rayner describes as "a massive filtering system."
Rayner says the PSII is a flexible machine that can help crews improve productivity. "The PSII can really perform a large job in the early part of the day and then a crew could also swing by a driveway on the way home, run out a long spray hose, and spray a small job without even unloading the machine," he says.
Rayner says the PSII is not designed for any particular size company, and it has been sold to single crew companies, owner-operators, and companies that have six or more crews. He says the PSII was designed for maximum performance and return on investment and that's why it can be useful for many different contractors. Contractors who "can see the production advantages, the savings in ongoing maintenance costs, and the savings in downtime costs," are the typical contractors who buy this unit.
High performance, safety, and return on investment are the biggest benefits this unit offers, Rayner says. The PSII can climb steep hills and stop when the operator needs it to. Dual braking systems as well as an automatic system that stops the machine if the operator leaves the seat with the machine moving are just two examples of the PSII's commitment to safety, Rayner says. The goal is to prevent accidents and injuries and keep costs down.
As for return on investment, Rayner says features like T-1 steel and overbuilt components allow this machine to have a running life of over 10 to 15 years. "We don't build machines that a buyer will sell or throw away in five years," he says. "A contractor buys our machine and keeps it."
SealMaster offers dual capabilities
SealMaster's SP 300 dual sealcoating unit is a self-propelled, combination squeegee and spray unit. The unit features rear wheel direct drive, a Kubota diesel engine, and a round tank that can hold up to 320 gallons of material. The most unique feature of the SP 300 is its pumping system, says Steve Rapp, Equipment Division manager. "It's a diaphragm pump, but what makes it different from other diaphragm pumps is that it is hydraulically operated rather than with an air compressor. This also saves on space because an air compressor doesn't have to be mounted on the unit," Rapp says.
Another key feature of the SP 300 is that is has two drop valves to feed the squeegee system. The valves open and close to let material flow through them. "What two valves does for you is when you're on an incline you can shut off the lower valve and just use the top valve to fill the squeegee box," Rapp says. "That way you don't have much overflowing."
The SP 300 also offers a feature common to many self-propelled units that can be very beneficial for contractors: the water system. It has 28 gallons of water storage with a pump and spray nozzle. Misting water onto the asphalt can help the material bond better on hot days, according to Rapp.
Contractors of mid- to large-sized companies are the common purchasers of the SP 300, and they tend to use the unit on commercial jobs because of its ability to squeegee and spray. However, Rapp says the unit can be used on any job, especially if a contractor is just spraying. The unit's high maneuverability also allows it to be used in both commercial and residential areas.
The biggest benefit to contractors, according to Rapp, is that the SP 300 is a dual squeegee and spray unit. "You're seeing more and more architect specifications requiring squeegee on the first coat to really fill in all the pores and then come over that with your second coat being a spray," Rapp says. "It helps lock in the heavier sand loading and makes for a more uniform looking finish."
Seal-Rite takes sealcoating to the extreme
New on the sealcoating market - just about a year old - is Seal-Rite's SR-850 Extreme. It is an 850-gal. trailer unit that has been quite popular in the short time it's been on the market, says Brent Loutzenhiser, CEO and owner of Seal-Rite. Loutzenhiser says the unit is appropriately labeled "extreme" because of the long list of features the unit includes, such as the ability to hold a 30-gal. melter, standard lights for working at night, a 100-gal. water tank, and what Lolutzenhiser says is the largest amount of deck space in the industry.
All of these key features create the two biggest benefits of the unit: it is self-contained and has the ability to carry everything. "A lot of times you get to the job and have forgotten something," Loutzenhiser says. "You shouldn't forget anything on this unit because it should all be on the trailer." The SR-850 Extreme provides two storage areas, a weather-proof box, a lockable metal mesh storage area, and a tool storage rack that can hold up to 10 long-handled tools.
The SR-850 Extreme is an all around unit good for any size job, Loutzenhiser says. And at the same time, it is good for any size business. Contractors of both large and small companies can use this unit for crack filling and sealcoating, day or night, on both commercial and residential jobs. And Loutzenhiser says the utilization of the unit in commercial and residential is fairly equal. Although the SR-850 could be one of the smaller units a commercial contractor owns, Loutzenhiser says it tends to be one of the larger units in most contractors' fleets.
"It's something that you would never grow out of," he says. "You can go to the job, put your barricades up, clean the job, do your crack filling, and then you should be able to sealcoat the job without having to leave the premises." Loutzenhiser says that people are in the business to try and be as efficient as possible. "And that's why we've created a piece of equipment 'Extreme' enough to live up to those high standards," he says.
Companies in this article