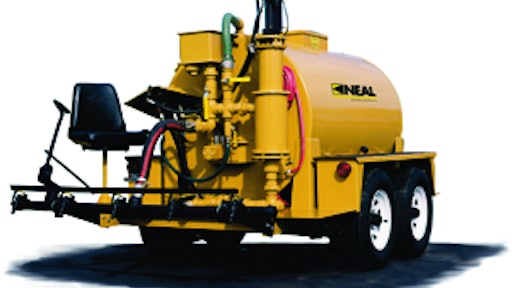 ESSP 550-gal. Trailer
ESSP 50- or 100-gpm piston pump
16 lbs. of sand per gal. capability
Once-a-year flush out procedure
Heavy-duty agitator drive with infinite forward/reverse
Hand wand and 75 ft. of hose
Neal Equipment LLC
Star-Seal Supreme
Based on refined coal tar, polymers and specialty chemicals
Latex hot blended during manufacturing
No rubber additives required
Resists oil, gas, salts and UV degradation
Rich, dark slate black color
Star Inc.
Pavement Sealer
Asphalt, acrylic and coal-tar
Nationwide manufacturing locations and distribution centers
Protection from chemicals, moisture and oxidation
Advanced polymer technologies available
SealMaster
Protectar Pavement Sealer
Coal tar emulsion sealer
Fuel resistant
Designed to not oxidize
Produced with colloid mill
Exceeds RP-355e specification
Vance Bros. Inc.
Skid Systems
Available in 550- to 2,000-gal. capacities
Use as a spray system or an on-site storage tank
Hydraulically driven piston pumps
Heavy duty, 3-blade, off-set agitation is hydraulically driven, variable speed, and reversible
Nealco Equipment LLC
Tarloc MPC
Primer for coating asphalt and concrete surfaces
Improves adhesion of coal tar pitch emulsions to surface
Uses include oil spots, exposed polished aggregate, oxidized pavement and black-out paint
Southern Emulsions Inc.
350 Econo Trailer
High-density polyethylene tank - 1/2-in. + nominal thickness
2-paddle, manual agitation system w/ 3/8-in. rubber squeegees; full-sweep, hydraulic agitation system optional
1-in. dual-diaphragm pump w/ filtered air supply line
75-ft., ¾-in., 300-psi application hose with 6-ft. aluminum spraywand
Equipt Mfg., Inc.
SP Series Equipment
Round tank design with true full-sweep agitation
Sand pumper material pump for dual capabilities; spray and squeegee
300-gal. capacity
Rear wheel drive
Other equipment available as squeegee, spray, or dual systems, 200 to 1,000 gal.
SealMaster
SGA Diamond Shield Fortifier
Dries from the bottom up instead of the top down, allowing users to open areas to traffic sooner.
Improves film strength
Dries fast in high humidity
Reduces sand roll out
SGA Global
FASS-DRI Sealer Additive
Fortified with Sand Suspension Additive
Blackest color - toughest film
Available in 2-gallon pails
For coal tar, asphalt or blends
Maintenance Inc.
Sealers
Seal-Pave Pavement Sealer
Latexite Recreational Coatings
Flexi-Trac
Service U.S. and Canadian Great Lakes Region
Distribute all related asphalt maintenance products
Surface Coatings Co.
SR-550 Skid Unit
Hydraulic agitation with variable speed forward/reverse
30-gal. Emglo air compressor
2-in. Wilden air-operated, dual-diaphragm pump
3-gal. filter pot assembly
Hannay hose reel with 100 ft. of hose and 6½ in. wand
Seal-Rite
Sealer/Sand Spray Trailer
500-gal. tank capacity
Hydraulic, variable speed operated, full-sweep agitator
High output, air-operated 1 1/2-in., dual-diaphram pump
High volume material 2-gal. EZ-Clean-Out filter system
Trailer or skid units
Asphalt Paving Equipment LLC
Water Meter
Small, light weight, fits in your pocket
Meter per gallon, up to 100 gallons
Fits onto any garden hose or standard water outlet
Resets easily after each use
Pavement Tools Mfrs., Inc.
TARGEL PLUS
Rubberized Polymer Additive
Meets FAA Specs for pavement sealer
Fortified with fast-drying additives
Rubberizes sealers for added strength and flexibility
Maintenance Inc.
Sealcoat Management System
Material dispensing monitoring system
Coal tar meters with electronic registers
Sand/sealcoat meters with electronic registers
"Pay at the pump" system design
Sealcoat Equipment Company (S.E.C.)
Application Squeegee
Serrated edge
16-, 18-, 24-, 30-, and 36-in. lengths
Petroleum-resistant neoprene blade
Works with variety of material thicknesses
Available in 6 serration depths
Haviland Corporation
Combo Tack & Sealer Machine
Folds out to 6, 9 or 12 ft. wide
Can be towed behind a pickup, tractor or tank truck to pipe primer/sealer right into unit for continuous flow
Adjusts from 3- to 8-ft. for sealing
Stackable 300 gal. and 500 gal. tanks slide in pickup or flat bed
Tow Boy Co.
550 PolyPro Trailer
High-density polyethylene, 550-gal. tank
22 in. x 24 in. manway
Full-sweep, hydraulic agitation with two-paddles with 3/8" rubber squeegees
100' application hose with 6' aluminum spray wand
Equipt Mfg. Inc.
1-800-ASPHALT
Increase ad response up to 14 times
Overcome area code confusion
Own multiple area codes in your state
Keep customers out of the phone book
1-800-ASPHALT
Able Spray Sealcoater
Skid-, trailer- and truck-mounted units
300- to 2,000-gal. capacities
Accessories include spray tips, blowers, hot crack melters, V-squeegees
Able Ind.
Guardtop
Construction aggregates
Asphalt coatings
Vulcan Materials Co.
ProMix Power/Spray Tanks
550- and 750-gal. capacity
Power-agitated tanks with air-driven spray system
Truck or trailer mount
30-gal. Emglo compressor
1 1/2-in. Wilden diaphragm pump, up to 11 gpm
ProMix 1.5-gal. basket strainer
Pacific Coatings, Inc.
SC300 Seal Coater
300-gallon ride-on sealcoat machine
Front-mounted drive motor
Contours of tank bottom conform to agitator
3-wheel design for direct drive to rear wheels; allows for a "free" front wheel
50-gal. stainless steel water tank
Layton Mfg. Co.
Easy Spray Sealer Pump
Sprays coal tar or asphalt bare sealers
Sprays from either a tank or a drum
Wilden M-4 pump
Emglo 9.4 cfm compressor
8 hp Honda engine
Vance Bros. Inc.
1-800-PAVEMENT
For a monthly fee, all calls to 1-800-PAVEMENT in the area codes that you do business in will be routed to your telephone
Exclusive rights to the number in your region, membership in network that shares work throughout the country
1-800-PAVEMENT
Sealcoat Squeegee
24- to 60-in. wide neoprene blade
1/4-in. thick by 3-in. -wide neoprene with 55 durometer
Aluminum clamping strip holds neoprene strip in place
Reversible blade with straight edge on both sides
Wrap around brace design encompasses handle; made of high strength 3/16-in. aluminum
Midwest Rake Co.
M-550
550-gal. tank with three independently operated mixer paddles on 1 1/2-in. shaft
Variable speed valve for control
18- by 24-in. manhole with splash lid
25-ft. air hose with crack cleaner wand
Asphalt Equipment, LLC
Seal Coat Sprayer
10-gal.-per-minute pump
Spray wand with 100-ft. hose and tip
4-in.-diameter filling hole
1-in. drain pipe under tank
MTL Fabrication / Montreal Sealer
Trailer Systems
550- and 760-gal. capacities
Hydraulically driven piston pumps
Heavy duty, 3-blade, off-set agitation is hydraulically driven, variable speed, and reversible
Dual axle trailer design
Nealco Equipment LLC
Amguard A.E.
Concentrate asphalt emulsion pavement sealer
Polymerized asphalt resins for added durability
Formulated specifically for commercial application
Bonsal American
SR-700 Trailer with Blower on Deck
Enclosed tongue and front deck
Hydraulic agitation with variable speed forward and reverse
30-gal. Emglo air compressor with 13-hp electric start Honda
2-in. Wilden air-operated, dual-diaphragm pump, 3-gal. filter pot
Rubber wipers keep tank inside clean
Seal-Rite
Amguard S-250
Concentrated coal tar sealer
Colliod milled for wearability and consistency
Excellent durability
Resists gasoline and oil penetration
Protects pavement from oxidation
Bonsal American
X-10 Pavement Sealer
50% solids content
Meets or exceeds federal specifications
Continuous quality assurance testing
The Extendit Co. Inc.
Black Elixir Additive
New molecular chemistry for coal tar and asphalt sealers
Up to 80% faster curing, jet black color
Better suspension of aggregates
Reduces power steering, tacking marks
Resistant to oils, fuels, grease, chemicals
Allstates Coatings Co.
GemSeal Rejuvenator
CBRT-SO
Coal tar rejuvenator
Meets FAA Engineering Brief 44 for asphalt pavements
Penetrates and rejuvenates oxidized asphalt binder in hot mix pavements
Protects pavements with fuel resistant surface
GemSeal Inc.
Pavement Maintenance Products
PAVISEAL emulsified asphalt sealer
DISSCO RS-90 asphalt sealcoating
DISSCO industrial asphalt coatings
UPM asphalt patching materials
UPM - KoldFlo cold-applied crack fillers
Denver Industrial Sales & Service Co.
Star-Seal
Heavy duty coal tar sealer
Tough, durable and flexible
Meets RP-355e, USAF, FAA and State specifications
Protects pavement from water, salts, gas oil and petrochemicals
Star Inc.
Brewer Cote
High solids content
100% coal tar emulsion
Colloid milled for consistency
Less filler
Jet black color
The Brewer Company
Skid-mounted Spray Rig
Variable speed control agitation
4 paddle full sweep reinforced rubber attached to agitation
1 gal. strainer basket
24 in. double manhole cover w/safety grating attached
Custom units from 300 to 2000 gals. on skids, trailer, or your vehicle cab and chassis
Keizer-Morris International
Asphalt Emulsions
Manufacturers all blends of asphalt emulsions
Tack
Prime
Slurry seal
Microseal
Chip seal applications
GemSeal's parent company
E.A. Mariani Asphalt Co.
PARK-TOP
Pre-mixed asphalt emulsion
Provides slip resistant surface for walkways, playgrounds, parking lots and traffic areas
Western Colloid
Neyra Pave Shield
No-burn, asphalt-based emulsion formula
High volume of suspended solids
Designed to be scuff- and weather resistant
Neyra Industries
Ceramic Tips
Built eliptical
Made of ceramic
USA Tips
Companies in this article