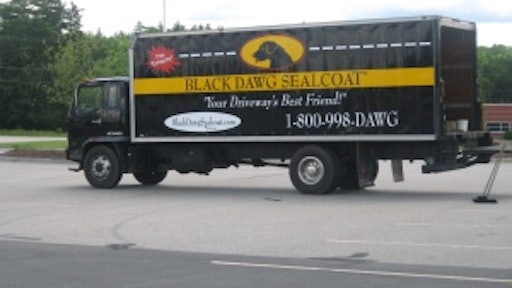 Having flown countless missions around the globe as a former Air Force pilot, Jack Child, founder of BLACK DAWG SEALCOAT®, is frequently asked how in the world he wound up in the sealcoating business. "I often ask that of myself," laughs Child. But, when you dig deeper, you learn he's on a new mission - to reshape the asphalt maintenance industry - and he just might be succeeding.
Child flew seven years in the military and 15 years for a major airline, advancing to Captain, before losing his medical certificate. He needed a Plan B. Having previously owned a commodity-based venture, Child knew he wanted to start a service business where he could focus on the customer.
After researching all sorts of opportunities and businesses, Child found himself drawn to sealcoating. "I discovered no one had really created a national brand for this type of service, so I began my serious due diligence on the competition and the industry itself," he says.
And the more he looked, the more he liked. Child says that from a consumer standpoint, he found quite a bit lacking in terms of general information, standards, professionalism and customer service. He says sealcoating prices were all over the charts, the presentation of most contractors was lacking and, most compelling, was the glaring absence of a real brand the homeowner could turn to and trust to do the job right. Child viewed all of these weaknesses in the marketplace as opportunity.
Once he decided to become a sealcoating contractor, the first thing he did, and one in which he admits flowed greatly from pure luck, was to choose a name for his start-up. As a veteran in the post-9/11 world, friends had encouraged him to choose a name that reflected his military service and patriotism such as "All American Sealcoating," "Veteran Sealcoating," etc. Other contractors had jumped on that bandwagon, but Child says he was not comfortable doing the same. Then, while sitting at his desk scribbling various names for his concept, his black lab puppy, Olive, curled up at his feet - and Black Dawg was born. With the name being what it is, the logo was easy - a stylized profile head shot of Olive. This, too, would prove to be good fortune.
Next, he researched equipment, eventually deciding on an Equipt 825 sealcoat tank and a Keizer-Morris Crack Jet for his first truck. He ordered crew uniforms and yard signs and launched his website -www.BlackDawgSealcoat.com - even before he took delivery of the equipment.
Child says his mission to build a unique brand for the industry focuses heavily on creating a professional image - clearly rooted in his military and airline background.
Recognizing the challenge of keeping the seal rigs clean, an early decision was made to place the equipment inside a 20-ft. box truck. Child's concept is simple - keep the ugly part of the business out of view of the customer. The trucks are bright yellow or black to match the color scheme of the logo, and homeowners see a nice, clean truck with a prominent dog logo pull up in front of their home. The professional image continues from there as the technicians wear dark pants (no blue jeans or shorts allowed), yellow or black logo'd shirts and logo'd hats. Smoking is prohibited on the jobsite for appearance and added safety.
The response to his first ad took Child by surprise. "Customers love the name and the logo," he says. "We had been in business less than a week and people were saying they had seen our signs 'everywhere' and many thought we had been around for years. My very first call off a job's yard sign was very telling…the woman's voice was excited as she fawned over the dog logo. People wave and smile at my crews all the time. It really is remarkable. I realized immediately I was onto something very unique."
Soon some of his customers began asking if Black Dawg was part of a franchise. That's where the seeds were first planted for expanding the brand through franchising. Child spent his first off-season putting together the documents and manuals needed for a franchise system (a process Child describes as "grueling") and sold his first franchise the next spring. He sold two more the following year. His biggest move, however, occurred earlier this year when his strongest competitor, Shattuck Sealcoating and Paving, joined the Black Dawg team and bought three franchise locations.
Ron Shattuck, owner of Shattuck Sealcoating, wanted to expand his operation and he says he saw the ability to capture new market share faster under the Black Dawg brand. After 30 years of carrying the family name, switching to Black Dawg was not an easy choice, but it's one he's glad he's made. "I watched Jack take his company from zero to 60 in record time," Shattuck says. "I've come to realize branding is everything in any business and he's built an incredible brand around the name, the logo and his reputation for quality. That black dog sells and my company is now part of one of the largest brands in all of New England…that's good for me, my family and my staff. Black Dawg is one of the most respected service-based companies around."
Child says recruiting Shattuck to Black Dawg has made him rethink his growth strategy. "Originally we were looking to recruit from outside the industry. I didn't think we would have much interest from existing contractors because of pride of ownership. It takes a lot of courage and foresight to make the switch," Child says. "Ron had a very solid, profitable business and didn't need Black Dawg, but he sees what I see in the strengths of our unique brand. I'm now actively seeking the right people already in the business who are good service providers but need help with the marketing and branding aspects of their operation."
As a key element to that branding, each truck is named after a dog and each franchise operator must either own a black dog or sponsor one for a needy individual or service organization. For example, Pete Christman, owner of Black Dawg Sealcoat of Merrimack Valley, NH, and a former Fire Captain, sponsors the New Hampshire State Fire Arson dogs, Murphy and Jade. (Christman is riding the wave at Black Dawg, too, having more than doubled his capacity this year with the addition of another box truck and a Cimline melter.)
So, what does a contractor get for being a part of the franchise? In addition to expert training and the license to use the trademarked name and logo, one of the most unique benefits to the franchise owners is the Toll Free Call Center. Each franchise location publishes the same Toll Free Number - 800-998-DAWG - and all calls are answered by a full-time office staff that pre-screens and pre-sells their services. "The first contact between a customer and the contractor is critical," Child says. "We simultaneously help both by taking responsibility for that first call. Now, the customers don't have to spend time hunting down someone to answer their calls and our owners don't have to be tied to their phone gathering information."
Franchisees clearly embrace this setup. "I can't tell you how valuable our Toll Free System is to my operation," Christman says. "A real, live person with a friendly voice greets my customers and sets the stage for a positive experience for them. This frees me up to handle other aspects of my business."
Is Child's plan to "reshape the industry" working? Imitation is the ultimate form of flattery and Child is witnessing some interesting activity in the market. "One gentleman loved my concept so much, he attempted to copy it exactly. We sent him a polite, but stern, warning about his infringement upon our trademark," Child says. But some positive things are occurring, too. Competitors are improving their operations with more thorough job proposals and better equipment. "That's very good for the industry," he says. "I know we are having a big impact in our service areas."
So, what's next for Child? "While we continue to focus our efforts on launching more Black Dawg Sealcoat franchises (target markets are generally north of the Mason-Dixon Line) and improving operations for our current owners, we are also turning our attention to the line striping side of the business under the name YELLOW DAWG STRIPING. I've had countless inquiries from people all over the country looking for a way - some way, any way - to make money. More often than not, our sealcoat franchise is not a good fit due to their locale (warmer climates with limited residential work) or a lack of capital. We feel we'll have great success in helping more start-ups with our line striping franchise, since striping is needed in all 50 states and is not as weather restricted as sealcoating. And, start-up costs are less than half for our striping package which makes it more affordable for many prospects."
Child and his new partner in the striping venture, Mark Murphy, another former military officer and airline pilot, just launched their new website for Yellow Dawg Striping and are now taking franchise inquiries. Why the name Yellow Dawg? "I've got four labs: Olive, our mascot for Black Dawg, Yellowdawg (yes, that's her real name, Chase and Boo," Child says. "All my yellows seemed jealous Olive was getting all the attention so we thought it best to spread the notoriety around."
For more information, visit www.BlackDawgFranchise.com and www.YellowDawgStriping.com or call 1-800-998-DAWG (3294).