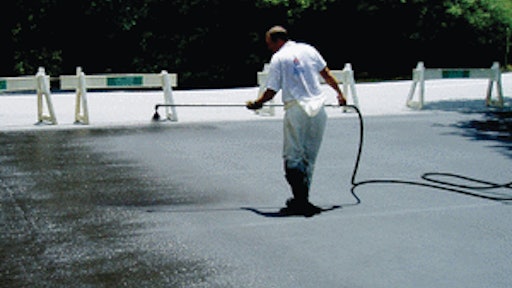 Carbon Plex Envirosealer
Polymer modified sealcoat
Passes RP355E fuel resistant test
Dries in two hours
No tracking or buring effect
Blacklidge Emulsions
ColorPave HD Decorative Coating System
ColorPave HD Decorative Coating System
100% acrylic coatings
Nine earthtone colors
Ideal for driveways, walkways, cart/jogging paths, parking areas, etc.
Fortified with aggregate for slip resistance and durability
SealMaster
SealMaster
Diamond Shield Original
The new Diamond Shield Original (DSO) is a concentrated, dry formulation that treats 300 gallons of raw sealer. The "Active-Cure" seal coat additive has no viscosity modification, but DSO can be used with the viscosity modifying Diamond Shield Fortifier (DSF) if desired.
Diamond Shield Fortifier
DP-300S
300-gal. capacity
Material pumped by Versa-Matic clamped metallic dual diaphragm pump and Jenny 8-gal., 8-hp compressor
Hand agitation via 3 to 1 reduced crank
Standard Nealco manway, surge tank, 6-ft. handwand, and 75-ft. hose
Nealco Equipment LLC
FSA-AD Fast Sealing Additive
FSA-AE Fast Sealing Additive
For asphalt emulsion based sealers
Cuts drying time in half
Stops tracking
Improves bonding
Maintenance Inc.
Max-Dri
Triple-action, ultra-fast drying additive for sealcoatings
Reduces drying time by 75%
Excellent sand suspension and uniform textured appearance
Longer-lasting, tougher coating performance
Star Inc.
Model X1-300
Model X1-300 is a 300-gal. capacity, dual rear wheel drive self-propelled sealcoating unit. Powered by a 24-hp Honda engine, it features an 8-ft. hydraulic angle squeegee, water tank, 4-in. material valve, 1 1/2-in. agitator shaft, reversible agitation, and a large capacity water fog system.
N.I. Wilson Mfg. Co.
SR-700
SR-700 trailer with blower on deck
Enclosed tongue and front deck
Hydraulic agitation with variable speed forward and reverse
30-gal. Emglo air compressor with 13-hp electric start Honda
2-in. Wilden air-operated, dual-diaphragm pump
3-gal. filter pot assembly
Hannay hose reel with 100' of hose and 61/2' spray wand
Rubber wipers keep tank inside clean
Front decks on all trailer systems
Extended deck option to hold 30-gal. melter and propane bottles
Heavy gauge steel tanks resists cracking and loss of shape
Seal-Rite
Seal-Rite
Super Sealcoater
Crafco's new Super Sealcoater is available in 550- and 800-gal. capacities. Features include an over-sized hydraulic system, a locking lid with a sand grate and inner splash lid, a 35-gal. water tank with pump and variable/reversible hydraulic speed control.
Crafco Inc.
TR 550 Pro-Air System
Dual diaphragm material pump
13-hp Honda engine
Direct-drive forward/reverse agitation
Safety Breakaway System
SealMaster
Companies in this article