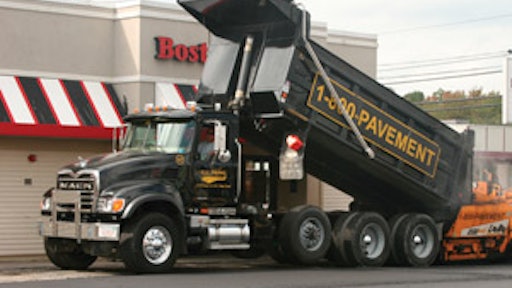 When Mike Musto was in college he knew he wanted to own his own business. He didn't know what type of business, but he did know one thing about it: It would be driven by marketing.
"We've always been a marketing-driven company," Musto, president of U.S. Seal-Coat/U.S. Paving, says. "I know the value of marketing and not only do I believe in marketing but I can justify our marketing efforts by pointing to our growth. The marketing we do sets us apart from the competition, and that's helped us get to where we are today."
Musto started U.S. Seal-Coat in 1985, when he bought himself a trailer-mounted sealcoating unit from Neal Mfg. and started doing driveways. The company subcontracted paving and striping work but eventually brought those services under their corporate umbrella when they became a full-service paving and pavement maintenance contractor in 1994. Today the company (U.S. Paving is a subsidiary of U.S. Seal-Coat) employs 120 people and offers paving, patching, sealcoating, crackfilling, and striping from three locations: Woburn, MA; Plymouth, MA; and Hartford, CT. Musto says 90% of the work is for commercial or industrial clients with 10% done for residential customers.
Throughout its existence U.S. Seal-Coat/U.S. Paving has relied on a vast array of marketing efforts, and today the $16 million operation continues to drive its growth by marketing its services -- using cold calling, direct-mail, billboards, radio and television advertising, and a slick web site, and a vanity phone number -- throughout New England.
He says that when U.S. Seal-Coat first opened its doors most contractors in the market didn't have a professional brochure, so U.S. Seal-Coat put one together.
"Its impact was almost immediate," he says. "It set us apart right off the bat and a lot of companies have followed on our coattails since then and produced brochures on their own."
Marketing successes

Musto says direct-mail success begins with compiling a sound mailing list of customers and prospects, which is something his company has maintained since the beginning. The list is updated regularly and added to annually.
He says the company mails one direct-mail piece - either a newsletter, brochure, or postcard - once a month during the season and intermittently during the off season. Until last year all direct-mail pieces carried the same message and were targeted generically at the property manager buyer. But last year U.S. Seal-Coat/U.S. Paving began to target direct-mail pieces to specific types of businesses. One piece is written specifically for car dealerships, for example. Another, written for colleges and schools, is mailed in late winter or early spring, so it hits when campuses empty and schools let out - when decision makers start thinking about getting pavement work done.
"It's a little bit more work but we think it's much more effective to send out a customized piece than a generic piece," Musto says.
Another aspect of its marketing for its commercial customers is what the company terms "progressive maintenance," or timely and proper pavement maintenance, which the company touts on its web site.
"In one 15-year study the total maintenance savings for maintained versus unmaintained asphalt was $1.30 per square foot, or more than $50,000 for a 50,000 square foot parking lot," Musto says. "Obtaining the best return for your pavement maintenance dollar is not a simple decision process. We can evaluate the condition of a customer's parking areas, design a cost-effective maintenance program, and estimate reliable dollar information for their budget process."
Using this approach U.S. Seal-Coat/U.S. Paving has developed a Corporate Maintenance Program, which "allows your company to have a partner in parking lot maintenance." The program includes an evaluation of the pavement at each parking lot, followed by a plan for long-term maintenance. U.S. Seal-Coat/U.S. Paving then develops a multi-year maintenance budget, and a repairs time line.
"This maintenance road map will make your parking lot last longer, look better and cost less to maintain."
Unlike many larger contractors, U.S. Seal-Coat/U.S. Paving pursues residential customers as well. Residential marketing begins with the ValPak, direct-marketing packages of coupons and local discounts delivered to homeowners.
"Then when we have a job somewhere in a good neighborhood, a neighborhood where we think we can generate some quality sales, we use Sales Genie to get an aerial view of the neighborhood we're working in on a particular day. With that we can actually look at the driveways, then we get the names of the homeowners, put a proposal and bid together with the name of the homeowner in it, and hire college kids to go out and present the proposals. It's a process that has served us well."
A "brand" new direction

But it's almost impossible to discuss U.S. Seal-Coat/U.S. Paving's marketing efforts without mentioning its use of 1-800-PAVEMENT, a vanity number the company acquired the rights to in 2005. Since then, Musto acquired 1-800-SEALCOAT, 1-800-BLACKTOP, 1-888-PAVEMENT and 1-800-SWEEPING.
"Acquiring the numbers was by far the best marketing move I've ever made," says Musto, who now leases the number to contractors outside his market. "We've had steady growth right along until we acquired those numbers and the numbers just opened up a national opportunity."
Today the company markets 1-800-PAVEMENT and 1-800-SEALCOAT in its region while in a separate business leases the numbers 1-800-SEALCOAT, 1-800-BLACKTOP, 1-888-PAVEMENT and 1-800-SWEEPING to other contractors throughout the country by area code.
"Initially we bought the numbers to use ourselves but when we realized how successful the numbers were for us, and realized that we couldn't use them throughout the country, we decided to lease them," Musto says. "Since getting the numbers we've seen an increase in sales of 43%. The numbers had nothing to do with the start of the company or its growth for 20 years but there's still a huge amount of potential for growth and that's the opportunity the numbers have given us."
Currently 70 contractors lease the numbers, creating what Musto says is a network that enables the 1-800-PAVEMENT brand to pursue national accounts, which are handled by Andrew Musto, executive vice president. He says networking within the 1-800-PAVEMENT network resulted in more than $2 million in subcontracted work in 2006 - a number they hope to double in 2007.
"As this network grows we are promoting that we can handle customer's properties nationally through the number and our network," he says. "By having good contractors lease these phone numbers, by showing the network contractors how they can improve the operation of their business, and by showing them how to market, we're able to develop a quality national force that can handle these national accounts."
Musto says pursuing national accounts is an ultimate goal of the 1-800-PAVEMENT Network, and they plan eventually to have 250 members to service all national account locations.
Prior to acquiring the numbers the contractor worked to brand U.S. Sealcoat/U.S. Paving, but once he acquired the 800 numbers it shifted gears and worked to brand 1-800 PAVEMENT and 1-800 SEALCOAT instead.
"This effort will have been going on for two years this July and it's evident we are starting to successfully brand 1-800-SEALCOAT, particularly in the residential sealcoating market," Musto says. "Now our customers don't have to look us up and we think that's a huge competitive edge."
U.S. Sealcoat's tips

In addition to leasing the phone numbers, Musto says contractors receive information the company has developed over its last 22 years, and they are invited to U.S. Seal-Coat/U.S. Paving's facility to see in person how the operation runs at no charge to network members.
"It's in our best interest to show the network people how we have become successful," Musto says. "But also they learn our system, how we do work so they can be successful as a subcontractor for national accounts."
Not surprisingly, Musto emphasizes marketing when showing contractors how to improve their business.
"We emphasize to them that all their marketing from now on needs to prominently rely on the 800 number. We offer them printing services, where they can use our designs and just insert their name and logo. We show them firsthand how we market, we provide the marketing materials at no charge, we show them how we run our operation, and we tell them what they should be doing to increase their business."
But not every innovation within U.S. Seal-Coat and U.S. Paving is marketing related. Musto says that the company has instituted systems and policies that make it easier for the company to run for smoothly.
He says that early on he learned the difficulties of crew management and scheduling, whether the cause is weather related or a change in job schedule. So where many contractors call each employee each time there's a schedule change, U.S. Seal-Coat set up a phone system where each employee is required to call in to receive his assignment for the day.
"A lot of companies have five or 10 employees and if they have to call each of those people to tell them what's going on, and if they call them to tell them to wait because the weather is bad, then have to call them back, that takes an awful lot of time," Musto says.
So Anthony Santagati, operations director, puts the schedule together and leaves a message on a phone voice mail, which each employee checks.
"Every employee has to call in and get the information himself," Musto says. "It saves a lot of time for us and it puts the responsibility on them."
Another innovation that gets a huge reaction from contractors who visit is the company's magnetic scheduling board. When a job comes in signed, the computer automatically prints out a job order, including a label of the type of work the job requires. That label is fixed to a small magnet, which is placed on the scheduling board so Santagati can schedule it in.
"We found that you need to have a physical board so you can see what's scheduled," Musto says. "It's not a huge thing but it does enable us to see where we are, what types of work might be overlapping, where we might have equipment issues, those types of things. It makes it very easy to see and change schedules."
Possibly the most important innovation Musto's company has made is in contract language designed to improve cash flow. Each contract requires a one-third deposit once the client has signed the contract. As soon as the signed contract reaches the office a bill for one-third the job total is printed and mailed to the customer.
"Some companies don't pay it; it's just how they work, so you have to allow for that. But you'd be surprised how many people pay that one-third up front."
Musto says the clause is especially helpful for contractors working in areas with seasonal work.
"You might start working in March or April but because companies don't pay for 45 to 60 days you don't see your money until late May or June," he says. "This clause helps bring in some of that money when you really need it. It really helps cash flow."