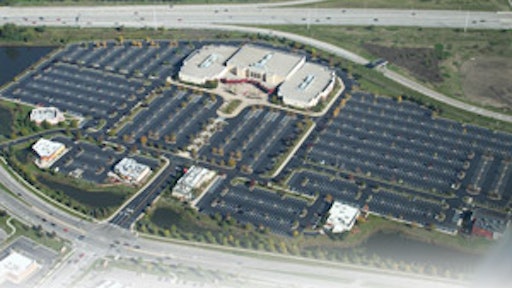 An Illinois contractor that has gone through a number of transformations since starting up in 1986 faced perhaps its biggest challenge last year when on its biggest job ever it was unable to use the refined coal tar material it was used to working with.
Eric Maul, president of Maul Asphalt & Sealcoating, Naperville, IL, says the 1 million-sq.-ft. job was a big step up for the contractor and presented a variety of challenges even before the issue of material came up.
"We bid work the way we think the work should be done. We don't cut corners," Maul says. "We tell the client what we think should be done to their parking lot and then we go from there. So we had been bidding big jobs but we weren't getting them.
"In this case we got this job partly because the client budgeted properly for it, so when we bid it we came in within their budgetary constraints. This job got us in...and this job is going to help us get bigger jobs."
In fact, it has already helped. Two weeks after completing AMC Cantera 30 Maul Asphalt was awarded a large hotel property, and the theater chain asked them to do another property 20 miles away.
"We knew we could perform this kind of work on this large a scale because it takes all the different aspects of our business and puts them to good use," Maul says. "Jobs of this size and complexity require planning, scheduling, detail, and communication, both with the material supplier and the customers and tenants, and that fits right in with what we do best."
Driveways to parking lots
Started in 1986 as a part-time driveway sealing business when Maul was in high school, the company was run by Maul's brother and current vice president of marketing Chris, while Eric was in college. The brothers continued the company, eventually dividing the territory so they wouldn't compete, and Eric continued working even after he got a job in the health care industry.
In 1997 they sold the company when Eric had to move to Arizona for his job, but three years later, when he decided to move back to the Chicago area, he wanted back in.
"My timing was pretty good because the person we sold it to was ready to get out, so we just bought it back," Maul says. "It was a driveway company when we sold it and it was a driveway company when I bought it back. But we decided if we were going to make serious money in this business we had to be a commercial contractor, and now more than 95% of our work is commercial."
Today the company is run by the Maul brothers and by Chris Rowe, vice president of operations and a partner on the paving side who runs the paving division. Maul Asphalt employs 20 people during the summer, running three sealcoating crews and one paving crew each day. Maul says the paving crew has remained stable over the years, with about half the sealcoating crews being new to the company since 2000. Maul says they do three or four jobs a day, with half the work involving patching and paving and half the work sealcoating and striping. The company regularly services more than 200 clients, most of whom have multiple locations.
"We do all our own work locally," Maul says. "We sell it and have full control. The bottom line is we're doing the work so we can provide the quality."
He says making sure each crew understands the day's work ahead is a priority for the company. Each Maul crew includes a foreman who is responsible for the job and for communicating with the clients or tenants at the jobsite. Maul holds morning meetings each day with the job chief to make sure he knows what to expect each day. Then job chief is provided with MapQuest directions to each site and often an aerial view of the property obtained on the internet.
"We do a lot of sites half one day and half the next, and they need to understand that because that's what we've communicated to the client and the tenants" Maul says. "With the aerial view it's easy to show what parts are supposed to be done which days. Plus, it's just easier to talk about the job if you can look at a picture of it."
Tackling its biggest job
The 1 million-sq.-ft. job was for AMC Cantera 30, a movie theater complex in Warrenville. In addition to the main lot that served the theater the property includes six out lots, each serving a restaurant. None of the work could be done on the weekends as Friday, Saturday, and Sunday are the theater's bread-and-butter days, and the restaurants were concerned about the work chasing away customers.
"We feel it's our job to try to help the customers schedule their work. We've been around long enough to know when we will be likely to disrupt them the least and we try to help them out with that," Maul says. "We'll do it whenever they want but we do have some experience and insights in this and we try to pass that along."
Maul says the company tries to schedule work on retail properties for Monday through Thursday and tries to schedule office buildings on weekends. Because Illinois has "blue laws" that prevent car dealers from selling on Sundays they try to schedule any dealership work on Sunday.
Maul says they try to discourage night sealcoating because they feel the material doesn't hold up as well and because if the goal is to open the parking lot in the morning it's not often ready if they seal at night and the client is upset.
"Also, we feel that if you work at night a lot it ruins your crew. They're used to early morning starts and then they have to work late, it just makes it very difficult on the crew," he says. "Safety also is a concern because there's a greater chance for error because the workers are fatigued."
Maul Asphalt actually started work on the project in July, when they performed remove-and-replace repairs on 25,000 sq. ft. of potholes and spider-webbed pavement. Once that was done they scheduled the job for four days, starting right after Labor Day.
"Our big sell is pre-planning. You can't show up to a job this size without plans," Maul says. So after Maul Asphalt had determined how it was going to approach the work, they contacted the client and brought him into the planning.
"The size of the job made planning essential," Maul says. "After we had everything set we walked the lot with the customer because it brings the customer into the job."
Maul relied on the client to communicate what was going to happen to the various tenants, and then Maul followed up with the tenants to make sure they were on board.
"We're very sensitive to their schedule and we've done enough jobs where we can tell them when we don't want to seal because they won't be able to open their parking lot in the morning," he says. "We told them we're sealing, we told them where people can park so they can still get to the restaurant, and we told them where we were going to rope off some walkways from some parking areas to the restaurants to make it easier for their customers. Communicating with the people whose businesses we are affecting is crucial on any job but especially on a job of this size."
He says that just as important is communicating with the sealer supplier.
"A lot of people don't bother to plan with suppliers, but we keep them in the loop on any large-size job," Maul says. "We want them to know our concerns, we want them to know our schedule, you have to make sure you have the sealer when you need it and your supplier has to be on-board with that. You have to plan material issues because if you don't have material your guys are standing around on the clock waiting for a delivery."
Plus then the job could be delayed, making the client upset.
"Communicating with the supplier is as important as communicating with your customer, that's just how we feel," Maul says.
A switch to asphalt sealer
Maul says the Cantera 30 job was the first time they'd ever used an asphalt-based sealer, but they felt they had little choice. Originally the job was supposed to happen in the spring but it was delayed to summer, then it was pushed to after Labor Day. And the schedule called for the local SealMaster franchise four tankers (20,000 gallons of pre-mix) of material at the site right after Labor Day.
"With all that was happening last year with coal tar we felt we were going to have a problem getting enough coal tar sealer and we didn't want to want to sealcoat half the lot with coal tar and half the lot with asphalt because it would be noticeably different because of the sheen," Maul says.
So they talked with the supplier and in the end felt comfortable enough with the product and support that they decided to switch to asphalt emulsion - on the biggest job they'd every done.
"The customer was pretty much open to either product. They didn't have an issue with us using asphalt-based sealers," Maul says. "Their biggest issue was 'Is the price going to change?' and we said 'No' and they said 'Will it hold up?' and we said 'Yes.' That's all they needed to hear."
Maul says that after using coal tar it took a little time to get the feel of asphalt emulsion sealer. He says it's a little heavier product so it took some time to get used to spraying it.
"Asphalt sealer sprays differently because it kind of rains down in drops on the pavement. It doesn't create as fine a mist because it's heavier than coal tar sealer so you have to move a little slower and keep the equipment clean because it clogs up more," Maul says. He adds that contractors need to agitate asphalt-based sealer daily because it separates more easily.
"You have to agitate the material, you have to adjust the spray tips, and you have to clean the strainer on the sprayer more often. Basically you just have to keep your equipment clean," he says. "It trims great but you have to watch the sand content very closely."
Maul adds that using additives and proper sand loading is key to asphalt sealers holding up long term.
"The material issue came into play on this job just because of the timing but it worked out well," Maul says. "We're pleased with the results and so is the client. After that we stayed with asphalt the rest of the season because we didn't want to be going back and forth."
"From an application standpoint the guys liked it and that will be a factor we consider when deciding what to use this year. But the main factor is can we get it and what is the price differential."
He says this year they will likely use an asphalt-based sealer again or possibly an asphalt/coal tar blend.
"I want to be in this business for the long term and some things are in our control and some aren't," Maul says. "The bottom line is simple: If the material changes we'll have to change with it. We'll just use what's available."
A good first day
"The job went amazingly well. We were concerned a little at the start because the job was so big, but it helped that we were able to knock out half of it in one day and that made us feel better. And the weather was in the 80°F range and there was a lot of sun so we could get the second coat on the same day. Planning made it go so smoothly."
Maul says they were especially pleased with their first day on the job when they were able to knock out almost half of the work.
"The first thing we did, based on advice from one of our competitors, was to hire a sweeper to come in and sweep the whole lot," Maul says. "Our competitor thought the job would go much smoother after that and he was right."
He says his crews normally clean the lots with walk-behind power blowers but he spent only $500 on the sweeping "and I would have spent more than that in labor doing it with blowers.
"It was a good idea, not for every lot but for lots of this size," Maul says. "The sweeper will get it cleaner and it's much more cost effective."
The 8-person crew began work on the parking area farthest from the theater, beginning what would eventually amount to 55,000 linear feet of crack repair.
"We started crackfilling in front of the property in the morning and moved toward the main theater as the day progressed," Maul says. "If possible we like to do all the crackfilling first to get it out of the way if possible but it's not always possible."
Then two workers cut in as much of the pavement as possible before three spray teams (two people per team) took over.
"We have our trimmers trim ahead for next day if we can be assured people aren't going to get into the trim work overnight," Maul says.
Eventually Maul Asphalt coated the lot twice, Rowe striped more than 100,000 linear feet, and they hired a subcontractor to install thermoplastic stop bars and turn arrows at the parking lot entrance.
"The main entrance driveway was the most difficult part of the job because it's the only entrance in and out with a traffic control device so it couldn't be closed, plus it required thermoplastic markings," Maul said. So they showed up at 1 a.m. to get the entrance done, increasing some additives to speed sealer drying so the thermoplastic sub could get on and off quickly.
"We were on and off in four days, and we're very proud of that and the client appreciated that too," Maul says. "As a result of this we got another AMC Quarry cinema job and they wanted us to sealcoat it in the fourth week of October and we wouldn't do it because of the weather."
Maul suggested cracksealing the lot in the fall and then waiting until this spring to sealcoat.
"We got that job as it was a direct result of doing a good job on the Warrenville property," Maul says. "They were looking for good service and a quality job, and that's what we provide. It's not only about price. They want to find a quality vendor and we try to go in and cut their problems to a minimum and anticipate their needs."