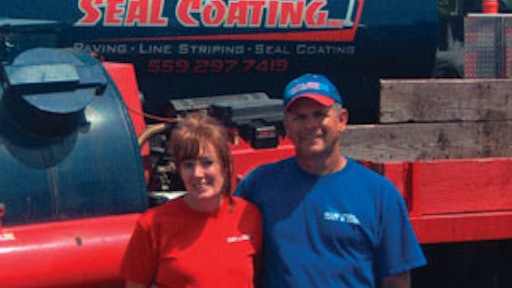 Tim and Debbie Wells got married in 1982, shortly after graduating from high school. While most newlyweds take their wedding money to buy dishes, bath towels, or fancy drinks on their honeymoon, the Wells used some of the money their guests gave them to use for their new life together and made an out-of-the-ordinary purchase — they bought a parking lot striper and began a pavement maintenance business.
"We were crazy and driven high school kids," says Debbie Wells. "This is what Tim did as a teenager — he worked for a sealcoating company in the summers, so this was all he knew how to do as far as work. Out of high school, we said 'Wow, we could start our own business,' and we did!"
With their new paint striper, Tim started handling the striping work at the sealcoating company where he was employed. About a year later, Tim and Debbie decided to break into sealcoating and bought a 500-gallon tank, some blowers, and hand squeegees. For the next two years, the Wells worked on small projects on their own. Then they "took the plunge" and bought a bulk truck and their first squeegee machine. Coast to Coast Seal Coating of Fresno, CA, was born.
From the start, Coast to Coast worked on building commercial accounts.
"By our fourth year, we had a lot of property management accounts," Wells says. "We still work for a lot of our original property managers who helped us start. It's great, especially when they tell us that they won't use other people or take other bids because they've gone through the other contractors, so that makes us feel like we're doing something right."
The company is heavily focused in the sealcoating and striping arena — about 80% of their work is sealcoating and striping. Coast to Coast does all its own striping on its sealcoating jobs. They also offer hot crackfilling, asphalt repair, and will contract out paving when they need to. About 80% of their work is in the commercial sector, but they make a point to stay in the residential market.
"A lot of the companies in our area won't respond to residential, and that's one thing we've always made a point to do," Wells says. "Sometimes it's really hard to fit in those little driveways in the middle of the season, but we say that no job is too big or small, we find room for them all."
These days, Coast to Coast doesn't have to spend a lot of time or money on marketing. A good reputation can go a long way when it comes to generating sales. Wells estimates that 75% of their business is from repeat customers and referrals. She says that for a while Coast to Coast was getting calls out of the blue from property managers they had never worked for. Eventually, they found out why.
"What we didn't know for many years is that a lot of people in the industry, like property managers, get together and have luncheons about once a month, and they talk. That's how they heard about us," she says. "You always want to do those people right so they have a good conversation about you over lunch."
The ad dollars Coast to Coast does spend are minimal.
"Our advertising is our phone ad and our equipment," Wells says. "A lot of the calls that we get from people we've never worked with before are from people who are getting our number off of one of our trucks or our barricades. All of our equipment has our name and phone number, and the equipment is red and blue so it's noticeable. That's been our best advertising tool for the last several years — our equipment, and it's free!"
Coast to Coast even has a simple, yet effective way of finding employees.
"We put up a plywood sign on the fence at our yard that says: 'Help Wanted: labor, must have clean DMV'."
The system works, and Coast to Coast attracts and keeps good employees because they make it known to everyone that they're part of a team, "Team Coast to Coast" as the shirts everyone wears to work say.
"Now that we've become so much more equipped, their jobs have become easier. We pay them, for the industry in this region, well. If they want overtime, it's there. We also give them bonuses and treat them well because the bottom line is we couldn't get any of this work done without our employees," Wells says. "We really try to make a good working environment."
The sealcoat operation
In California, the sealcoating and striping season generally runs from early April to Thanksgiving. During the season, Coast to Coast has about 10 employees. Wells says that because everyone works together so efficiently, they can break their employees up into three crews for medium-sized jobs. When Coast to Coast gets a larger job, such as a 800,000-square-foot shopping center, everyone works that job to get it finished on time.
Wells says business is great for her company, and for the last five years it's been common for them to be out 30 to 60 days on jobs, especially in the summer months.
Coast to Coast is a firm believer in laying sealer with squeegee buggies. Wells says most of the sealcoat contractors in her area use this technique because the high traffic indexes in their area are very demanding on sealcoating. By using a squeegee buggy, Coast to Coast can apply two coats of asphalt emulsion sealer, with sand in the first coat and no sand in the top coat, and expect the job to hold up for up to five years.
Coast to Coast has five sealcoat buggies, four of them from Diamond Built. They also use two 2,000-gallon bulk trucks to transport material to the jobsite and a 5,000-gallon storage tank at their facility. When Coast to Coast has large jobs to complete, their sealer supplier brings sealer to the job in 5,000-gallon tanks. Material is supplied by Asphalt Coatings Engineering, Wasco, CA.
Coast to Coast goes through meticulous pavement prep before each sealing job. They sweep the entire lot with a walk-behind sweeper then follow that with a hand wire broom and a walk-behind blower.
After the cleaning process, they apply an oil spot primer to any grease, oil, or other types of spots that need priming. Wells says the priming application used to be the most shunned job on the crew because material was applied with a bucket and broom or paint brush, but Tim came up with an idea a couple of years ago to make things a little easier on the crew.
"Our first striper was conventional [airspray], but now everything we use is airless, so that air machine had been sitting in the shop a long time," she says. "Tim got the idea that there had to be a way to run the primer through that machine. So they took the air striper and converted it so it could spray oil spot primer. So no more bucket and broom!"
On the job
Coast to Coast commonly takes on larger parking lot and shopping center jobs. These big projects take a lot of planning and coordination, but Wells the crew members are very adept at their jobs.
"Our guys are like a well-oiled machine," she says. "It's amazing sometimes the way they work together. We're very fortunate to have a great group of guys."
Before starting a job of this size, the company draws up a map, for their own convenience and the convenience of everyone who has to work in and around the shopping center or parking lot.
"We map everything out before the job is done," Wells says. "The tenants are given a color-coded map that shows exactly what we're going to be doing on each day, so I think that helps make things run smoother."
Wells says the crew typically does about 100,000 square feet a day. The crew will arrive at the jobsite at 2 or 3 a.m. and will work for up to 12 hours. Part of the reason the crew goes in so early is for the convenience of the area tenants. Coast to Coast will try to open up main drives as early as possible to reduce congestion, or get the drive-through lanes at fast food restaurants open by noon so they don't lose their lunch business.
The sealcoat process runs smoothly because everyone knows what job is theirs and does it.
"When they pull up to the job the first thing to do would be to secure the section that we're doing for that day with barricades and flagging tape," she explains. "But then the guys know what to do after that — one guy will get the power sweeper out, another will unload the blowers and get them all lined up, another guy will start unloading the buggies, so and so is on the wire brushes — so each guy has his own thing.
"Then the cleaning process starts, and they all know how to work together to clean the pavement. At the same time, one guy is usually mixing the loads, then half-way through the cleaning, the person applying primer will leave the cleaning crew and start priming the oil spots. Once the cleaning is done, because someone has already been unloading the sealcoat machines and mixing the loads, then again each guy has his own machine that they're responsible for, that way they know how to run that machine. The guys who don't run a machine will squeegee out the trim, and they just go from there."
Wells says that if the crew starts their operation at two in the morning, then generally by noon they can have the storefront main drives open so traffic can flow smoothly. These drives generally have minimal turning traffic, which is one reason why they open up something so fresh. When it's possible. Wells says they prefer to keep a freshly sealed area closed down overnight.
The future
Having been in the business since the early 1980s, Coast to Coast has seen a lot of changes in the industry. Wells has converted their accounting, bidding, and filing systems to computer, and has seen a rising number of customers communicate with her through e-mail.
Not all change has been beneficial, however. Wells says one of the biggest challenges the industry will have to face is the costs of insurances and workers' compensation. She also says another issue that is sure to affect sealcoating and paving contractors, especially in California, is air quality issues and regulations.
"We just got a bid the other day, and it was the first time that someone spec'ed that we have to clean with a water truck," Wells says.
Wells also says contractors can't escape the effects of high oil prices. She says asphalt prices go up every month or so, and diesel and gasoline prices are hovering just under $3.00 per gallon.
"It has come to the point where on our bids — especially if there is paving work on it — we're putting disclaimers that we cannot guarantee this price, and we're putting disclaimers in about fuel surcharges," she says. "What if we're paying $4.00 a gallon for gas in September, and someone wants to use a bid from February?"
Despite those concerns, Wells says Coast to Coast's future looks great, and they're looking forward to facing the challenges and coming out on top.
"We've worked hard for 23 years, and I think we will continue to be one of the top sealcoating contractors in this area," she says. Wells adds that she and Tim are content with their operations, as they currently are equipped to do any size job. She says they may add another sealcoat crew and another buggy in the future, but don't plan to expand to another city or venture outside the central valley.
"I see us continuing to go after these bigger sealcoats and landing them, but I don't see us getting to the point of 10 sealcoat machines and four bulk trucks," she says. "That's too many pieces of plywood to put up on our fence looking for employees."