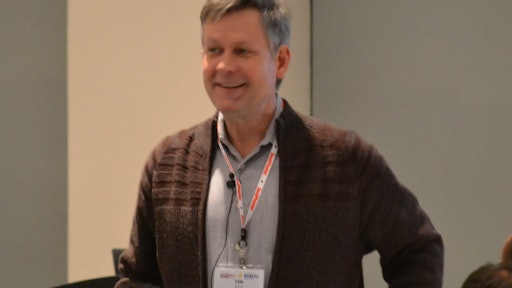 New topics and new speakers will highlight the conference program of the 32nd annual National Pavement Expo, Feb. 1-4th in Nashville, TN.
Allan Heydorn, NPE conference manager, said the four-day 2017 program features the largest conference program ever with over 50 seminars and workshops, almost 30 of which focus on business management.
"Far and away the most-requested topics by contractors are management-related topics," Heydorn says. "We've addressed those requests by offering possibly the widest range of business management sessions we've ever offered."
If business management is something you want to focus on in the new year, be sure to check out these four new sessions at the 2017 conference that cover all aspects of business management. 
How to Design and Implement Plans for Bonus or Incentive Compensation
Session Number: A44
Wednesday, February 01, 2017: 3:00 PM - 4:30 PM
Unlike salary and wage plans, which compensate employees for the work they perform, "incentive" plans are used to encourage employees and reward them for achieving a specific result – a result "above and beyond" the basic job performance. In this session you'll learn about different incentive approaches and the impact each approach can have on your business. You'll learn how to incentivize different types of salaried workers and which approach fits best for which type of work. You'll take home the steps to develop, introduce and implement incentive plans for your company, and you'll learn how to make sure the plan works for you and your workers. Plus, you'll learn the "dos and don'ts" of incentives and bonuses. Come learn how rewarding employees for work "above and beyond" can benefit your bottom line – and even encourage loyalty and enhance employee retention.
Register for this session
here
.
Essential Risk Management Tools to Protect Your Company
Session Number: B45
Thursday, February 02, 2017: 8:00 AM - 9:30 AM
All contractors at some point are involved in some type of litigation, but there are steps you can take to manage your risk to both deter litigation and to better defend your company should litigation occur. In this new session you'll learn from a litigation attorney specializing in construction law the processes and procedures you can put in place to protect your company before an event occurs. You'll be introduced to essential documents for your company, from bidding to performing to billing. In addition you'll learn procedures contractors should follow at each stage of the process. Plus learn the impact a company safety program and training efforts can have on your operation and your defense. A "must-attend" session for every contractor!
Sign up for this critical risk management session here.
How to Kick-start your Season: High-energy Motivation to Strengthen your Sales Today!
Session Number: W12 
Wednesday, February 01, 2017: 9:00 AM - 12:00 PM
Are you a fantastic dreamer, but find it difficult to make those dreams a reality? Do you overextend yourself in so many directions that you find it difficult to meet the goals you set for yourself – and you're your company? If this sounds familiar then this fun, energetic, interactive workshop is right up your alley. A contractor with a reputation for high-energy motivation that led to business and personal success will help you identify specific steps you can take to strengthen your drive to your dreams. You'll learn the proven psychology of the business card, the value of elevator pitches (including how to craft a successful pitch), and how you can get yourself in the client's door -- while keeping your competition out. You'll learn proven techniques for getting back lost customers – and then retaining them – supported by inspirational stories and testimonies along the way. Plus, learn how building bridges with your fellow contractors will boost your sales. Designed for businesses small and large, this high-energy, motivational workshop will kick-start your season – and your NPE experience -- so you can hit the ground running at the highest level possible.
Make Your Hot Mix Supplier Your Paving Partner
Session Number: D37
Saturday, February 04, 2017: 8:00 AM - 9:30 AM
Because most paving contractors don't operate their own hot mix asphalt plants, the relationship between themselves and their hot mix asphalt supplier can have a significant impact on their paving business. And that relationship doesn't have to be adversarial — it can be one of cooperation, teamwork, and increased profits for both parties. In this new session you'll learn steps you can take to make the HMA buying process go smoother. You'll learn the importance of communicating your needs to your supplier, the timetables and time pressures your HMA supplier works under, why you might not be able to get the mix you want each time you want it, and what — if anything — you can do about it. Plus, you'll take home tips you can put to use almost immediately to improve scheduling and mix transport. By gaining greater insight into your hot mix supplier's operation you can make your HMA supplier an ally in your paving business — and this session will show you how.
See more details and sign up for this session here.
For full conference details, be sure to visit www.nationalpavementexpo.com/conference