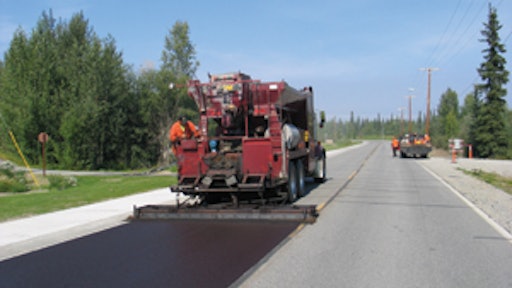 It was December 2004 in Sacramento when I received the call from Cal Morton, owner of Paving Products in Fairbanks , AK , 130 miles south of the Artic Circle . Paving Products is a family owned and operated business that originated as the paving/construction division of Fairbanks Sand and Gravel. Paving Products became its own entity in 1983, when two employees bought the business and later sold it to Robert Morton (Cal 's father) and a managing partner in 1987. Robert bought out the partner in 1990 and the company has been family owned and operated since then.
Cal was calling because the 354th Civil Engineering Squadron at Eielson Air Force Base was interested in doing some slurry work. Eielson AFB is located some 22 miles south of Fairbanks , just past the town of North Pole , AK. Since Paving Products had not placed any slurry in over 20 years, Cal asked if I would come to Fairbanks to consult with the Air Force on the use of slurry in cold climates where temperatures drop to 60 degrees below zero. The proposed project would involve around 50,000 square yards of slurry.
In March, I flew to Fairbanks . Cal and I met with the Air Force, looked at their proposed streets (covered with ice and snow) and talked of ways to insure they could receive a successful project. The streets selected were mostly in the family housing section of the base where scheduling, notification and traffic control would be paramount.
I recommended upgrading their specifications to include a highly modified emulsion and a full mix design that would incorporate a six-day soak test (an International Slurry Surfacing Association mix design standard) to insure that we were getting the performance results we needed. Our next step was to locate suppliers.
Identifying suppliers
Cal and I met with rock producer, Fairbanks Sand & Gravel and discussed ISSA specifications for a Type II aggregate along with a desired target "x" value (meeting the ISSA's wet track abrasion test) that we felt would give us the best results for the roadway surface which was described as coarse and in need of sealing. (A smooth road surface generally requires 14 pounds of dry aggregate per square yard of slurry application, and a rough road requires 18 pounds of dry aggregate.) FS&G said they could make the rock after the spring thaw.
I recommended a heavily modified CQS (cationic quick set) emulsion that would push into the performance range of a microsurfacing emulsion but could be shipped, stored and handled without separation, forming shot or worse. Securing a reliable supply of emulsion was to be our biggest challenge.
The only local emulsion source, facing possible supply issues, was unable to commit to making the emulsion we needed. That left us with the choice of either backing away from the project or finding someone we could count on to make the material and ship it to us in Fairbanks . I called an old friend, Dave Zillman with Albina Asphalt in Portland , OR . I have worked with Dave on various slurry, microsurfacing and experimental projects since 1975. I knew I could count on him to give an honest opinion as to whether he could make a proprietary material, ship it 2,300 miles to Fairbanks and have it arrive in stable condition. The next day Dave called and said they could do it.
With rock and oil supplies in hand we (CPM) committed to the project with two RoadSaver II Microsurfacing machines, which would be shipped by lowboy to Seattle, then barged to Anchorage, AK, then delivered to Paving Product's yard in Fairbanks by lowboy. In addition, Francis Cardoza, senior CPM machine operator, Charlie Soares, RoadSaver sales manager, and I planned to assist Paving Products in placing the modified slurry. The three of us share nearly 100 years of experience in slurry and microsurfacing, and have worked on projects around the world. Although we had slurried the southernmost road of Punta Arenas , Chile , where the main traffic problem was penguins, we had never been further north than Southern Canada .
Developing a time line
Application dates were scheduled for four days beginning July 23, reportedly the best potential days for good weather. From experience we knew that advanced planning and a sequenced series of target action dates would be needed to assure that everything came together at the right time in the right place and in a usable condition.
We developed a time line to have materials produced, tested, purchased and shipped; equipment checked out, loaded with necessary supplies (a variety of hose connections, spare application tools and a new spreader box) and shipping arrangements scheduled; and travel accommodations reserved.
June 1
Aggregate samples were crushed, tested and samples sent to CPM and to Petroleum Sciences Inc. in Spokane , WA , who would perform the mix design. On acceptance of the gradation the aggregate was produced.
Firm shipping commitments were arranged for the RoadSavers so they would arrive in Fairbanks by July 18.
A supply list was drawn up for material, tools and equipment that would accompany the RoadSavers.
Travel arrangements were booked.
Recommended specification changes were submitted to the Air Force upgrading aggregate, emulsion and mix design requirements.
June 15
Aggregate production was completed and shipping to the Air Base arranged.
Two RoadSavers were selected, checked out in the shop and prepared for shipping.
Supplies (spreader box rubbers, squeegees, burlap, tools, assorted hose connections and reducers for water hydrants, etc.) were packed into 55-gallon drums and loaded into the RoadSavers along with a new spreader box.
All materials were submitted to the testing lab for the final mix design.
July 5
Mix design was completed and submitted to the Air Force. (All materials passed; the six-day soak test came in at 24 grams loss — 75 grams is the maximum allowed — showing strong performance.)
During this time frame we also had to locate and ship aluminum sulfate which was not available locally. We wound up shipping it back as the mix design reduced the quantity recommended. Paving Products secured the cement locally.
July 18
The first load of emulsion left Portland for Fairbanks , a 2,300-mile haul over sometimes desolate, rough roadways. Everyone crossed their fingers.
July 20
Francis, Charlie and I flew to Fairbanks . Our first stop was at Paving Products where we checked out the RoadSavers, reviewed our game plan with Cal and took a look at some old slurry machines stored in the back lot. We heard that Young Machinery made a continuous machine back in the 1980s (self loading, self propelled), but none of us had ever seen one. Here was a well preserved one hidden in the back lot next to a vintage SB1000, also a Young product. It seems the weather extremes keep rust at bay, both units were fairly well preserved. When Cal said they used to do slurry, I had no idea they used a continuous machine.
Preparing the slurry machines
We spent two days in Paving Product's yard unpacking the RoadSavers, assembling the spreader box and installing the diverters and side shifts that had been removed for shipping. We also calibrated the trucks for aggregate flow at the Fairbanks Sand & Gravel yard next door.
Once the calibration charts were completed, we set the RoadSavers mix design tolerances by adjusting aggregate flow to produce the desired asphalt content and set the cement flow to produce the required cement content. With temporary Alaska registrations on board and the RoadSavers ready to go, we proceeded to Eielson AFB to go through the inspection and documentation process necessary to be allowed on base.
Meanwhile Paving Products had secured a stockpile on base, hauled in all the aggregate we would need, purchased cement, set up a hydrant water source, repaired (filled cracks and other deteriorated surface areas) the roadways we would seal, and posted and notified the residents.
We spoke to the tanker driver bringing the emulsion several times on Friday as he worked his way the final 200 miles. We met him at Eielson, went through the paperwork and inspection process and secured the tanker on base. Everyone breathed a sigh of relief when Francis popped the lids on the tanker and found the emulsion to be in good condition. Of all the jobs we have done all over the world, we have never shipped a high-performance emulsion that distance overland.
Applying the slurry
Saturday, July 23, was the first day of slurry. Since we had not brought a full crew, Paving Products asked their chief mechanic Bob Schertz to assist us. Bob worked with us from start to finish and drove line (Bob was a natural, Francis wanted to keep him) while the machines were placing slurry. Several other crewmembers received instant training and performed work as either squeegeemen and/or traffic control people.
We loaded rock, oil, cement and water, did the final box adjustments to match the road crown, set the material spread rate and began to place slurry. It was apparent immediately that we had a good initial mix and within two truckloads we had everything dialed in. Slurry had arrived in Alaska once again, this time in a high performance (quick set emulsion) mode.
Working in the "Land of the Midnight Sun" offered a whole new experience. With 22 hours of sunlight a day we could have worked long hours had we not been working in a residential area. Although temperatures never exceeded 81 degrees while we were there, the sun was very intense and the modified slurry set quickly.
Being as far away on the supply line as we were, we had extra material brought in "just in case" and we finished four days of slurry with a little material left over. We asked the Air Force for a road that was in rough shape so we could demonstrate what a modified slurry could do. The road they gave us was an unpaved road surfaced with RAP (reclaimed asphalt pavement). We placed 1,000 linear feet of slurry on this extremely coarse road (requiring 24 pounds of dry aggregate per square yard of slurry), resulting in a much improved smoother surface. Our only traffic issue on this portion of the road was a wandering moose who took interest in our work.
With the work all done we packed up the RoadSavers, arranged to ship them home and said goodbye to the new friends we made in Alaska. Three weeks later the machines were delivered to our yard in Sacramento.
While this project offered a variety of potential problems with material, material delivery, equipment delivery, crew training and a host of unknowns, advanced planning and attention to detail paid off and the project was completed without a hitch.