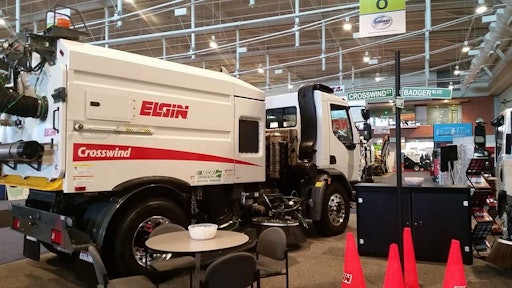 Elgin introduced the medium-duty Peterbilt Model 220 cab-over chassis option for its line of air and mechanical street sweepers. The cab-over Class 6 and 7 chassis features numerous enhancements to performance and operator comfort. Elgin Sweeper will showcase a Crosswind regenerative air sweeper mounted on the Peterbilt chassis at the company's exhibit (Booth 131) at the National Pavement Expo taking place January 28-31 in Nashville.
The Peterbilt right-hand steer only chassis is available for Elgin Sweeper's air and mechanical sweepers. A dual-steer version of the Peterbilt chassis option will be available for the company's air and mechanical sweepers later in 2015.
"We are proud to collaborate with Peterbilt to develop a cab-over chassis package that will exceed the maneuverability, operational, ergonomics and serviceability needs of our sweeping customers," said James Crockett, sweeper products manager, Elgin Sweeper. "The compact Peterbilt chassis is ideal for sweeping applications that require high maneuverability and finesse in tight spots."
Clear frame rail package
The new Peterbilt 220 chassis is available with a clear frame rail package option that provides up to 10 inches of additional frame rail space, compared to the previous design. This option optimizes the wheelbase for air sweepers, with a usable cab-to-rear-axle clear space of 117 inches, and a wheelbase of 156 inches. A 121-inch wheelbase is also available for mechanical sweepers. In addition to optimizing chassis space, the new option results in a 40-percent larger capacity diesel exhaust fluid tank, improved visibility through the rear window and greater ease of serviceability.
Maneuverability
"Operating a street sweeper requires good visibility and agility, especially in urban areas," said Wesley Slavin, marketing manager – medium-duty products at Peterbilt. "The Peterbilt chassis features a 16-percent shorter turning radius and a 40-percent closer forward visibility than conventional models." With a wheel-cut angle of up to 53 degrees, the Model 220 has a curb-to-curb turning radius of 22.5 feet on a 156-inch wheelbase truck, and a 17.5 foot curb-to-curb on a 121-inch wheelbase.
Operator comfort
The cab on the Peterbilt chassis features a completely redesigned interior, providing operators with improved comfort, safety and productivity. An expansive, 2,500-square-inch windshield and extra-large side windows provide the operator with a panoramic view of the surroundings. Other standard cab features include air-ride seats, power windows, heated remote mirrors, daytime running lamps, 18-inch diameter tilt steering column, and AM/FM/MP3 stereo. 
A curved dashboard features easy-to-read instrumentation and an interactive, 5-inch color display module that monitors vital vehicle and engine functions, as well as driver performance. The Driver Performance Assistant coaches operators with real-time driving tips to improve fuel economy and reduce component wear. Instrumentation and switches are located within easy reach of the driver.
PACCAR PX-7 engine
The chassis is equipped with a 6.7-liter PACCAR PX-7 engine with up to 260 horsepower and up to 660 ft-lbs of torque. The engine delivers superior performance, minimizes operational costs and maximizes uptime. The standard automatic Allison transmission has a push-button shifter for easy engagement.
Serviceability
By simply lifting the front access cover, the operator has immediate access to common service items such as radiator coolant, washer fluid, refrigerant cooling system, engine oil, power steering fluid, and cab air filter. The easy lift front access cover reduces pre-trip inspection and service time to maximize vehicle uptime.
"Our sweeper customers will appreciate the reduced maintenance, long service intervals and excellent fuel efficiency they will experience with this chassis," Crockett said.