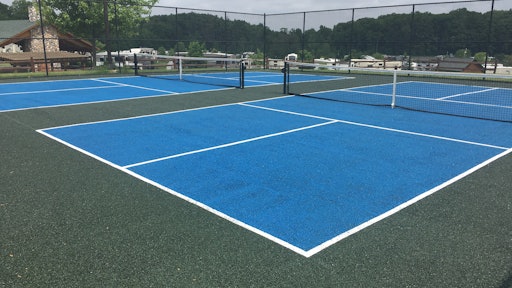 What is the fastest-growing sport among Americans aged 50 or older? Pickleball. Combining elements of tennis, badminton, ping pong and racquetball, pickleball is played with paddles and three-inch diameter whiffle balls on indoor or outdoor courts that are 20 feet wide and 44 feet long. The game is easy to learn and easy to play. It is fun, good exercise and affordable.
The Sports & Fitness Industry Association (SFIA) has reported that more three million people now play pickleball in the U.S. The number of players has grown by 650 percent over the last six years, according to the USA Pickleball Association (USAPA). The number of locations where pickleball is played totaled 6,885 in 2018, with approximately 85 new locations opening monthly. YMCAs, park and recreation centers, schools, senior centers and residential communities, country clubs and resorts are among the wide variety of locations that now offer pickleball.
Four pickleball courts can fit on a regulation size (60 feet x 120 feet), square-cornered tennis court. To meet the growing demand for pickleball, many organizations are re-purposing old tennis courts. They face common problems in maintaining and, when necessary, repairing or replacing their courts. 
From tennis to pickleball and more at Hidden Ridge
A Sun RV Resorts property, Hidden Ridge RV Resort  is an example of resort that converted its tennis court for pickleball. Located in Hopkins, Mich., 25 miles south of Grand Rapids and 25 miles north of Kalamazoo, Hidden Ridge is a gated resort for guests who prefer a rustic environment while enjoying modern accommodations and deluxe amenities. Hidden Ridge offers RV sites, comfortable, contemporary cottages and lakeside vacation homes. Guests can choose from a variety of activities, including: working out in the fitness center, swimming in the heated pool or on two pristine lakes, kayaking, fishing, biking and hiking, shuffleboard, basketball, and pickleball.
The tennis court at the resort was constructed in 2003. In order to add different sports options, and to serve more guests in the same space, the tennis court was converted in 2013 into a "SportsPlex," which features two half courts for basketball and two regulation-size pickleball courts. Pickleball is a guest favorite.
Replace or repair and restore?
The tennis court was asphalt with acrylic coatings and a gravel base. In 2019, Hidden Ridge had to address the deteriorating condition of the playing surface.
"Expansion and contraction of the underlying clay soil resulted in settling and sinking of the asphalt in some areas, heaving in others, and extensive cracking," Brian Mingerink, resort manager, Hidden Ridge RV Resort says. "We had to solve the problem before the start of this year's summer season."
When a tennis court is severely damaged, the conventional solution is to replace the surface. First, all the fencing is removed. Then, starting in already damaged areas of a court, contractors use an excavator to pull up large chunks of asphalt. After smashing large chunks into smaller pieces, the contractor loads and trucks the debris to an asphalt recycling center. Next, the base layer of gravel is re-leveled, three inches of new asphalt paving are installed, and new acrylic sports coatings are applied. The process can take three weeks. Because of the size and weight of asphalt trucks, they can damage the surrounding landscape, which then must be repaired to finish the job.
"Hidden Ridge had already replaced the court once before. It did not make sense to do that again only to have to replace it yet again down the line," Mingerink says. "The resort wanted a more durable, long-lasting solution and needed the job done quickly."
Permeable pavement solution
Mingerink contacted Daniel Carattini, managing director, DANICA Service Group, LLC, Kentwood, MI, a regional construction company. They discussed the problem, and Carattini suggested Porous Pave. The product's XLS formulation is 100 percent recycled rubber chips mixed with a liquid binder. When the material sets up, it establishes an impact-absorbing permeable surface. The rubber content imparts sufficient flexural strength so the material has the flexibility to withstand freeze-thaw cycles without cracking.
"We had used Porous Pave XLS for the surface of the 1,200-square-foot splash pad installed adjacent to the Hidden Ridge swimming pool in 2018. It was quick and easy to install and performs well," Jarid Killeen, project manager, Sport Court Construction, Paw Paw, MI, says. "Instead of replacing the courts, we could restore them with a coat of the material, which would provide a more durable surface."
Killeen and his crew first pressure washed the existing surface and used a rotary scrubber to remove debris. The cracks were repaired. His crew then mixed and applied a one-inch layer of the paving material to top coat the court surface, which totals 7,200 square feet. The product is mixed on site in a portable mortar mixer, shoveled from wheelbarrows, and finished with bullfloats and trowels. The job took five days (including site preparation and putting down the court lines), and the new surface was immediately ready for play.
Results and reactions
The permeable pavement has 27 percent void space, and it can drain up to 5,800 gallons of water per hour per square foot. It drains and dries quickly after rain events, and the surface is quickly playable without having to use squeegee to remove water.
Experienced players appreciate that the rubber makes the surface non-slip and more impact absorbing and less jarring and easier on their joints than acrylic-coated asphalt.
They also say that the ball moves faster after hitting the surface, and they enjoy the quicker game as a change of pace.
"I am an avid pickleball player and play several times a week year round," Matt Lamb, vice president, sales and marketing, Porous Pave, Inc says. "I had the chance to play on the Hidden Ridge courts after they were re-covered with our XLS formulation. I immediately felt the difference on my knees and ankles. It is a much more comfortable surface than asphalt."
"Porous Pave proved to be good solution for repairing and restoring our courts," Mingerink finished.