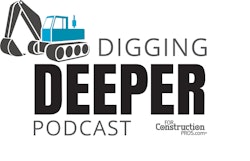 In Part 1 of a discussion with Shepherd Nelson, equipment superintendent at Goodfellow Bros., Shep shares what it's like to manage a fleet of roughly 1,500 pieces of construction equipment and 500+ vehicles; the steps Goodfellow is taking to implement smart technologies for its fleet operations; as well as the challenges and opportunities of turning telematics data generated by this massive fleet into actionable insights.
Tune in to Part 2 in the episode debuting on August 8.
Digging Deeper is a podcast series highlighting various aspects of the construction industry, including the equipment, people, companies and associations making it all happen. Click here to access more episodes.