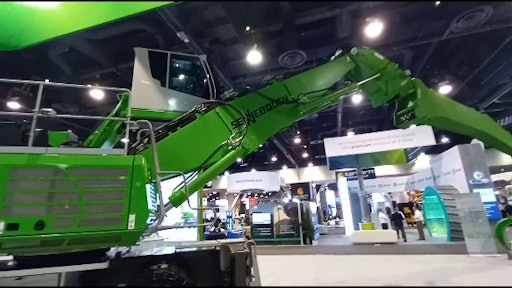 AC Business Media
One big reason contractors attend CONEXPO every three years is to see what's now and what's next. In the telehandler, crane and material handling space, there was no shortage of new equipment to see on display. Constantino Lannes, President & CEO of Sennebogen, spoke to us at CONEXPO/CON-AGG 2023. Lannes, an industry veteran, told us about the trends his customers demand—and how Sennebogen is meeting needs around:
Ease of use for new equipment
Lowering operating cost per piece of equipment
Reducing downtime (always a trend!)
Availability of customer training
Compatibility of attachments and kits
You may have heard of Sennebogen because they make the largest material handler in the world, the 895 E Hybrid, with an operating weight of 420 tons and a reach of up to 40 meters. It's used in the port handling and coal and scrap markets. In that same E series, though Sennebogen serves several segments of the off-highway construction industry. Sennebogen is unique in that even though it has over 2,000 global employees it is still family-owned and operated out of Germany. They're taking their 70 years of experience manufacturing high-quality equipment and applying it to the latest generation of off-highway material moving machines. One thing Constantino stressed was the need to maintain the lasting features of the equipment that operators know and love. Trends and tradition can work together.
"Sennebogen is proud to be the only manufacturer of material handlers, where your joysticks are still hydraulic, your main control valve is still hydraulically controlled, your auxiliary circuits are still all hydraulically controlled. What makes it very simple to troubleshoot and to solve problems," Lannes said.
The global telehandler and materials handling market has over a dozen major manufacturing players. While the top 2 manufacturers control about 30% of the market, the remaining 70% share is up for grabs from household brands and new entrants alike. This competitive landscape means contractors have more innovations to choose from – and will continue to for years to come. According to Precision Reports, this makes it one of the fastest growing construction equipment segments with a market size of almost $7 billion in 2022. With an annual growth rate of 5%, the market is predicted to be worth over $9 billion in the next five years.
One area of innovation that contractors have been demanding for years is in making equipment attachments and kits compatible across product lines or machine sizes. Manufacturers who exhibited at the Las Vegas Convention Center in March demonstrated that they heard that plea loud and clear.
At Sennebogen's North Hall booth, that was especially evident in their E series handlers.
"Our new 835 vehicle - this is what you could call a Swiss Army knife where you can easily convert your material handler on a shear machine without leaving the cab. You can operate the material handler as a material handler or as a shear machine. What means much lower operating cost. One machine only, one piece of equipment to maintain, one operator only. These are all advantages that you can have when you utilize the Sennebogen 835 vehicle," Lannes explains."
There is additional compatibility in Sennebogen's equipment.
"If you buy an 825, an 835 and an 850, all E series, one uptime kit will be necessary to support all these models of machines. What is an uptime kit? An uptime kit will have all the small parts and components on the electrical system, like the relays, electrical valves, pressure switches, main disconnect switches, the switches in the cab, as well as we have temperature switches, we have the coils for the different types of solenoid valves," Lannes said.
"We even have sections of the main control panel. We all know in the equipment industry that's easy. When you have a relay here and you have a short circuit, this piece will get damaged. On a conventional machine of one of our competitors, you have to replace the whole panel. Sennebogen panels are built like Lego. You can just replace a small section."
That simplicity is critical to contractors who are facing a fourth straight year of labor shortages. If we thought that 2020 was bad, we have seen that it can get worse. When construction job applications dropped by 40% during the pandemic, they never recovered. The Associated Builders and Contractors now say the industry must attract a half a million ADDITIONAL workers ON TOP OF the normal pace of hiring in 2023 to meet labor demand.
Equipment manufacturers have responded by offering more multi-machines that are easy to learn and use. They've responded with training programs that incentivize old school operators and construction industry novices alike to take up new equipment. And they've responded with online parts inventory and overnight shipping solutions that get you back up and operating faster.
Even more important? All these products and services are accessible and available on the contractor's time, which we know isn't a standard Monday to Friday, 9 to 5. Downtime is no longer an option. The construction industry has held a fairly steady 20-30% downtime rate in the past. While you can't control for weather or client-related delays, almost everything else now is measurable and manageable. And you have to do it. Private projects require uptime rate commitments. Public projects funded by the Infrastructure bill are enticing more contractors to bid with big payoffs. Competition is fierce. You'll want assurances your equipment and workforce can both handle the pace.
"We try to make it as simple as possible," Lannes said, " to troubleshoot your problems, to have a better uptime and a lower operating cost. By the way, talking about troubleshooting Sennebogengan offers mechanics training courses in Charlotte, North Carolina, at our North American head offices, free of charge. We can train you, our customer, at the same level as the dealer, making sure that you can do exactly the same work that the dealer would be done, only at a lower cost and immediately, because your mechanic is on site."
Also in Charlotte, Sennebogen keeps a large U.S. parts inventory – $55 million in parts inventory.
"And we have a hotshot system where you can call a number 24 hours a day, seven days a week. That person can verify if the part is in inventory, can give you the cost of the hotshot transportation. And if you are in agreement with that, within an hour a van will come to our facility, our employee will come to the facility, we'll ship that part and you have the quickest possible time. At the end of the day, when you buy a Sennebogen, you want to be running as much as you can for the lowest possible operating cost," Lannes said.
Ultimately lower equipment and machine maintenance costs and more revenue opportunities translate to better profit margins for your business.
Digging Deeper is a podcast series highlighting various aspects of the construction industry, including the equipment, people, companies and associations making it all happen. Click here to access more episodes.