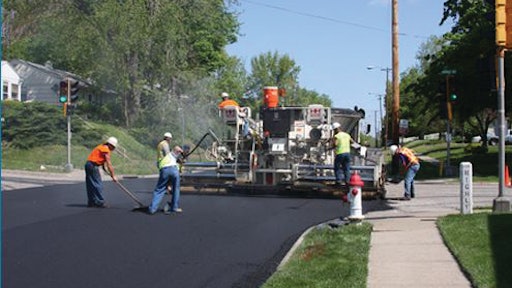 Dan Samford, vice president of equipment with Herzog Contracting Corp., says equipment data reported by telematic systems measured actual machine utilization at a significantly higher rate than Herzog's manual record-keeping process. The resulting drop in equipment cost influenced the St. Joseph, MO-based construction firm's bids enough to convince Samford and his employers to press ahead helping the Association of Equipment Management Professionals refine delivery of telematic data so that it can be used more easily in equipment management.
Telematic systems are sometimes called commercial vehicle "black boxes," combining GPS location with data from a machine's on-board computers and transmitting it via cellular and/or satellite networks to a database of operating information.
The technology isn't new, but construction-contractor use of it to get a better handle on machine costs remains one of the industry's most promising frontiers.
Telematics numbers skyrocketing
Managers of on-road vehicles are well along the path of adopting telematics data. Third-party telematics supplier Telogis estimates 30% of commercial vehicles are managed in part with the help of information from telematic systems, and the adoption rate is growing at 50% per year.
But use of machine data in managing heavy off-road equipment is estimated at 7% or less, with no real acceleration in the growth rate. This despite the fact that 80% of heavy, off-road machines produced in the U.S. since 2009 come equipped with telematics technology. The industry is putting 100,000 new machines with factory-installed telematics in the field every year.
A survey of equipment-manager members of the Association of Equipment Management Professionals (AEMP) suggests that the diversity of data from various systems is the biggest barrier to contractors using telematics data.
AEMP members surveyed overwhelmingly said the greatest unmet need stalling adoption of telematics is standardizing the way the data is reported, so that no matter whose machines are reporting, the data can be easily integrated into individual contractors' management systems. When the survey asked equipment managers about the differences between OEM telematics systems and third-party suppliers' data, the most common complaint by a large margin was that "OEM data is too difficult to utilize/integrate."
"That is all changing with the use of the AEMP standard and recent ability to utilize end-user collector programs now available from multiple providers," Samford said. Collector programs can aggregate telematic data from various sources as long as they communicate using the AEMP standard and generate reports or feed that data to the contractor's management software. "Herzog currently uses an AEMP feed-collector program called Iron Portal."
AEMP and the Association of Equipment Manufacturers went to work expanding version 1.0 of their data-reporting protocol, promoting use of the standard among equipment manufacturers and third-party telematics vendors, and recruiting equipment owners to pioneer how much accurate data can change equipment costs.
In a webinar focused on the issue, Telogis suggested what it claimed are some very conservative goals for a 100-unit fleet managed with support of telematic data:
Increase utilization 10% across the fleet
Prevent one unplanned maintenance event per year
Eliminate 2 hours of wasted fuel use per month per asset
Telogis estimates that achieving just those three goals would deliver a minimum cost savings of $250,000 over three years. And if the utilization improvement can be translated into reduced fleet, the return on investment over three years could top $3 million.
The Telogis estimates are based on a very small subset of potential operating-cost savings that can be influenced by telematics data. Herzog has been using the technology since 2006, and while the contractor is not currently a Telogis customer, the company has become a strong telematics advocate. The company began pushing suppliers to use version 1.0 of AEMP's standard communication protocol – serial number, asset ID, hours, location, GPS distance traveled, machine odometer, and fuel consumption – in 2010.
"Version 1.0 is a surprising amount of data," Samford said during the Telogis webcast. "We use those data points – hours, fuel burn, distance traveled – more than we ever thought possible: for job costs, estimating, fuel tax reporting. We're still trying to get our hands around all the possible uses for the version 1.0 data."
The new AEMP/AEM standard – version 2.0 – covers 12 new data elements, plus the seven included in version 1.0. It also creates standard communication protocol for 42 fault codes.
"Idle time and rightsizing are going to be big for us," Samford said of the potential value of the expanded standard. "One of the new data points is load percentage – with that, we will be able to determine if we need a larger machine, a smaller machine, or a different attachment on a particular job. It has big ROI advantages."
Caterpillar, Komatsu, John Deere and Volvo currently provide telematic data using version 1.0 of the telematic standard. Several more have been working to comply with the standard since version 2.0 was revealed at CONEXPO-CON/AGG 2014.
"Techology makes our operations more efficient," Samford said, "And that will make us more competitive."  
CONEXPO Video: AMECO Manager Explains How a Telematic-Data Standard will Slash Equipment Cost
European Trade Association Adopts Expanded Telematics Standard
AEMP, AEM Agree to Telematics Data Standard
Telematics Help Turtle Construction Run Milling Machines
Video: CONEXPO 2014 Reflects a Construction Economy Flexing its Muscle