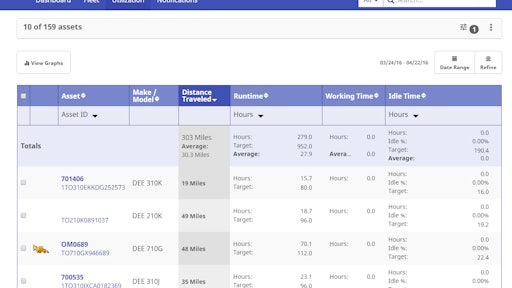 Caterpillar CEO Doug Oberhelman claimed leadership in bringing the digital revolution to the heavy equipment industry in April, not coincidentally on the same day the company released a new version of its VisionLink telematics software. VisionLink is the equipment owner's access to Caterpillar's Product Link telematics data. The software's new version plays a crucial role in the transition to smart iron.
Relying on the Association of Equipment Management Professionals' telematics communication standard, Caterpillar adapted VisionLink to accept data feeds from non-Cat machines. And the company has committed to translate data feeds from equipment that does not comply with the AEMP standard so that it works with VisionLink as well. Equipment owners can manage entire mixed fleets of equipment with Cat's new VisionLink.
"The AEMP standard defines a specific set of data elements that come from telematics devices that the heavy equipment manufacturers have agreed to share with each other at a customer's request," says John Thomas, commercial manager with Caterpillar's Virtual Site Solutions joint venture. The standard also describes a uniform way to communicate each data element that simplifies integration with any software. "If somebody doesn't want to go into JDLink for their John Deere Equipment and Komtrax for their Komatsu equipment and CareTrack for their Volvo equipment and then VisionLink for their Cat equipment, they can tell their manufacturers that they want their data shared to VisionLink or another data aggregator. Then it can be pulled together in one location, so they only have to log into one piece of software to access and manage telematics data for all of their fleet."
Shared data streams don't include every bit of the data that the various telematics systems handle. The most current version of the AEMP telematics standard addresses a handful of data elements – equipment identification, location, operating hours, fuel used, distance traveled and the like. The 2.0 version expected to be finalized this year standardizes communication protocols for 19 telematics data fields and more than 40 fault codes.
"Most construction equipment users are getting a free telematics period when they buy a new machine – three to five years or more," says Thomas. "They can get the data even during that free period and pull it into VisionLink."
Caterpillar's building a multi-brand version of VisionLink is no small change. It puts the company in direct competition with fleet-management software providers, and it can add dramatically to Caterpillar's and its dealers' understanding of the makeup and usage of competitive machines operating in customers' fleets.
The VisionLink user experience has been updated significantly. The software opens to a customizable dashboard, summarizing rows and columns of tabular data in graphic formats that can lead more quickly to actionable decisions. Users can click on dashboard graphics to get more detailed information.
Users can customize their dashboards, creating graphics from selected fleet data. For example, an easily configurable graphic can display current fuel levels or cumulative fuel consumption of just the machines on a particular project, or all the machines of a certain category and size class. The information can help determine fuel-truck dispatching, or operator training needs at a specific project site or for operators of a high-production class of machines.
The system can be set up to issue routine reports of dashboard intel and distribute them automatically at a predetermined frequency to specified recipients – project managers or equipment superintendents, for example.
Responsive page design allows the full version of the software to adapt automatically to be viewable on any kind of device – desktop computer, laptop, tablet or smart phone. Infinite scrolling allows the software to load on screen long lists of content in batches. The software automatically adds more content just before you scroll to the bottom of the first batch. More than simply a cosmetic change, infinite scroll speeds page-load times and shows you only the data you need, to save money on mobile data plans.
Caterpillar is also in the process of dividing up the many functions of VisionLink into a series of stand-alone software applications. The idea is to match the functionality of each app to different job functions within an organization. So expect apps for equipment maintenance, equipment management, production managers, asset managers and more.
The legacy VisionLink interface will remain available parallel to the new Unified Fleet version for users who have grown accustomed to using the existing software. Over the next 12 to 18 months, Caterpillar will be replicating the functionality of VisionLink in a suite of apps that will eventually supplant that legacy interface.
The VisionLink Landfill app that's already available, developed for landfill operators, hints at the course Caterpillar has set into the smart-iron future. VisionLink Landfill includes views to monitor fill and compaction when using 3D/GPS Trimble CCS900 Compaction Control systems or Cat AccuGrade Compaction Control systems. Combining machine telematics with grade-automation data allows the app to calculate the volume of waste being placed and compaction densities.
Shaping torrents of data into actionable information by merging disparate data streams, such as grade automation and telematics, is the basis of Caterpillar's strategy to bring on what Oberhelman is calling the "Age of Smart Iron."
"We've always been the world's leading innovator around the iron – we do that better than anyone," Oberhelman said at a bauma press conference in April. "Now we're going to lead the innovation in smart iron too. We'll help our customers succeed by offering powerful digital solutions that improve their capabilities, productivity and margins."
Oberhelman's leadership claim is not far-fetched. There are already 400,000 Cat machines, engines, turbines and locomotives – more than any other brand – connected to the internet through telematics systems.
"With our dealers as our key partners, we are building one technology platform to combine all the data from our machines in one place," he explained. "And then we'll apply analytics on this massive data set to solve customer problems.
"The construction equipment industry is on the verge of embarking on a change in the next three to six years," Oberhelman said, underscoring the urgency of the change at hand. "Not unlike when the iPad and smart phones first started to be mass produced – providing lots of data to everyone in the world at the same time. We have not seen much of that in our industries around construction, but that door is opening."