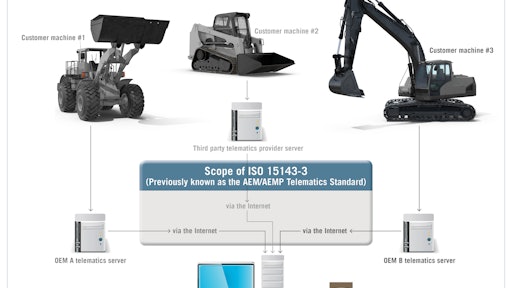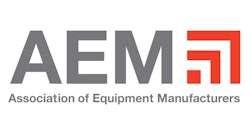 The mixed-fleet telematics standard from the Association of Equipment Manufacturers (AEM) and Association of Equipment Management Professionals (AEMP) has received approval from ISO, the International Organization for Standardization, to be accepted as a global standard.
The new ISO mixed-fleet telematics standard enables equipment users to gather more OEM equipment data into their preferred business or fleet management software, providing easier access, improved ability to manage and analyze information across their fleets, and to help save time and money on the jobsite or within their operations.
"No additional voting or potential changes should occur, but the ISO approval process has changed slightly, and ISO expects to post the standard to its website in approximately 60 days," said John Somers, AEM director of product management – construction, mining, utility.
While ISO is preparing the standard for final posting to its website, AEM and AEMP suggest three steps equipment users can take now to prepare for final publication of the ISO mixed-fleets standard:
Check with your fleet manufacturer(s) to determine when/if they plan to comply with the standard and offer data through the standard's API (Application Programming Interface) format.
Also check with the supplier of their preferred business or fleet management software for its plan to support integration of the new API to enable retrieval of their machine data. A helpful reference source is the AEMP Telematics for Fleet Managers primer.
Bookmark the expected landing page for the standard on the ISO website (www.iso.org) and check back periodically to see when it is posted.
The ISO mixed-fleet telematics standard will be part of IS0 15143 (Earthmoving machinery and mobile road construction machinery – Worksite Data Exchange) as a new section – "Part 3: Machine Data."
While the standard focuses on earthmoving equipment, data can apply to other types of machinery. (Data points include location, operating hours, fuel usage, distance traveled, caution codes, idle time, engine operating data and a variety of diagnostic codes.) Future plans include expanding the standard's coverage beyond earthmoving.
The ISO mixed-fleet telematics standard is based on the Draft API standard developed by the two industry trade groups. It was submitted for acceptance to ISO to provide manufacturers, equipment users, fleet managers and all industry stakeholders with a standard they can use confidently across all market areas globally.
John Meese, CEM, Senior Director of Heavy Equipment at Waste Management Inc. and AEMP's Chairman of the Board, said the release represents another milestone in the evolution of telematics use in fleet intensive companies.  "Today's equipment management professional understands telematics data is having a huge impact on operational efficiencies, maintenance, safety and more. This ISO standard is a critical tool for a fleet team to embrace in order to more effectively and efficiently manage their fleet."
Domenic Ruccolo, Senior Vice President, Sales & Marketing, Worldwide Construction & Forestry Division, Deere & Company and a Director on AEM's CE Sector Board, said "Manufacturers are continually working to help machinery users achieve the greatest benefits from their equipment. The telematics standard is a significant step to enable OEMs to provide more value. The standard's common format allows end users to access telematics data from any machine in their fleet and aggregate it in one place.  Seeing their fleet and data in one spot makes them more productive and allows them to generate insights and improve decision-making."
Companies in this article