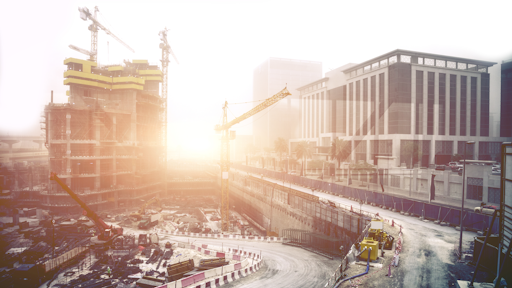 Getty Images
Total construction spending in September rose 0.5% with gains in both residential and nonresidential construction, according to Wells Fargo Securities. It's a small rise, but it's a start. Despite the monthly gains, total construction spending is down 2.2% year-to-date, Wells Fargo Securities says.
The residential sector has been a high point in the recent months. September is the third consecutive month of gains for the residential segment, which rose 0.6% in the month. According to the National Association of Home Builders (NAHB), the seasonally adjusted annual rate for total private residential construction spending in September was the highest level since December 2018.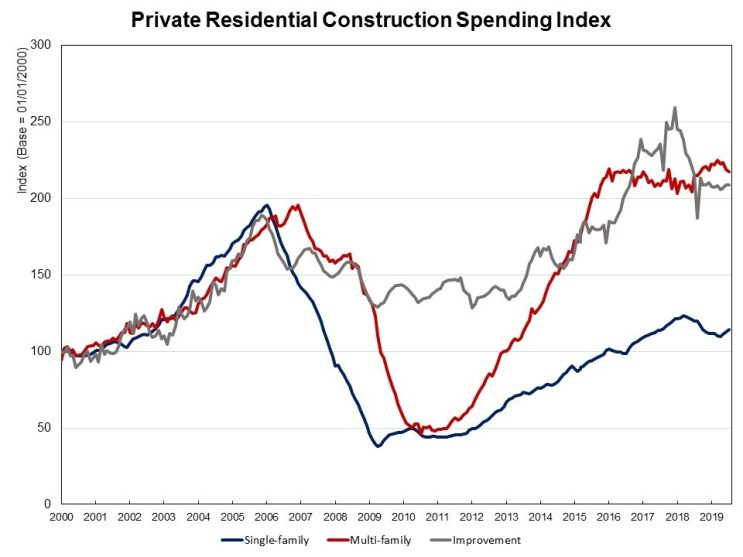 National Association of Home Builders

Within the segment, Wells Fargo shows single-family rose 1.3% in each of the past three months. Single-family construction spending was at a $274.6 billion annual pace for the month, according to NAHB — the highest monthly annual rate since December 2018.
On the flip side, multifamily spending was down 0.7% in September, but total multifamily spending is up 5.6% year-to-date.
The nonresidential sector is not as hot. Total nonresidential spending increased 0.5% in September after a 1.1% drop in August, according to Wells Fargo. Associated Builders and Contractors (ABC) adds that nonresidential construction spending is down 0.9% on a year-ago basis and is 2.4% lower than the cyclical peak in April 2019.

A 1.5% gain in spending in the public construction segment was the reason for the monthly increase. The public spending segment is up 6.6% for the year, according to ABC. Private nonresidential construction spending fell 0.3% for the month, putting that segment down 5.9% over the last three months and 5.7% lower compared to 2018.
A drop in the "power" category is likely the cause for the private nonresidential construction spending slide. Other private nonresidential categories also did not fair well in the month of September, according to Wells Fargo.
Lodging construction fell 1.3%
Commercial sector dropped 0.8%
A few private nonresidential categories did better:
Office spending was up 0.3%
Educational arose 1.4%
Healthcare was up 0.8%
Manufacturing buildings was up 1.2%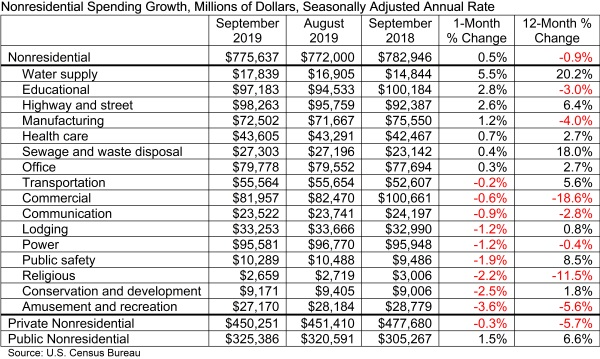 Nonresidential construction spending growth in September 2019.Associated Builders and Contractors

"Construction spending contracted in a number of private segments, including in the commercial and lodging categories," said ABC Chief Economist Anirban Basu. "While it would be easy to attribute this to a slowing economy and/or growing concerns regarding the saturation of available space in certain private segments, there are also large-scale economic transformations playing a role. Commercial construction spending is down nearly 19%, as traditional retailers continue to contend with the growing presence and capabilities of e-commerce giants, while those in the lodging segment — which dipped in September and is essentially flat year-over-year — are increasingly competing with online platforms such as Airbnb.
"Meanwhile, public construction remains one of the strongest elements of the U.S. economy," said Basu. "Spending in the water supply category surged nearly 6% in September and is up 20% on a year-over-year basis. Overall, public nonresidential construction is up nearly 7% over the past 12 months as state and local government finances enjoy their best health in more than a decade. While there were some declines on a monthly basis in certain public segments in September, year-over-year spending is up more than 6% in the highway/street category, by nearly 6% in the transportation segment and by nearly 9% in the public safety category.
"Leading indicators, including the Architecture Billings Index, continue to point toward sluggish growth or worse in private construction," said Basu. "Public construction spending, by contrast, should remain a source of economic expansion during the months ahead, but the looming insolvency of the Highway Trust Fund must be addressed soon for momentum to persist. In September, nine of 16 nonresidential construction segments experienced a decline in spending, and there has been a negative trend in place since April. Accordingly, viewed from a high-level perspective, the outlook for nonresidential construction spending is becoming increasingly uncertain, though available data regarding backlog suggest that the industry will enter 2020 with residual momentum."