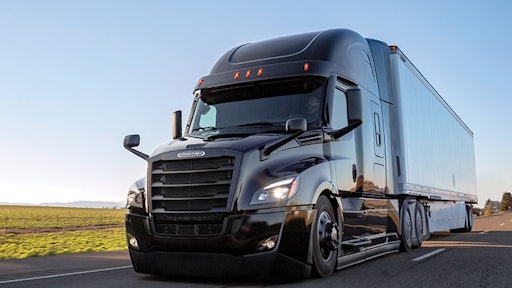 Daimler Trucks North America (DTNA) unveiled what it called a first-of-its kind "pay-as-you-drive" lease program that ties payments to billable miles. The new offering was developed to meet demand for options that help fleets "navigate the uncertainties of running a business."
The Dynamic Lease Program aims to give customers the power to personalize their financing to better manage cash flow, Roger Nielsen, president and CEO of Daimler Trucks, said during a presentation at the 2019 North American Commercial Vehicle Show (NACV Show) in Atlanta. "It is the future of truck financing."
The new telematic-based program, available starting in the first quarter of 2020, will begin with Freightliner Cascadia models equipped with Detroit engines. The program uses the embedded Detroit Connect platform, a connected-vehicle technology.
With Dynamic Lease, the leasing rate for a truck depends on the actual use of the vehicle. Apart from the typical basic charge, the customer is billed only the actual driven mileage. Conventional leasing requires the customer to estimate the truck's mileage in the coming years and either pay a fee for exceeding this mileage or an allowance in case of remaining below the pre-determined mileage. 
"We are asked all too often, can Daimler help us mitigate our risk in this economy? Can you help me manage both my fleets' balance sheet and my fleets' income statement? Well, the answer is of course we can," Nielsen said. 
Continued vehicle enhancements
Nielsen also walked through several other enhancements coming from Daimler Trucks:
The latest Freightliner Cascadia comes with additional aerodynamic and powertrain improvements to deliver up to a five percent fuel efficiency gain over the previous model. It is the first truck in series production in North America to offer SAE level 2 automation when equipped with the full Detroit Assurance 5.0 suite of safety systems, Nielsen said.
Features include active brake assist with full braking for moving pedestrians, adaptive cruise control to zero miles per hour, and lane keep assist enable an automated driving experience for heavy-duty trucks. It also features side guard assist with full-trailer sweep. It uses a robust sensor array to alert the driver to the presence of vehicles, stationary objects, or pedestrians alongside both truck and trailer when the driver attempts to make a lane change or right-hand turn, maximizing safety in both receiving yards and urban driving situations.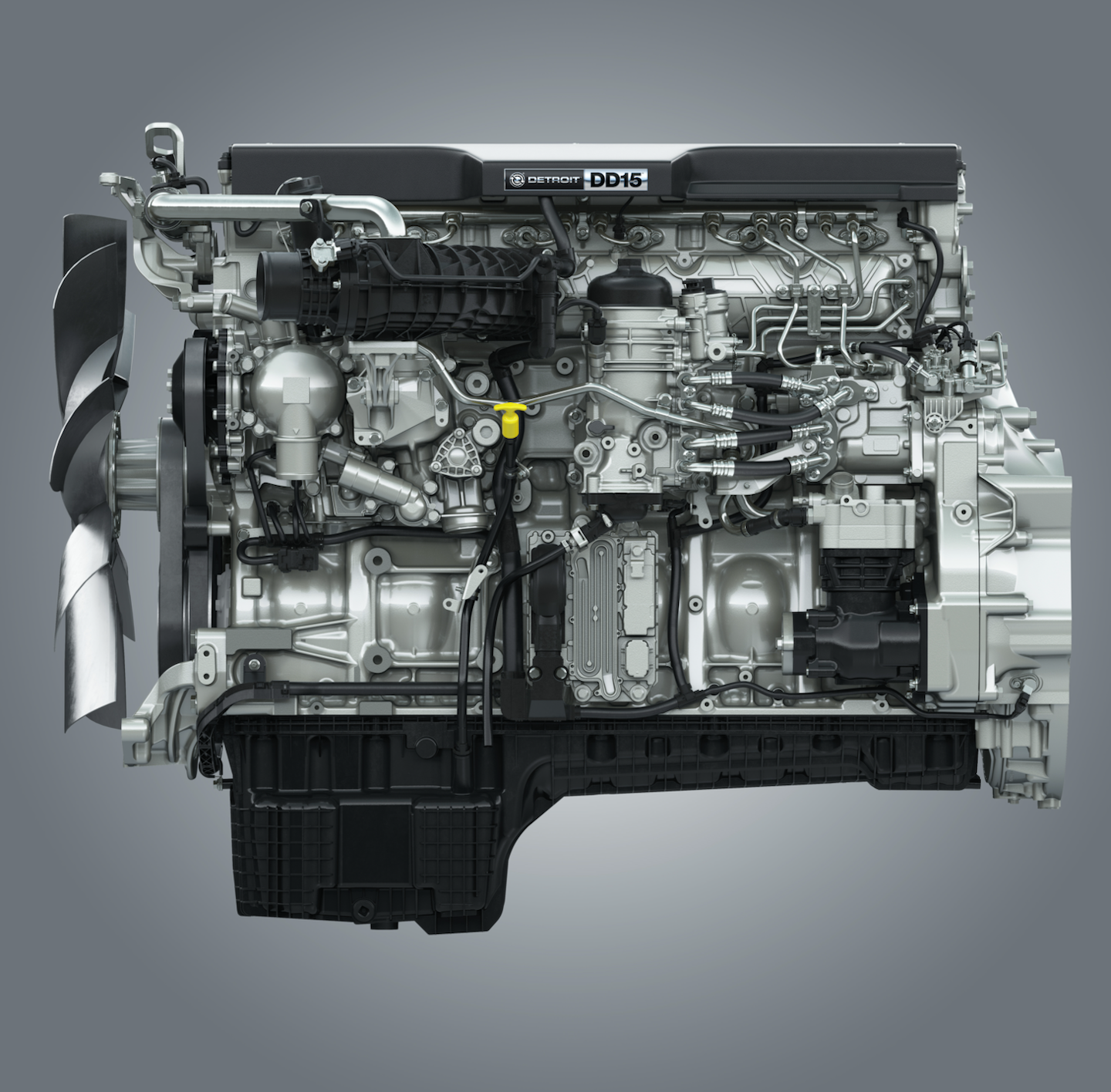 Detroit DD15 Gen 5 engine
The next generation heavy-duty Detroit DD15 Gen 5 engine boosts fuel economy and lowers CO2 emissions for the Class 8 market will be available in 2021
Excelerator, the company's new e-commerce platform, will launch in 2020, streamlining the parts ordering process and speeding up order fulfillment time. The platform connects Daimler Trucks' dealer management systems and will have its own delivery service to ensure timeliness.
The platform addresses the deepening trend of online parts ordering and simplifies the process by opening up access to DTNA's parts catalogue within its expanding distribution network and growing footprint of Alliance Parts stores.
"Our drive to innovate and to lead the way forward never stops," Nielsen said. "By listening to our customers, we deliver real innovation that brings real improvements to their efficiency, their safety, and the uptime."
Companies in this article