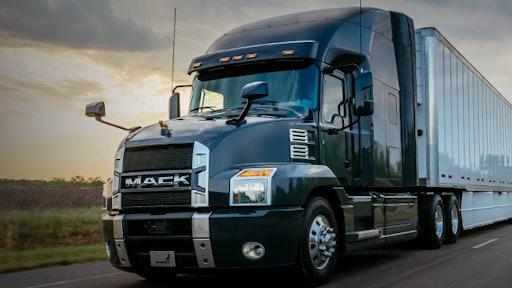 Mack Truck
At the North American Commercial Vehicle Show in Atlanta on October 28, Jonathan Randall, senior vice president for sales and marketing at Mack Trucks discussed the company's latest market outlook.
Earlier this year, Mack Trucks had announced a 23 percent increase in orders in 2018 over the previous year, and has since been working to fill those orders.
"We have not experienced, with our backlog, near the number of the cancellations that maybe others in our industry have seen," he says.
So far this year, Mack Trucks increased its guidance for retail deliveries from 325,000 to 340,000 for North America.
"We still see relative strength in those core markets where Mack performs very, very well," Randall says. "As we look ahead to 2020, we don't even consider this really a correction, where we view this is as more replacement demand versus fleet expansion. We put our guidance at 240,000 for the U.S. and Canada and we see a little bit of a market shift coming from where the registrations are going to come from."
Long haul and over-the-road business makes up about 50% of total registrations, he says.
"It's probably going to back off a little bit next year," Randall says. "The model mix is going to go a little bit more heavier towards the vocational, towards the regional haul, even toward some of the refuse and the COE (cab over engine). Long haul over the road will still be the lion's share of the market for sure. But we see good strength coming in vocational markets dirty trucks, work trucks."
Heading into 2020, Mack Trucks is seeing good quote and order activity for the first quarter, he says.
"We're very bullish on what Mack's prospects are for next year," Randall says. "We look to see good strength and good orders to take coming from our markets. And the great thing about Mack at this point is if you look at our offering, we are able to provide the classic market, the full line across the entire spectrum to meet all demand, not only with products COE, straight truck, regional haul and over the road with the Mack Anthem, but also the services necessary for our customers to succeed."
Randall's comments echoed comments he made in July at a West Coast press conference, when he announced the company was predicting continued demand in the Class 8 truck market.
"The overall truck market continues to perform extremely well," Randall said at the time. "The orders have fallen off significantly, but that was expected. We cannot continue to fill an already full cup. Over five years, the industry in Class 8 had taken over 1.3 million new truck orders. So that order intake dip is fully expected. But production is still going very well. We have a very strong order book at Mack and we are very confident that our order book is very solid. We have very limited cancellations."
At that press conference, Randall said Mack Trucks expected orders to be down in 2020.
"We have forecast this year at 310,000 Class 8 trucks for the U.S., Canada and Mexico," says Randall. "Last year came in at about 310,000. Our 310,000 number for this year still has a little bit of upward pressure on it because we have not seen the pace fall off."
He said Mack Trucks expected to see numbers soften going into 2020, including long haul sales.
"It may still be near 50% of the total business, it may back off a little to 47%, but what we do know is that straight truck business is going to be a bigger portion of the overall percentage of registrations for next year," he said. "I also believe the day cab business will grow as a percentage of the overall business."
Mack Trucks is one of North America's largest manufacturers of heavy-duty Class 8 trucks, engines and transmissions. Founded in 1900, Mack trucks are sold and serviced in more than 45 countries worldwide.