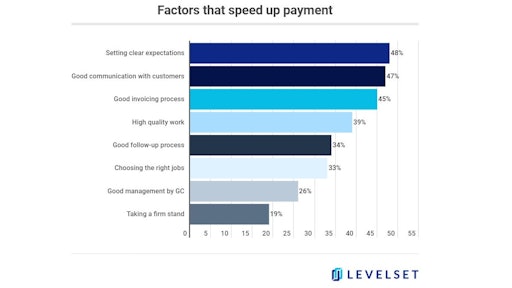 In Levelset's 2020 Q3 National Construction Payment Report, results from a survey of 600 contractors across the U.S. shows general contractors twice as likely to get paid on time than subcontractors and suppliers to construction projects. The industry lives with the process -- the GC gets paid first, and money trickles down through the construction team.
The list of factors uncovered in the survey that most influence speed of payment suggests that even those downstream are without means to speed payment into their organizations.
Subcontractors are less likely than GCs to take actions that speed up payment. While 36% of GCs charge interest on late payments from their customers, only 22% of subs consider imposing a penalty on the GC when payments are overdue. And even though the mechanics lien is one of the most powerful payment tools available to contractors, only 45% of subcontractors say they always protect their right to file a lien. 
But these practices encourage a business-like approach to payment. rather than an adversarial one. Contractors responding to the survey said the three biggest factors that help them get paid faster boil down to an ongoing, active process that begins well before a payment deadline:
Setting clear expectations with customers: 48%
Good communication with customer: 47%
Good invoicing process: 45%
On a construction project, this process includes sending preliminary notices, sharing complete documentation with payment applications, sending invoice reminders, and exchanging lien waivers in a timely fashion.
In its analysis of the survey, Levelset says subcontractors reluctant to take action when payment is late out of a fear of alienating their customers can address this concern by communicating about payment expectations — and consequences — from the start.
"The gap between those at the top of the project's food chain and those at the bottom is made worse by poor communication and low visibility. The bigger the project the harder it is for the owner and GC to see everyone on the job, and ensure they get paid."