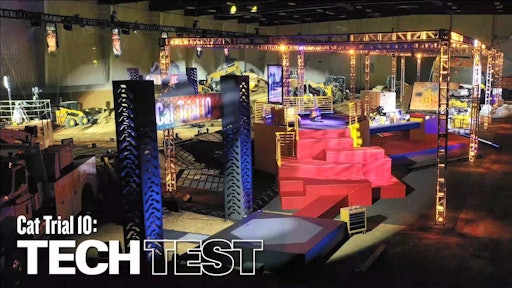 Caterpillar Inc.
The latest episode of Caterpillar's Trials videos underscores the value of heavy-equipment technicians to the construction equipment industry with a ninja-warrior-style competition of speed and skill.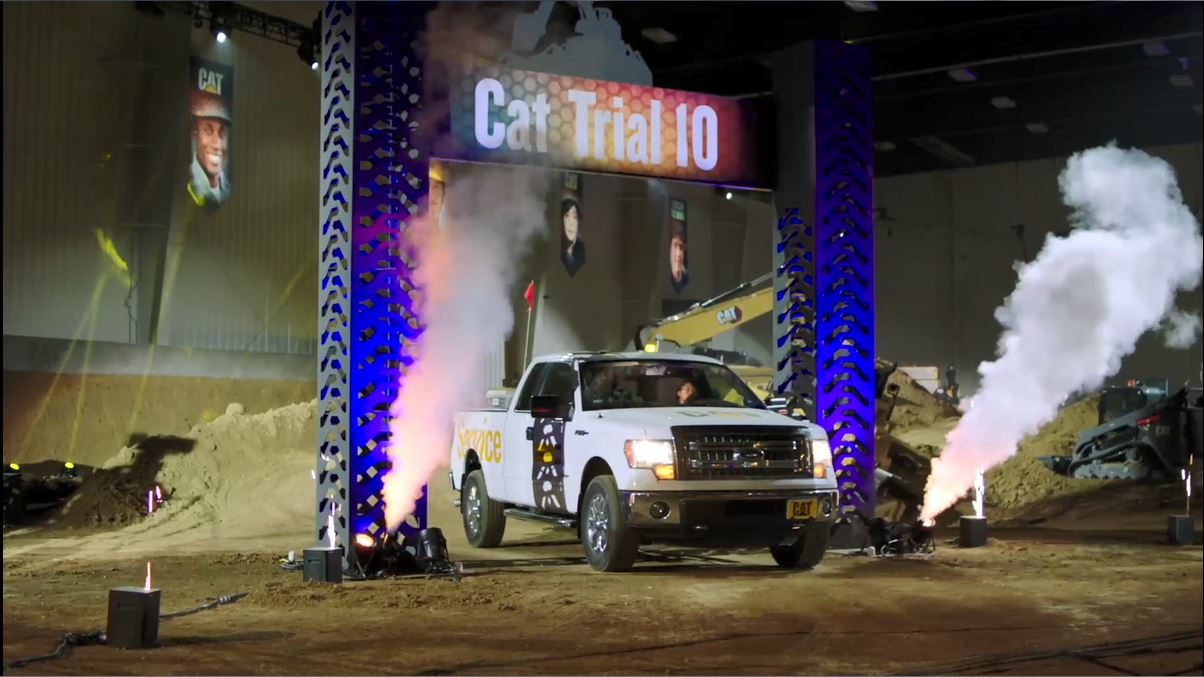 Cat Trial 10: Tech Test celebrates the amazing work technicians do under pressure to keep high-value operations working. Heavy equipment techs work in a fast-paced environment and Cat Trial 10: Tech Test presented techs with an obstacle course with technical challenges to test their skills.
Contestants who ran the course are all Cat Dealer Service Technicians. Many of them are going through a technician apprentice program, like ThinkBig, to gain classroom work and on-the-job training with their local dealer.
Eighteen daring service techs raced the clock to win, but it wasn't all about speed. Their performance in the skills challenges were scored with points that combined with time for each contestants' final score.
"One of the biggest things I learned while I was out there was the actual impact we have in the industry as techs working on these pieces of machinery," says Ulises Perez. Perez is an apprentice in Peterson Cat's ThinkBig program in northern California, and finished second in the Tech Test competition. The size and sophistication of the Trial 10 production and Caterpillar's Edwards, Ill., customer center impressed Perez. "For me personally, the big lesson of the trip was learning about the machinery and how much our job really means to others in this industry."
The course included four challenges:
The Cat Can Test; an oversized version of the 3D puzzle that some dealerships use to gage job applicants' mechanical aptitude
Matching Cat engines to specific applications
A troubleshooting challenge to test the technicians' knowledge of Cat services
A safety mindset assessment, using the Cat App to do a walkaround and pull a parts order
The jumbo Cat Can Test proved harder than the regular-sized skill test many Cat dealers use to test job applicants."The biggest surprise was the can test," says Rene Sanchez, heavy equipment mechanic for Wagner Equipment in El Paso, and third-place finisher of the Tech Test. "I did that can test when I interviewed for the apprentice program. It was a surprise (and a good bit harder) because it was in a larger scale than when I had to do it the first time."
"These guys (Caterpillar and its dealers) kept it such a good secret – no one had any idea what we were getting into going into it," says Andrew Holemo, heavy equipment mechanic and the Tech Test's first-place finisher. "They told us we would all do well. And they also told us it was going to be something like an American Ninja Warrior course, and it was going to test our skills as a technician. One half of your brain is thinking 'This'll be nice – w 'll all do well.' The other half of your brain is thinking 'We're doing WHAT?!'
"When we got into the room it was just deer-in-the-headlights time, but once you got going on it, it was really fun."
Fun with a purpose
Caterpillar conceived of the Tech Test with intent to bring awareness to work opportunities available for people interested in technical careers. Caterpillar's global dealer network currently employs more than 65,000 service technicians. It is predicted that Cat dealers will look to hire tens of thousands of service techs in the next few years. Cat dealers in the United States have approximately 1,600 open jobs. These careers require an educated, skilled professional who wants to work on all kinds of jobsites or in a big service shop – and sometimes both in one day.
The 18 techs that participated in Tech Test represent the kinds of for mechanically inclined problem solvers with computer aptitude Cat dealers need.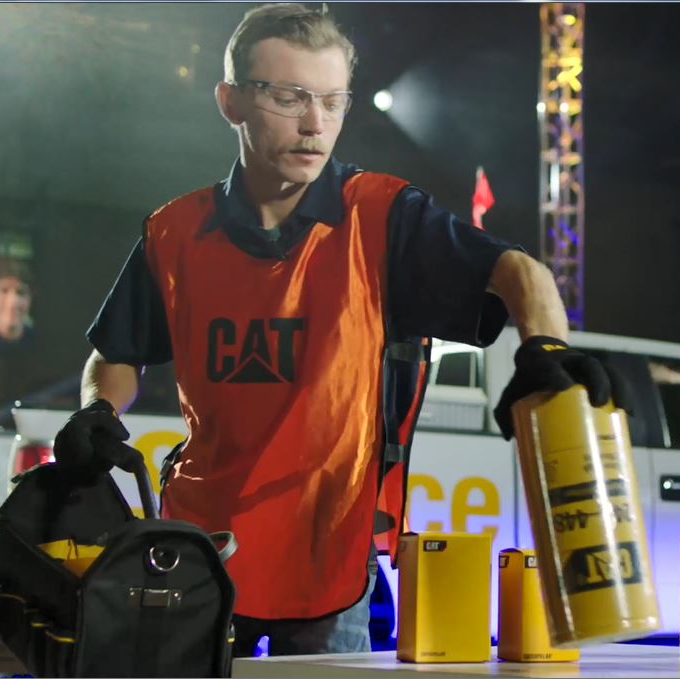 Andrew Holemo, with Hawthorne Cat, finished first in the Tech Trials competition.Andrew Holemo grew up in the independent equipment shop that his father and grandfather founded in 1965 in southern California.
"There are pictures of me in a highchair in the back of the office and in the shop," Holemo says. "I was there from when I was a few weeks old until I was 18.
"It was a learning experience and taught me how to work on stuff and how to be customer oriented. Because with a smaller business, you learn how to talk with customers and work with customers and make them feel like they want to come back."
Holemo participated in Furture Farmers of America's farm power competition, and at the event one year, he saw the Hawthorne truck with one of the simulators. He asked about the Think Big program the Hawthorne people were promoting, put in an application and was hired right out of high school.
Cat dealers participating in the Think Big program hire candidates who split their time in two-month increments between earning an associate's degree in the diesel technician program at a technical school and working as an apprentice in the dealer's shop. The school Holemo attended is in northern California, and in addition to paying for schooling, Hawthorne provided an apartment while Holemo was in school.
"The shop was nice, but I liked being out in the open, working with customers," says Holemo. "You learn at a lot quicker pace.
"I always have the option of calling a senior tech – that's not frowned upon at all, and they actually encourage it. That does help a field technician a lot, especially when you're dealing with something you've never seen before. With the 20 other field techs we have, and countless shop guys, someone's probably seen it. So from that perspective, the support is second to none."
Holemo revels in the opportunity to gain field experience and apply that support to being the best tech he can be.
"I just want to progress as a field technician, and maybe once I get my years in, do a service manager job – some day, but it will be a while. I want to get my years in and grow as a technician."
Making grades, doing the work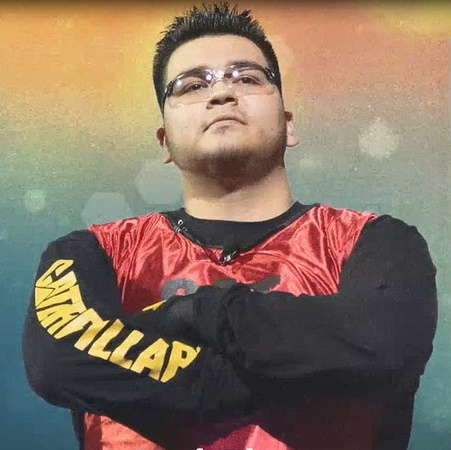 Eulises Perez, a heavy equipment apprentice at Peterson Cat, finished in second place.Ulises Perez went into Peterson Cat's Think Big program right after high school and will graduate in May of 2021 as a heavy equipment mechanic.
"My high school had a career tech education program where we would go half our day at this other facility working more hands-on careers we wanted to train on," Perez recalls. After a year of automotive training, he took truck mechanics. "They are a little more accessible, and they kind of caught my eye."
The program gave him an opportunity to tour Peterson's San Leandro, Calif., facility, where he learned about the Think Big program.
"Two months at school; two months working in the shop side-by-side with other techs – that really drew me to the program. I really like the fact that you're making some money while learning," says Perez. "The schooling is learning the basic principles. Once you're on the job, that's where you actually use all those basics.
"There are so many techs there with so much experience. You gotta kinda feed off of them. You have to take as much as you can and learn from them."
He'll come out of the program as a heavy-duty mechanic in Peterson's shop, and in Local 3 of the Operators Engineers union.
"I want to work at the highest level," Perez says. "I want to see how skillful I can become; how much experience I can gain."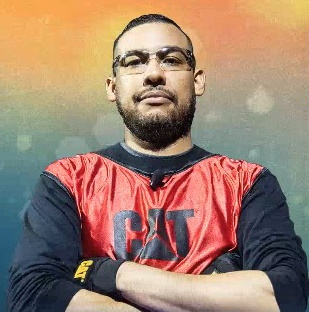 Rene Sanchez, heavy equipment mechanic from Wagner Equipment, finished third.Rene Sanchez came out of the Army as a 91Bravo (diesel mechanic), but started studying to become an x-ray technician.
"I always said the only way I would stay as a diesel technician is if I could go to work for Caterpillar," he says. "When I was growing up, my dad used to have his own 18-wheelers. The one thing all his trucks needed to have was a Caterpillar engine. That stuck with me."
The lion's share of vehicles in the Army fleet are Cat powered, so he got some real-life experience with the brand. So he applied to Wagner Equipment.
"I wanted to work with one of the best companies in diesel technologies," he says. "That's why I was so intrigued to work with Caterpillar.
"As an x-ray tech, you can make $27 or $28 an hour, so the pay might be a little higher. But sitting indoors inside didn't do it for me. In the shop I can work on engines or undercarriage – I can do different things. I didn't want to just take x-rays every day.
"I like to take on something different, or something harder than the last job," says Sanchez. "I like helping people, figuring out a problem."
Sanchez just earned a bachelor's degree in business management and is starting work on a masters in business administration. I want to grow with the company – I want to learn and eventually grow into management."
With this kind of training and experience, graduates of the Think Big program will become experts who diagnose problems, find solutions and perform service and repairs on the equipment that helps bring basic infrastructure like roads, airports and power to people.
Being a dealer technician is a high-tech, customer-facing career that's in high demand.