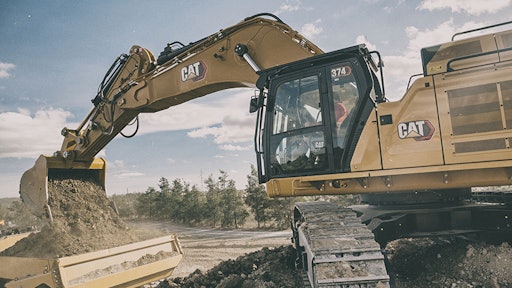 Caterpillar
It doesn't matter what you're moving — rock, gravel, sand, soil or other types of material — every payload cycle presents an opportunity to drive down costs and drive up profits. And there's no better way to achieve both goals than by putting onboard payload technology to work.
The technology at a glance
Payload technology is a standard feature on many loading and hauling units today. You'll find Cat® Payload on wheel loaders, excavators, articulated trucks, off-highway trucks and wheel tractor scrapers — new from the factory, as a dealer-installed option or as a retrofit in some cases. It includes:
On-the-go load weighing to help operators hit exact loading targets every time
In-cab displays that show bucket and truck load weights, load counts, material movement, productivity and fuel efficiency in real time
Comprehensive reporting so you can track daily production tonnage, truck load counts, tons/hour, tons/fuel burned and more
5 ways payload technology can help decrease your cost of material handling
1. Minimize cycle times: The faster you can load a truck or other hauling unit to the correct targeted payload, the lower your unit costs. You don't want to be recycling haulers — every time they have to revisit the scale, it costs you time and money.
2. Avoid fines and other expenses: Overload your trucks and you pay the penalty — literally and figuratively. Overloading leads to expensive fines. It can also increase fuel consumption along with hauler wear and tear, driving up your maintenance and repair costs.
3. Use resources more efficiently: Underloading trucks is costly, too. The amount of material you need to move doesn't change. But when you underload, it takes you more time, more fuel, more labor and more equipment hours to move it. Those expenses all add up.
4. Right-size your fleet: How many trucks do you need to support each wheel loader or excavator? If every load is a different weight, that number is moving target. But when operators zero in on the target every time, you'll know exactly what you need. Consistency pays dividends.
5. Measure, manage and improve: Don't underestimate the power of payload data to lower your costs. You'll know what got loaded where, how much went on each truck and where it went from there. If one loader is struggling to hit targets, you'll be able to pinpoint why: Does the operator need more training? Is the loader the wrong size for the job? Do you need to adjust the site setup? Payload technology gives you the information you need to improve efficiency and maximize profitability.
How much could Cat Payload save you? Just plug a few numbers into this calculator to get an estimate.