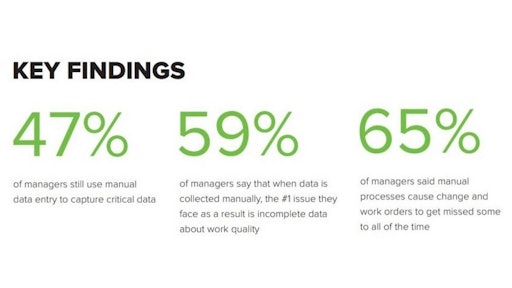 TrackVia
A new survey of 500 executives and managers in construction and engineering found that nearly half still use manual collection processes to capture critical data on jobsites. These manual processes increase the time needed to make decisions, hurt work quality and leave firms facing unnecessary costs.
The research from TrackVia, a mobile-ready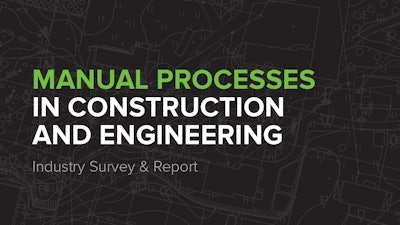 workflow platform for operations, was released in a new report entitled Manual Processes in Construction and Engineering. The report shows that the number one way executives want to speed up their processes is by digitizing data collection that is still done manually. More than half of executives (52%) believe this would help alleviate several of the issues they face due to manual processes.

"Accurate, complete and up-to-date data is imperative to the success of construction and engineering projects, but despite its shortcomings, manual data collection is still prevalent throughout the industry," said Pete Khanna, CEO of TrackVia. "Our research found that these manual processes expose firms to a myriad of risks and costs, especially regarding poor quality controls, project delays and the staggering costs of unsubstantiated claims."

Half of managers surveyed say their data must go through five different steps to get into a software or database system. Furthermore, half of executives say data goes through the same number of steps before it can be used by team members for reporting and analytics. The amount of steps and extra work involving data culminates with the fact that 88% of executives who use four or more data systems spend at least 1,300 hours per year trying to assembling it into usable reports. Compared to those who use a single data system, that is 400% more time.
When jobsite data collection and processes are inefficient, corporate offices that use data to develop reports and drive critical decisions are hindered. Fifty-four percent of executives say they're unable to act on data in a timely manner due to manual data entry, and 61% of executives said they have to make decisions with outdated data.

Additionally, inadequate data collection also leads to costly challenges for firms. When data is collected manually, the top three challenges managers face are:
Inadequate levels of detail attached to work and change orders

Incomplete work quality observation data

Incomplete information to substantiate claims
Eighty percent of managers said work and change orders are primarily initiated and communicated manually, and 65% of managers said that, as a result of manual collection, those work and change orders get missed some to all of the time and slow down time-to-completion.
The ability to substantiate claims is crucial to contractors and engineers, and inefficiencies with collecting and managing data is hindering their ability to do so. Only 45% of managers said they could adequately substantiate claims 51% to 80% of the time, and only 50% of executives said they could legally substantiate between 50% to 79% of claims with daily reports and other documentation. This inability to substantiate claims leaves contractors and engineers potentially vulnerable to millions in liquidated damages or fines.
TrackVia is an operational workflow platform that helps hundreds of companies like Leidos, Honeywell, and KS Industries build applications that improve on-time performance and reduce costs. TrackVia offers the fastest and easiest way to build powerful apps that are business led and IT approved. Learn more at: http://www.trackvia.com