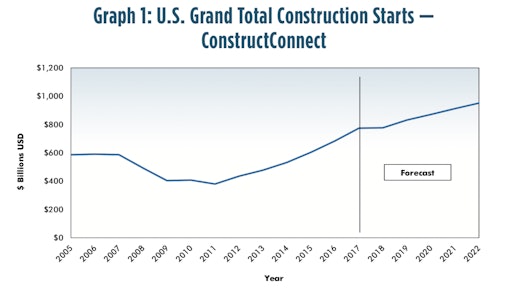 ConstructConnect
ConstructConnect released its Summer 2018 Forecast Quarterly Report. Due to disappointing results in Q1, the forecast of total construction starts for full-year 2018 versus 2017 was lowered to +0.4% in ConstructConnect's Summer outlook from +3% in its previous (Spring) report. Much of this is due to the nonresidential building sector, which is predicted to decline by 6.1% for 2018.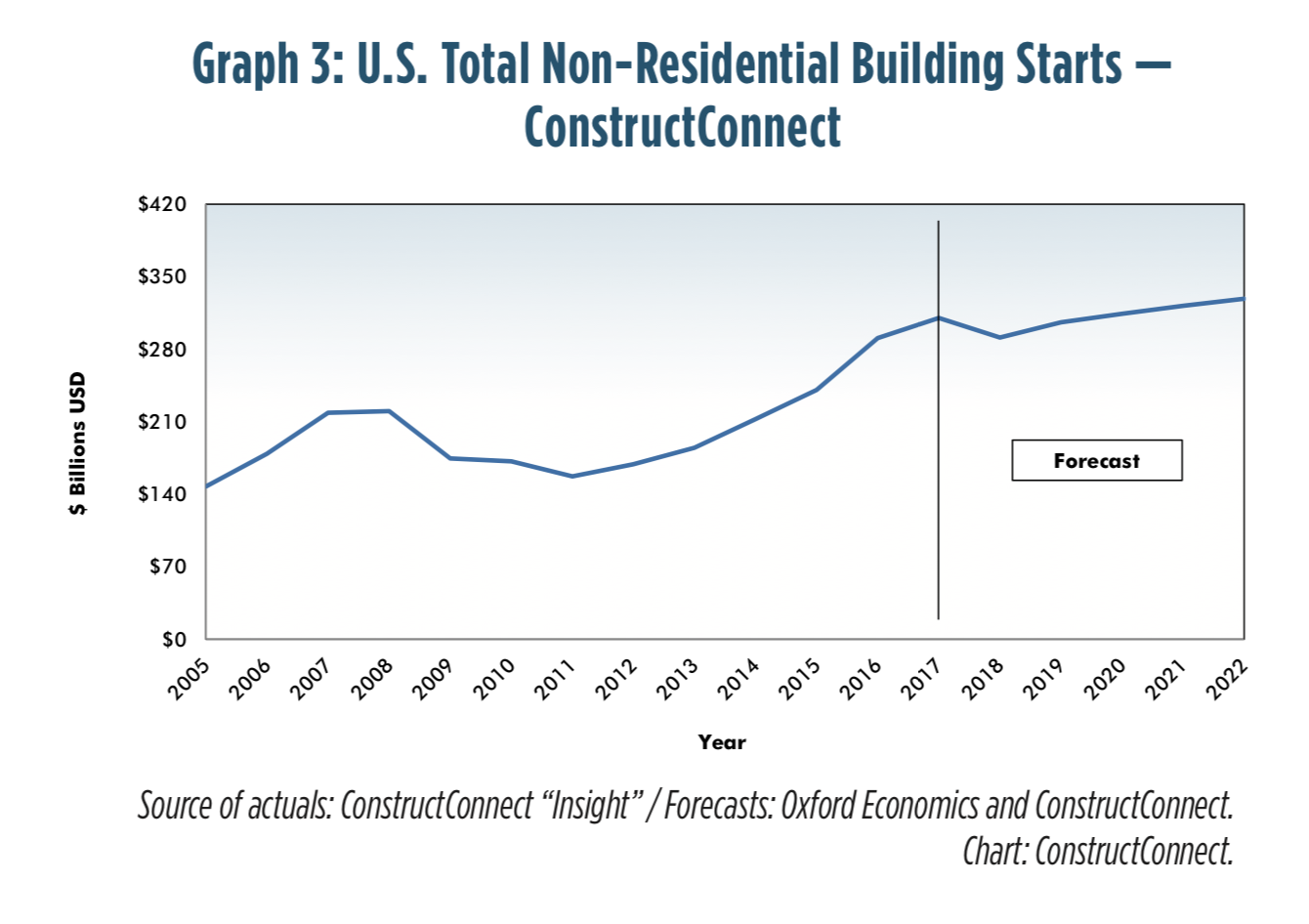 Nonresidential building starts are expected to decline due to several factors.ConstructConnectTotal starts in both 2016 and 2017 were +13.2%. After pausing in 2018, total starts are expected to perk up again in 2019, to slightly over +7%.
"Single-family residential will be a source of strong starts activity for years to come," explained ConstructConnect Chief Economist Alex Carrick. "Young adults will start to gain more stable and higher-paying jobs, begin to raise their families and, in many instances, alter their lifestyles to move back into quieter communities (i.e., the suburbs)."
The forecast, which combines ConstructConnect's proprietary data with macroeconomic factors and Oxford Economics' econometric expertise, highlighted several indicators that are preventing healthier growth in nonresidential building:
More volatile stock market activity

Interest rate hikes
The threat of trade wars
Rising inflation from climbing commodity prices and higher wages from a worker shortage
In the engineering category, the public sector may still be talking restraint, but means are being found to finance new bridge and highway undertakings and necessary repairs to infrastructure. Other market segments reflect influential factors:
ConstructConnect expects single-family residential sector to be a source of strength for the foreseeable future.

A cyclical high for hotel/motel starts is beginning to wind down
Retail starts will continue to struggle due to the shift to Internet platforms
Office tower groundbreakings will soon benefit from falling vacancy rates
The surge in online consumer sales will keep driving warehouse construction
An aging population will spur more building of health care facilities
Lackluster enrollments are muting capital expansions in higher education
To learn more about ConstructConnect or get a free copy of the Forecast Quarterly Report, visit constructconnect.com.