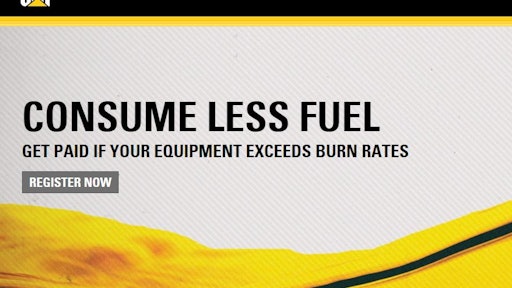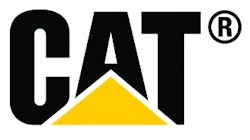 Caterpillar began guaranteeing the fuel economy of its machines through a program called Cat Pays You Back on May 1, 2015, to counteract an industry perception of selling thirsty equipment.
More than 100 machine types purchased through December 31, 2015, can be enrolled for free in the program.
The fuel consumption guarantee employs Cat Product Link to monitor average fuel consumption of enrolled machines. If the average fuel burn rate of a machine exceeds Caterpillar's guaranteed fuel consumption level for that particular model, Cat will pay the machine owner one US dollar per gallon or one Canadian dollar per liter for every unit of fuel the machine burned in excess of Cat's guaranteed fuel consumption level.
For example: Cat VisionLink reports that an enrolled Cat 336F excavator that averaged 10 gallons per hour for 1,000 hours. Cat guarantees 7.5 gallons per hour for the new 336F. The payout would be:
[10 gal/hr – 7.5 gal/hr] x 1,000 hrs x $1.00/gal = $2,500
The payout would be credited on a Cat Commercial Account Card.
Customers can earn credits on enrolled machines for a period of three years or 5,000 hours whichever comes first. The program provides customers with:
A quarterly Machine Status Report with year-to-date average fuel consumption for each machine
Annual payouts of 1 USD/gallon or 1 CAD/liter. Credits are provided following the end of the calendar year
The Cat Pays You Back program also bundles a parts-availability guarantee with telematics solutions.
EMSolutions fleet reports
Cat wants customers to experience how its EMSolutions service helps turn telematics into a competitive advantage. Machines enrolled in Cat Pays You Back receive a monthly EMSolutions Fleet Report delivered electronically.
The Fleet Report provides a visual monthly snapshot of customer fleet parameters based on data captured from machines with Cat Product Link. Working with their local dealer, customers will be able to manage equipment and utilization trends compared to regional benchmarks. Customers may be able to reduce operating costs by monitoring factors such as operator-induced fault codes, run time, fuel burn and idle time.
Caterpillar says taking action based on fleet reports has achieved results. In a recent online survey, owners reported that tracking data increased utilization by as much as 20%.
Parts availability guarantee
The Parts Availability Guarantee of the Cat Pays You Back program includes:
Parts ordered on the Caterpillar network will be available for the customer within 48 hours or the shipping cost is free
Once a customer is qualified, the Parts Availability Guarantee will be applied to the customer's entire fleet of construction equipment
Caterpillar reports better than 99.4% of parts orders are on the shelf of either Cat dealers or the Caterpillar network and can be on their way to customers in 24 hours or less.
Eligible machines
Machines that qualify for Cat Pays You Back include wheel loaders from 924K to 992K, crawler excavators from 312EL to 390FL,wheeled excavators from the M313D to M322D, track loaders, dozers, motor graders, articulated and rigid trucks.
Caterpillar started claiming fuel-efficiency leadership – lowest fuel consumption per unit of work done in every machine category in which it competes – at Conexpo 2014.
"Our machines have a reputation as fuel hogs, and they're not," says Paolo Fellin, vice president of Caterpillar's Global Construction & Infrastructure division. "We're putting our money where our mouth is to get the message across."
Complete terms and conditions for Caterpillar's special purchase offer