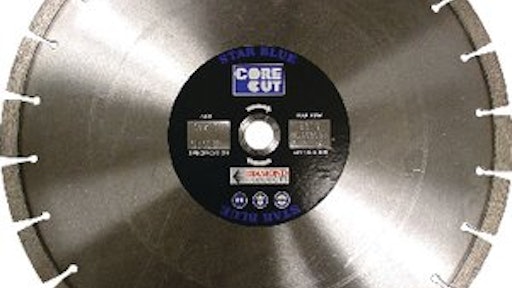 Core Cut Star Blue
The new Core Cut Star Blue grade segmented high speed blades can be used wet or dry to cut asphalt, green concrete, and soft materials with a high speed saw. The blade is available in 14 by .125 by 1 in. size with 20mm bushing.
Diamond Products
General Utility glove
Certified to Level 4 cut resistance
Fully lined with 100-percent Kevlar brand fiber
Reinforcement on the plam side ensures durability and extra protection
Adjustable curff closure, terry cloth and padded knuckle
Youngstown Equipment Co.
left/RIGHT ear muff
Designed so left muff differs from right for better fit
Fit all ear types and sizes
Available in three noise reduction models
Other features include new colors, new comfort headband design, and thin, flexible noise reduction rings
Mine Safety Appliance (MSA)
MK-762DMX Blades
Line of high-speed blades using aan arrayed patterns of diamonds
Available in 12-, 14-, 16- and 20-in. sizes
Dry cutting blade may be used on concrete saws, block and tile
10 mm height and 1-in. arbor
MK Diamond Products, Inc.
QuieTunes ear muffs
AM/FM radio ear muffs
Noise reduction rating of 25/34 dB
Battery or rechargeable models
Auxiliary input jack to connect i-Pod or MP3 player
4-hour automatic shutoff
ELVEX CORP