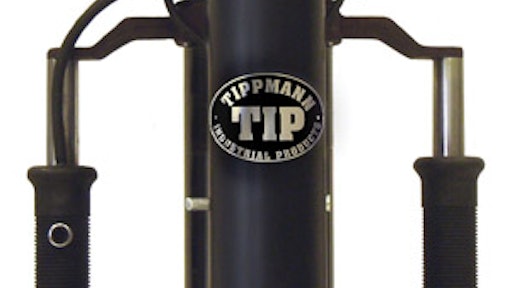 Tippmann Propane Hammer
Tippmann Industrial Products Inc. introduces the world's first propane-powered post driver for driving square, round, u-channel and "T" posts up to 2.5 in. in diameter into hard, dry, frozen and rocky ground. Weighing under 45 lbs., it is easily operated by one person. A single 14-oz. tank allows the operator to drive several hundred posts on just one tank. The 100% self-contained hammer has a driving force of 700 lbs. and 6,000 cycles per tank.
Hitachi CR13VBY Reciprocating Saw
Hitachi Power Tools introduces its first low-vibration reciprocating saw featuring User Vibration Protection (UVP) technology that reduces motor vibration and significantly decreases end user fatigue. The CR13VBY reciprocating saw features a unique swing cutting mechanism, variable speed dial and trigger for ultimate control and class-leading cutting speed, all packaged into a lightweight and ergonomic (9.7-lb.) tool.
Harper Goossen Chipper Shredder
The Harper Goossen chipper shredder is available in two models, both capable of chipping limbs up to 5 in. in diameter as well as mulching leaves, twigs and other yard debris. The CS1800 model is a trailer-mounted unit powered by an 18-hp Honda engine. The CS5400 model is PTO-driven and three-point hitch mounted. The Harper Goossen chipper shredder is a commercial-sized unit, capable of standing up to consistent daily use.
Retriever No Idle System from Up-N-Atom
Heavy equipment transporters can help meet government No Idle regulations with Retriever, a new truck bed that can load and unload 30,000-lb. payloads with the truck's engine off. Retriever uses the truck's air system - not hydraulics - for truck bed power. In rental equipment deliveries, the No Idle System can reduce idling time by as much as 95% and produce substantially lower emissions, extend engine life and maintenance intervals on the truck's 2008 emissions system, and generate significant fuel savings.
Rain for Rent SA DV-150i
High efficiency pumping, low maintenance cost and 72-dBA sound attenuation are the three greatest features of Rain for Rent's SA DV-150i portable pumping unit. The DV-150i handles solids up to 3 in. at flows up to 2,600 GPM and heads up to 195 ft. The corrosion-resistant, galvanized trailer has dual wall fuel cell containment and a compact footprint for tight construction site locations. Excellent suction lift capabilities make this the pump of choice for bypass pumping and construction dewatering.
Woods Alitec AB840 Angle Broom
The Alitec AB840 angle broom sweeps at up to a 30-degree angle left or right, enabling the operator to push debris in the desired direction. The 32-in.-diameter brush features a combination of poly and steel bristles equipped with a quick-change core. Broom sweeps 72- or 84-in. paths. Features include heavy-duty construction, including hydraulic components, and quick-attach mounting available for most applications.
Electric Eel Model R with Flex Leader
The new and improved Model R drain cleaning machine from Electric Eel features a new flex leader and a newly designed, extra heavy-duty frame constructed on 1 1/4-in. steel tubing. The 12-in. flex leader helps negotiate bends and traps and is now standard with the Model R tool set. The unit is designed to clean 3- to 6-in. diameter lines up to 100 ft. with the unique Tri-Max inner core cable - available in 5/8- and 3/4-in. diameters. Model R is powered by a heavy-duty 1/3-hp capacitor Baldor motor and utilizes
easy "snap-lock" tool connectors and is for use in situations with limited work space.
Chicago Pneumatic Red Hawk Breaker
The 50-lb. Red Hawk gas-powered breaker is suited for small jobs or work in remote locations. Unit delivers an impact rate of 2,600 bpm and comes with 19 tools and accessories for maximum versatility. Silencing muffler reduces operating noise level to 107 dBA. Unit also features vibration-dampening handles. Choke control and user-friendly instructions allow for better speed control and easier starting and operation.
Cyclone Drop Hammers from Stanley
The Stanley Works-Hydraulic Tools Product Group announces the acquisition of Universal Technologies' line of Cyclone Drop Hammers. The Cyclone product has built its reputation as being a superior attachment used in a multitude of flatwork demolition projects, out-pacing most hydraulic breakers by a 4 to 1 margin. Three model sizes are offered, the DH1500, DH3500 and the DH9000. These tools are designed to fit walk-behind tool carriers, skid steers, mini loaders and compact excavators.
Blastrac 7" Grinder-Vac
The Blastrac 7" grinder-vac is a shrouded concrete grinder system designed to control dust, effectively reduce cleanup time, provide better visibility and increase productivity. By connecting to a variety of Blastrac dust collection units, the 7" Grinder-Vac promotes a virtually dust-free work environment and allows for multiple trades to work simultaneously on the same jobsite while still complying with safety standards. Unit uses a heavy-duty, high-RPM grinder motor to provide superior performance and durability. The dust shroud is a tough, yet flexible polyurethane dust shroud allowing for hundreds of
hours of use.
Komatsu WB142-5 Backhoe-loader
The 14,513-lb. Komatsu WB142-5 four-wheel-drive backhoe-loader features a 1-cu.-yd. loader bucket, and can produce up to 10,116 lbs. of breakout force. Unit offers a 14-ft. 2-in. maximum backhoe digging depth with up to 11,351 lbs. of bucket breakout force. The WB142-5 is powered by a 76-net-hp Komatsu diesel engine housed in a heavy-duty, cast nose guard that provides integral counterweight and front protection for the engine.
Husqvarna K750 Speedmill
The K750 Speedmill from Husqvarna provides a means to accurately and consistently produce factory-like bevels on SDR 26 and SDR 35 PVC pipe used for wastewater lines. Unit cuts pipe quickly with a 12-in. abrasive wheel, then use one of the three long-life beveling bowls to create a bevel on 4-, 6- and 8-in. pipe. Features reliable, low-vibration powerhead and quick, easy replacement of the 12-in. blade.
Diamond Products Core Cut CC4144D
Diamond Products introduces its Core Cut CC4144D rear differential diesel-powered concrete saw. The CC4144D is a compact saw with a powerful 44-hp Kubota turbo diesel engine. Designed as an ergnomical, maintenance friendly machine, the CC4144D's battery is located on the rear door of the saw and has a pivoting dashboard that allows easy access to the electrical system. It has a single-lever operation for forward/reverse and raise/lower and comes standard with water metering valve with water shut-off lever. Offered with choice of 14-, 20-, 24,- 26- or 30-in. blade guards and has maximum cutting depth of 11-3/4 in. with 36-in. guard.