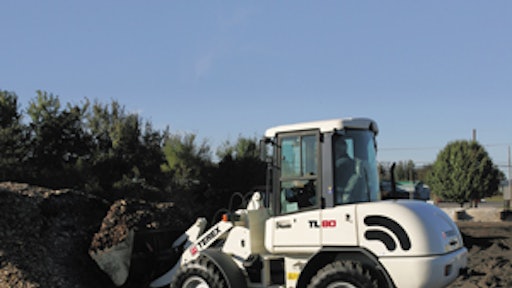 Terex TL80 Compact Wheel Loader
The TL80 offers true parallel-lift loader linkage, allowing for self-leveling in both raise and lower functions for tool carrier applications. Features include center-mounted lift cylinder for added breakout force and hydrostatic four-wheel drive with limited-slip differentials for infinitely variable speed control in forward and reverse. Powered by a transverse, rear-mounted engine, the TL80 has an operating weight of 11,240 lbs. and a bucket capacity of 1.0 to 1.6 cu. yds.
Blastrac Scarifiers
Blastrac now offers a high-endurance, performance-tested line of 7-, 8-, 10- and 12-in. scarifiers that are economically priced. These scarifiers are versatile surface preparation tools for concrete, asphalt and steel surfaces. All Blastrac scarifiers include a quick lift-off feature and micro depth control for fine tuning the cutter depth. The 8", 10" and 12" scarifiers are available in gas or electric, while the 7" is electric only.
Vermeer Yellow Jacket Cutting System
The new Yellow Jacket cutting system from Vermeer features universal indexable carbide-tipped teeth and reversible pockets. This system is designed to make on-site tooth replacement or rotation easy and quick. The pocket design reduces rubbing and decreases pocket wear. The Yellow Jacket cutting system is a standard feature on all Vermeer stump cutters except the two smallest models in the line - the SC90 and SC130.
JLG Personnel Work Platform
The new JLG personnel work platform is for use with JLG, Gradall, Lull and SkyTrak telehandlers. Compliant with the requirements of ANSI/ITSDF B56.6-2005, this fork-mounted unit can be quickly installed and securely locked in place. Features include a 32-sq. ft. platform with a 1,000-lb. capacity to safely hold two people, swing gate entry with removable front panel, sturdy steel mesh flooring and eight lanyard attachment points.
Stone Rhino 84X
The Stone Rhino 84X features the comfort and convenience of a fully equipped cab as standard equipment. The oversized, comfortable cab features heat, AC and satellite radio. The Rhino cab has oversized windows for added visibility and an extra-large, three-way adjustable operator's seat with flip-up arm rests. Steering console can be tilted forward or back. Cab contains full instrumentation and extra-large doors on both sides make entering and exiting easier.
Bosch SpeedWave Diamond Blades
The new SpeedWave diamond blades from Bosch offer an innovative new segment design and the world's first center vibration-dampening Cooling Disc to cut faster and last longer. Available in 4.5-, 5-, 7- and 9-inch diameters, SpeedWave blades feature a new wave-shaped ridge along both sides of each segment, which significantly reduces blade friction and drag. Each blade is manufactured utilizing Bosch patented Laser Fusion production technology.
Gehl RS5-19 Telescopic Handler
The RS5-19 is designed with a compact frame and tight turning radius of 11 ft. so it can maneuver in low buildings and confined jobsites. Features include an overall height of 6 ft. 4 in. and boom reach of 19 ft. 1 in. Powered by a 64-hp turbocharged, water-cooled Deutz diesel engine, the RS5-19 offers a 5,000-lb. lift capacity, 360° view from the canopy, two-speed hydrostatic transmission with inching valve and three selectable steering modes. Optional enclosed cab.
Jenny Products Air2Go Compressors
The Air2Go electric hand-carry compressors feature a single-stage, direct-coupled pump with a cast-iron cylinder and aluminum head. Jenny offers two models with 4.5- and 5.5-gal. tank capacities powered by 2-hp, 115-volt motors that produce up to 4 cfm at 100 psi or 3.4 cfm at 125 psi. Features include canister intake filter with replaceable filter elements, protective mounted fittings and forced ventilation cooling system. Powder-coated, heavy-duty steel tank and frame assembly.
Honda EU6500is Generator
Honda Power Equipment introduces ther EU6500is portable generator, adding greater power performance to its popular EU family of portable generators. Producing 6,500 volt amperes (VA) - or watts - of power, the EU6500is is suited to a variety of power needs. Compared to the earlier Honda EX5500 generator, the EU6500is is more than 33 percent smaller with a dry weight of 253 lbs. It is also remarkably quieter. By utilizing a separate triple chamber construction, a centralized intake/exhaust system and the Eco-Throttle design, this model achieves a reduction of 5 dB(A) at rated load. The EU6500is also reduces fuel consumption by 30 percent at 1/4 load in comparison to the EX5500.
Genie GTH-1048/GTH-1056 Telehandlers
The redesigned GTH-1048 and GTH-1056 are suitable for maneuvering in tight spaces without compromising reach and lift capacity. The GTH-1048 has 31 ft. of outreach and is capable of lifting 6,000 lbs. to 48 ft. The GTH-1056 has 40 ft. of outreach and can lift 4,000 lbs. to 56 ft. Models have an outside turning radius of just under 14 ft. and offer crab, coordinated and front wheel steering modes. Powered by a turbocharged four-cylinder Perkins or John Deere diesel engine, the telehandlers come standard with four-wheel drive.
Atlas Copco QAX 24 Generator
The new QAX 24 offers owners ease of operation and accessibility in a durable design. From the rear-mounted controls to the front-hinging, clamshell canopy, this generator, rated at 24 kVA, is designed for both the rental house and the rental customer. Constructed with a Zincor steel housing and a powder-coat finish, the unit will look good in the long run, ensuring a higher resale value. Unit requires service only every 500 hours and features a simple control panel with just six easy-to-understand buttons for operation.
Subaru Robin Conventional Generators
This line of conventional generators features a high surge capacity, taking on up to 150 percent of the rated power for as long as 20 seconds. RGX models feature EX series overhead cam engines and offer maximum outputs ranging between 2,900 and 4,800 watts. RGV models feature EH series overhead valve engines and have maximum outputs from 5,800 to 13,000 watts. Automatic idle control is standard on most models.
Multiquip MTX-Series Rammers
The anti-vibration system on the MTX-Series gasoline-powered rammers significantly cuts vibration to the user. The 165-lb. MTX-70 is powered by a 3-hp Honda GX100 engine and delivers 2,900 lbs. of impact force on 645 to 695 bpm. The 183-lb. MTX-80 has a 3.5-hp Robin EH-12-2D engine and generates 3,100 lbs. of centrifugal force, while the 196-lb. MTX-90 is powered by a Robin EH-12-2D and generates 3,500 lbs. of force on 660 to 700 bpm. All models feature recoil start, travel speeds up to 36 fpm and diaphragm carburetors.