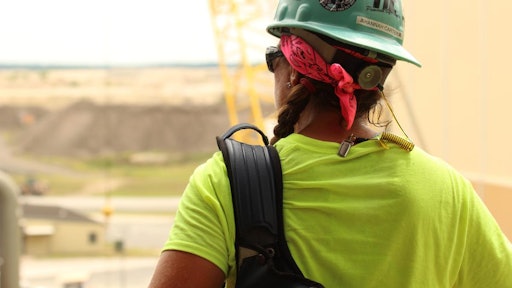 Photo provided by NCCER
In celebration of Women in Construction Week, The National Center for Construction Education & Research (NCCER) performed interviews with 176 tradeswomen in the U.S. and Canada and analyzed 770 responses to a survey directed to women in the industry. The results have been compiled into a white paper, In Her Own Words: Improving Project Outcomes, which will assist employers with recruiting, hiring and retaining women in craft positions.
"We've had an increase in the participation of women in the office and technical aspects, but the participation in the construction trades has been significantly less over the years," said Tim Taylor, Ph.D., director of research for NCCER. "Regarding women simply as a way to make up for the quantity gap in the construction workforce ignores the unique qualities they bring to the jobsite. We decided to go talk with women that are in the industry now and see what their experiences have been, why they joined, what they like about the industry and what can be done to get more women involved."
NCCER's goal was to go beyond the numbers and statistics that are typically presented in research about women in construction. The white paper highlights the unique benefits women bring to the construction workforce, the obstacles they encounter getting in and staying in the industry and their advice on what contractors can do to recruit and retain more women.
Women also shared their recommendations on how to better recruit and retain women on project sites and, ultimately, in the industry. They provided guidance on how to tackle obstacles that the industry has worked on for years and brought up other hurdles.
One such example is that many women don't view the construction industry as a viable career option growing up.
"Women are not as aware of the construction industry and the opportunities that are offered to women because it's not something that they're naturally exposed to when they're younger," Taylor said. "The biggest barrier was making women aware of this as a career opportunity at a young age, where they can begin to explore it. Many of the women we talked with got into the construction industry because their family members were in the industry, and so they had that natural connection. We need to reach out to people whose families are not involved in the industry and talk with them not only about the opportunities, but also how they can be involved in massive efforts that will be talked about for generations, like the decarbonization of energy sources, electric vehicles and reshoring manufacturing."
Taylor added that, like with any new hires, training is key.
"Providing training to women in the trades is really critical to not only getting them into the industry, but also helping them be successful within the industry," Taylor said. "It can be intimidating coming into an industry that you're not as familiar with. So, having a company that says it give you the training and the tools that you need to do this job as a big boost."
Finally, Taylor noted that while many people traditionally think of men when they think of the construction industry due to the heavy lifting, that isn't necessarily the case anymore.
"One of the project managers we talked with said it best: We did not design this project to be constructed using human muscle power. We designed this project to be constructed with pneumatic power, with hydraulic power, with electrical power, and we have equipment to lift this stuff and put it in place," Taylor said. "We're doing that out of convenience. We're doing it because it's more productive, and it's safer."
Women in Construction Week is March 5-11 this year.