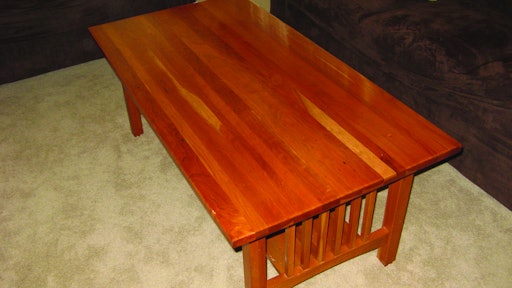 Editor's Note: Recently, the staff of Rental set out to rent various pieces of equipment from three different rental sources with the goal of evaluating the rental experience from the eyes of the average DIY customer. The rental sources we visited were unaware they were being evaluated and won't be mentioned by name in this article. As homeowners ourselves, we were curious about the approach these businesses take with that market. Following is what we found:
Sander for rent
By Jenny Lescohier, editor
The coffee table in our family room is about 10 years old and was holding up extremely well until three years ago when we brought home a puppy which proceeded to use his razor-sharp nails to scratch the surface of the table beyond recognition. What's more, my children have used this table to create every possible form of art, from Play-Doh sculptures to beautiful homemade Picassos and Van Gogh knock-offs using markers, crayons and paints of every known color and ink.
With the kids and dog finally getting old enough to treat the furniture with a little more respect, this spring I decided it was time to do some refinishing. I called on an independent general tool rental business that I found after doing an online search for equipment rental in my area.
I could see from the rental company's website they have both a belt and a vibrating sander in stock and what the rates are for a day's rental. I called to make a reservation and spoke to an employee who was pleasant and courteous, and pretty casual. This was no super-slick operation where all employees have a customer service-oriented speech they give over the phone. I told the employee what I wanted to do and he said the belt sander would do the trick. I was reassured it would be easy for a novice operator to use.
The next day, I drove to the business and was a little put off by the look of the place. It was easy enough to find, and had adequate although rather stark signage that lacked style and upkeep. The building itself was somewhat rundown and the fenced-in parking lot was not welcoming. Once inside, however, I immediately received a friendly greeting from an employee at the counter. I told him I had called the day before about a drum sander that I intended to use to refinish my coffee table.
Of course, I intended to say belt sander, but my verbal slip turned out to be a good thing because it gave the employee the opportunity to discuss safety with me - he stressed the danger of using a drum sander on a coffee table. When I realized I had said drum sander and he was then pointing at such a model, I corrected myself and explained I meant to say belt sander. He pointed to a model on the shelf and gave a short explanation of how it works. I asked if a novice would have good results with it and the employee noted the importance of technique to avoid getting an uneven finish. I must have had a look of trepidation and fear on my face because the employee suddenly changed his approach and steered me toward the vibrating sander. He said it was much more forgiving but might take longer to achieve the desired effect.
I should note the showroom at this business was very neat, tidy and well organized. Despite the somewhat foreboding appearance on the outside of the business, the interior was inviting, as were the staff. There was a lack of modern lighting and display methods, but everything seemed to have a place and was easy to find.
Interestingly, the staff suggested I visit Ace Hardware for my sandpaper needs. I think it would be better business to offer the sandpaper themselves than to send me to another store, which probably also rents vibrating sanders and which is more familiar and inviting to do-it-yourselfers.
Anyway, off I went with my vibrating sander in hand. I did stop at Ace for various grits of sandpaper and once home, I went straight to work on my table. The tool looked to be a veteran, but it did its job quickly and effectively and was a breeze to use. The next day, I returned the tool and was greeted by the same employee who asked me how it went. I told him the results were excellent and that I would definitely rent a vibrating sander again. He thanked me and I was on my way.
Overall, this rental experience was positive. The personnel I dealt with were friendly and helpful without being too slick and solicitous. The equipment worked great and while it wasn't fancy or brand new, I would be happy to rent it again. My biggest criticism is of the outside appearance of the store. Many independent rental businesses have signage that's drab or nonexistent, while the premises are unkempt and/or nondescript – not the most inviting. This can be a problem for DIYers who might be unsure about the task at hand and as a result, easily intimidated by businesses that look a little rough around the edges. And while it isn't right, places like Home Depot and Ace Hardware capitalize on this by offering a well-lit, nicely decorated and arranged store which is comfortable and familiar to the do-it-yourself crowd. In short, if you want to capture this market segment, you need to pay attention to the visual message your store is sending to your customers.
Pressure washer… anyone?
By Jenny Lescohier, editor
This spring I wanted to tackle the job of power washing the vinyl siding on my house. I planned to rent a pressure washer and had picked a general rental business I'd seen on the side of the road in my area. I called the night before I planned to start the project and talked with a very soft-spoken employee who did nothing to engage me. I told him what I wanted to do and asked what types of pressure washers they had. He said they offered both hot-water and cold-water models. I asked which would be best for cleaning siding and he was noncommittal in his answer. I asked about the cost and size of the machines and based on his answers, I decided to go with the cold-water model. I let him know I drive a station wagon and would be working alone and was told I should be able to get the machine in the back of my car, but that I might need someone to help me get it in and out.
I got to the rental business, which, by the way, is very nicely appointed both inside and out. The signage is very clear and inviting and the rental yard is well maintained. When I entered, however, I was not greeted by anyone, even though there was an employee at the front desk. I said hello and that I had reserved a cold-water pressure washer. He looked up my reservation and he and another employee wheeled out the pressure washer. The thing was huge. I knew right away it would not fit in my station wagon. What's more, I was positive it would take more than my female neighbor and me to move it. I wound up leaving without renting anything.
It's very important for rental companies to qualify their first-time customers. If a prospective renter expresses concern about whether a machine could fit in their car or whether they could move the equipment by themselves, it's vital to be very specific about the size, weight and power of the machine being rented.
The staff at this rental business were not very engaging and the overall impression I was left with was that they really didn't care if they got my business or if they could help me with my project, and that, in turn, did not make me want to return there to do more business with them.
It's tiller time
By Eric Servais, publisher
My daughter and I decided to grow a vegetable garden. We chose a spot in the yard, however, where we envisioned our bountiful harvest we currently had lawn. That meant I needed a tiller, so the next step was finding a rental center.
I began my search the same way we all do these days -- I Googled it. This is where any business that relies solely on the Yellow Pages - print or digital - missed out. Very shortly, I was on a great website with a comprehensive list of equipment in fleet alongside pricing. With a quick phone call, I had my machine reserved and a pick up time set. The employee I spoke with asked me relevant questions and steered me to what he saw as the most appropriate unit. This particular business caters mainly to contractors and the weekend hours were limited to just two hours on Saturday morning. Though we made it work in the end with a pick up Friday evening and a drop off the following morning, this employee enthusiastically made it clear that they would be flexible if I needed them to be.
I swung into the drive on the way home from work, correcting myself after I swung into the equipment yard first. See, while the sign was visible (if extraordinarily plain) it was placed between two entrances with no clear indication where I was to go. The intended drive was essentially an alley to a poorly maintained parking lot. Seeing identical single unmarked doors into buildings on either side of the alley, I (incorrectly) chose the one where I saw some equipment and a couple of guys in what turned out to be the mechanics' home turf. They directed me to the other door propped open with a tamper. Inspecting the entrance as I walked over, there was absolutely no way for me to recognize - on my own as a first-time customer - that this was the way in.
The shop itself was clean, organized and well stocked. I was greeted immediately and saw my paperwork waiting for me on the counter. He quickly explained the rate as well as the difference should I decide to keep the tiller for the weekend. He asked where I had parked and offered to meet me by my truck. He wheeled over the unit (which had also been sitting at the ready), went through the basics and quickly made me feel confident that I would be a tilling ace.
This is the boring part - everything went smoothly. The machine worked great, starting on the first pull each and every time. While the machine had a very faded and aged look, it performed flawlessly. Once into the job, I quickly realized how essential the machine recommendation had been, as a lighter unit would not have worked through the sod and a larger rear-tine model would have been unmanageable in the space I was working. The following morning when asked how everything worked out, I very honestly said, "perfectly" before I drove off to enjoy the rest of my weekend.
Though clearly catering to contractors, this rental business gave me a flawless rental experience start to finish. Personnel were flexible, efficient and respected my time. Due to this and the apparently reliable and well-maintained equipment, I will return. It seems to me, however, they could enhance their revenue from the DIY/homeowner crowd if they chose to. Everything is in place with staff, fleet and web presence. All that is missing is the decision to do so – and a sign over the door.