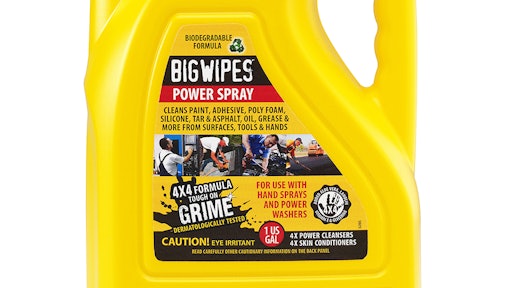 The max power of Big Wipes now comes in liquid form so you can blast off gunge and gunk as well as wipe it out. Removing muck can now be used in more gunge-riding way particularly on big surfaces or hard to get to places. Big Wipes have bottled the "one wipe removes it all" formula cutting through any-thing from diesel, heavy grease, foams, adhesives, silicone sealants and epoxy grouts. It is a powerful, fast-acting specialist cleaning spray, which contains the new 4x4 grime-busting formula as used in all the industrial Big Wipes 4x4 wipes.
The four co-solvent power cleanser blends actively target oil, paint, sealants and adhesives.
Includes a blend of the world's greatest skin conditioners which means Power Spray is tough on grime, but kind to your hands.
Available in 32 oz. or one gallon containers.