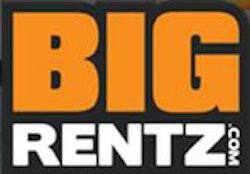 BigRentz, the largest rental logistics company, has unveiled its new website built to deliver a convenient, customer–centric equipment rental experience.
BigRentz.com now includes a Rent with Confidence Promise backed by access to upfront, transparent, no-haggle pricing so customers know exactly how much equipment will cost to rent. Site visitors can search equipment from more than 7,500 rental locations across the country, narrowing their search based on their location. For more information, visit BigRentz.com.
"Increasingly more people are starting their equipment rental search online, so with the new mobile responsive BigRentz.com, we created a destination to build consumer trust while making the rental process faster and easier," says Scott Cannon, CEO of BigRentz. "We aim to deliver a stress-free experience so customers feel comfortable using BigRentz to manage all of their rental equipment needs."
Cannon adds, "While no-haggle pricing is not unique, our Rent with Confidence Promise and rental logistics advisors will further elevate transaction transparency and enhance the overall experience for our customers. Internally, our advisors will spend less time negotiating rates and more time serving the customer, which will result in better customer loyalty and increased productivity among our team."
BigRentz' Rent-with-Confidence Promise includes the following:
Proven Technology – Customers can manage their accounts and rental equipment on any device with BigRentz' real-time online and mobile-ready technology.
No-haggle Rates – BigRentz makes it convenient and simple for customers to locate the right equipment for their projects at prices they can trust.
Industry's Largest Equipment Network – Equipment searches and pricing are sourced from more than 1,500 suppliers with 7,500 nationwide locations.
Backed by Industry Expertise – No matter what equipment customers need, BigRentz' rental logistics advisors are readily available for on-demand support and service.
"Backed with proven technology and the largest national marketplace, BigRentz.com promises and delivers a better way to rent construction equipment." stated Cannon.
Additional BigRentz.com features included to enhance the user experience:
Focus on mobility - Site optimized for mobile devices.
Faster page loading speed eliminates waiting for images and content to load.
Better product pictures to showcase high-quality equipment inventory
Better user design and layout to make it more convenient to find information about products