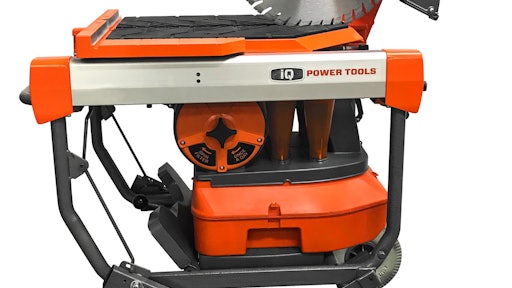 The iQMS362 was designed to overcome common power limitations of most high-powered masonry saws which operate on 220v of electricity. It operates using a standard 120v and 20 amps, eliminating the need for a 220v plug adapter or high-output generator. Integrated with soft start technology, the iQ Power Management System controls the power ramp up without the spike.
 OSHA Silica PEL compliant
Unmatched cutting speed

Easy Transport System includes high-flotation tires, an integrated Stand with powered lifting/lower mechanism and caster wheel with 360-degree rotation.
3 Stage Cyclonic Filtration
270-deg. Dust Reduction System
IQ Power Management System allows the saw to run on 120 volts and 20 amps
16.5-in. Q-Drive blade with a 5.5-in. depth and a full 24-in. length of cut
According to the company, the iQMS362 features the following industry firsts:
The iQMS362 eliminates the dust cloud, allowing workers to increase their efficiency and productivity while staying compliant with the new OSHA regulations.

The iQMS362 was designed with the health and safety of its operator in mind, meeting the OSHA Silica Permissible Exposure Limit (PEL) of 50 micrograms of respirable crystalline silica per cubic meter of air (μg/m3), averaged over an eight-hour day.
Durable and portable, the iQMS362 is built to tackle any jobsite.
The iQMS362's 16.5-in. Q-Drive blade was engineered specifically for this tool. Tests have shown this blade cuts 40% faster than its competitors and with more accuracy. The Q-Drive blade cuts masonry materials in a wide range of shapes, sizes, weights, and densities; from soft, manufactured stone to very dense pavers or granite.
Request More Information
Fill out the form below to request more information about
iQ Power Tools 16.5-in. Dry-Cut Masonry Saw with Integrated Dust Collector