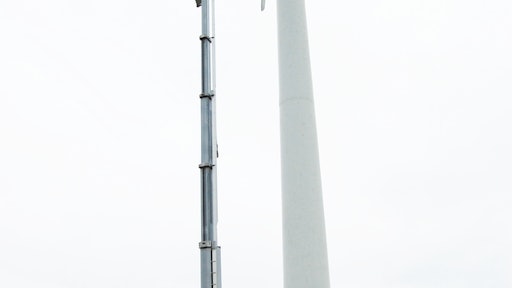 With years of service and millions of blade rotations on a large wind farm near Sweetwater, TX, the management company for the farm decided it was time for some major inspection and maintenance on the turbine blades. Rather than repair the blades on a case-by-case basis, it chose to perform a complete inspection and leading edge refurbishment on every blade on the farm.
The first phase of the inspection and refurbishment project began on a group of 1.5-MW turbines in an area where a violent lightning storm had recently occurred and damage from lightning strikes was noticed. Since an average 1.5-MW turbine outputs upwards of 36 MW of power per day, the cost to shut a turbine down can be $800 or more for every day it is out of service. Minimizing downtime and keeping turbines running efficiently is a critical factor in maximizing the return on investment.
When the contract was awarded and work began on the site, the company that won the award performed most of the inspection and refurbishing work from suspended scaffolding. To keep the work running on schedule, however, it contracted with TGM Wind Services of Abilene, TX, to help with the project. TGM specializes in this type of work using aerial work platforms to access the overhead areas. Although relatively new to North American wind farms, aerials have been used to maintain turbines in Europe and throughout the world for a number of years.
For the project, TGM brought in Bronto Skylift Model S-90 HLA truck-mounted aerial work platforms. TGM has had these units working on towers since they took delivery of their first two machines last year and added two more earlier this year.
Mounted on a six-axle Kimball chassis, the lifts are able to drive directly to a turbine. Advanced outrigger controls and one-button automatic leveling of the outriggers means they can be positioned, set up and elevated to the overhead area in 15 to 20 minutes or less. They can lift up to 1,000 lbs. of personnel and materials in an 8' x 3' enclosed platform to 295-ft. maximum working height with a maximum horizontal outreach of 108 ft. Electrical, pneumatic, hydraulic and water lines in the platform enable technicians to easily operate powered tools and washers from the platform.
When time came to solicit bids on the refurbishment of blades in the next phase of the overall project, site management remembered the aerial work platforms they had seen TGM use. TGM was invited to bid on the next phase, which included inspecting and refurbishing the blades on twenty-five 1.5-MW GE turbines.
Because of the capabilities of the aerial work platforms and the experience TGM Wind Services had working on similar projects, Kevin Darby, vice president, was able to provide a fixed-price quote per blade, no matter what repairs were needed or what supplies were required. In addition, Darby said that they would inspect and refurbish an average of one turbine (three blades) per day depending on favorable weather conditions.
TGM was awarded the contract, and was able to exceed expectations. According to one member of the site management team, "They drove up to a turbine, set up the machine and they were ready to work in a matter of minutes. They didn't waste time mobilizing and de-mobilizing the equipment when moving from turbine to turbine. And when weather has allowed, they maintained their commitment to complete a turbine a day."
Darby adds, "We are able to do more work in less time and give better service to our customers, while at the same time providing our technicians a safer work environment. And our 'fixed price per blade' pricing gives our customers a better handle on the total costs of a project. It's a win-win situation for everyone."