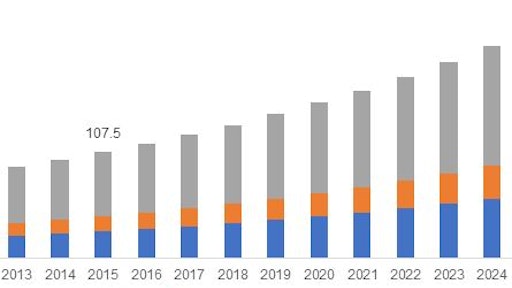 Steady demand generated by applications including heavy and light industrial work such as utility and electrical contracting work, signage and lighting applications coupled with the rapid pace of warehousing and industrialization is driving the boom trucks market. In fact, a new research report by Global Market Insights, Inc. says  the bucket/boom trucks market is expected to exceed $500 million by 2024.
Developments in the utility and telecom sector in the regions including U.S., India, China, UK and France offer ample opportunities to the boom trucks market growth. These regions are witnessing high demand to meet the requirement of utility and construction industry. Increasing investment to improve the infrastructure and rising consumption of electricity across China, and India have also escalated demand.
Rising penetration of anti-idling technology is anticipated to propel the boom trucks market size over the next eight years. The technology is used to reduce the amount of carbon emissions from trucks, which leads to a high percentage of environmental pollution. It shuts off the engine automatically when the equipment is being used but not being driven, and is assessed to deliver emission reduction and limit the environmental pollution and fuel cost significantly. The increasing hybrid bucket trucks market size is predicted to offer tremendous growth prospects to the industry.

Stringent government regulations across the globe associated with the usage of vehicles used for loading and lifting purposes is expected to drive consumption. For instance, U.S. Department of Labor issued a regulation according to which employers are responsible to provide a safe workplace. The regulation is also applied to the power-operated equipment that can lower, hoist and horizontally move a suspended load. Such equipment includes articulating cranes, crawler cranes; cranes on barges; floating cranes; locomotive cranes; and boom trucks.
The telecom sector is continuing to be a critical force for innovation, growth and disruption. The segment is witnessing booming growth across the globe, creating demand for heavy equipment such as boom trucks for efficient operations that aids in performing more work in less time in the infrastructure development activities.

UK boom trucks market will be driven by the increase in demand from companies currently using 20 to 22 meter 3.5-ton truck mounts that do not require much working height. The regional industry is highly price sensitive and the manufacturers are continuously working on offering products with lower price and quality services such as aftersales support for the competitive environment.
France is among the significant countries in the Europe boom trucks market witnessing steady growth. Increasing demand for vehicle-mounted bucket trucks across telecommunications and utility sector is expected to propel regional bucket trucks market growth.

Manufacturers are focusing on upgrading the equipment to better meet the changing demand across the industry verticals such as utility and telecom. Moreover, frequent mergers and acquisitions have become the prominent expansion strategy. For example, in 2015 Manitex acquired PM Group to expand its product portfolio with the addition of knuckle boom trucks. Furthermore, in November 2016, the company revealed its new 28-meter telescopic truck mounted platform, the P-280B on a 3.5-ton Euro 6 framework.