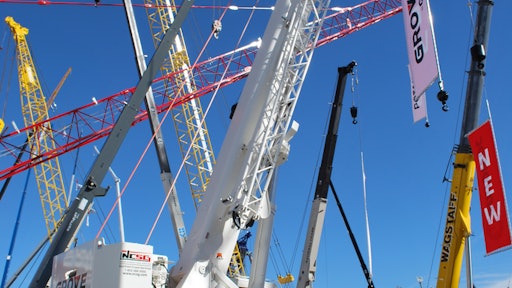 Manitowoc has received a substantial order for its new 65-ton-capacity Grove RT770E rough-terrain crane, from Chunjo Construction Co., one of the world's largest crane fleet operators, signing a deal for 50 units when company representatives attended the CONEXPO-CON/AGG show in Las Vegas, NV, last month.
Launched at show, the RT770E offers a five-section, full-power boom that features single-cylinder technology, eliminating the need for a hydraulic hose reel, lightening the boom, and in turn, the entire crane. The design also eliminates the need to install boom inserts, saving both time and money. The crane can be fitted with a 10.1 m to 17.1 m bi-fold swingaway that combines with the main boom to reach 59.1 m and extend working radius to 43.9 m.
South Korea-based Chunjo placed the sizable order for RT770Es to update its current fleet of 68 Grove RT cranes, which it purchased in 2006 and 2007. The cranes will be used on a range of engineering and construction projects by Chunjo customers, who include some of the world's largest construction and project management firms. Jobs will be both in South Korea and elsewhere around the world.
"Updating our fleet with the latest crane models reduces maintenance costs, fuel costs and down time, so we can offer very competitive rental rates and win more contracts," said Jang Hwan Chang, president of Chunjo. "We have already sold 50 older Grove cranes from our fleet and we had no problems selling them, because they are robust units that offer exceptional residual value. You can visit almost any jobsite in the world and there will be people on site familiar with working with Grove RT cranes, and that is very valuable for our clients. We are delighted to add such a large number of cranes to our fleet, and we are confident they will provide many years of great service."
Seven of the cranes will be delivered to Chunjo in April 2014, with the remaining 43 units arriving over the course of the year.
Companies in this article