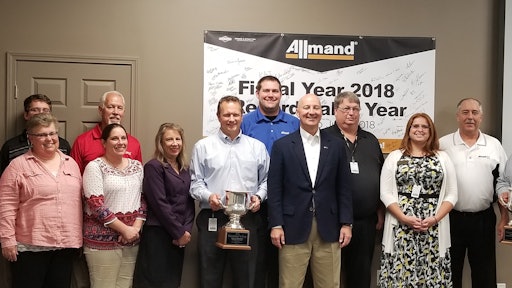 Allmand Bros. Inc., a subsidiary of Briggs & Stratton Corporation and a long-time manufacturer of high-performance portable equipment, celebrated its 80th anniversary this September. One highlight of the month-long celebration was a visit from Nebraska Governor Pete Ricketts.
Governor Ricketts stopped by the facility in Holdrege, NE to recognize Allmand's contributions to the state's economic development. "Allmand is a great success story," said Governor Ricketts before the visit. "After its core business experienced a downturn just a few short years ago, the company shifted focus to serve additional industries. It's come back better than ever."
Allmand continues to offer dependable products to its primary industries, while expanding its offerings to new segments of the market. Its newest light tower product, the Night-Lite E-Series, is designed to meet the needs of both the construction and the special events industry.
"Allmand spent the past 80 years providing reliable, durable jobsite support equipment, which helped establish us as a leader in the industry. We're excited to continue to meet those needs while offering solutions to a broader market," said Ben Duke, vice president of jobsite and standby power at Briggs & Stratton. "We value integrity and are proud of our history of treating our customers and employees with respect, which is why our customers look to Allmand as a trusted partner."
Founded in a garage in 1938, Allmand was born from need and ingenuity. After building their own arc welder, brothers Leslie and Walter Allmand started what is now an industry-leading manufacturer of high-performance equipment in Holdrege, Nebraska. Allmand was acquired by Briggs & Stratton in 2014, and its sole focus continues to be providing premium portable light towers, mobile industrial heaters, portable light stands, portable air compressors and mobile generators for the global construction, mining, oil and gas and rental markets.
"As we celebrate our 80th anniversary, we're proud to look back on the robust products that brought us here," said Duke. "As we look ahead to the next 80 years, we renew our commitment to driving the industry forward by continuously innovating and improving our products and processes."