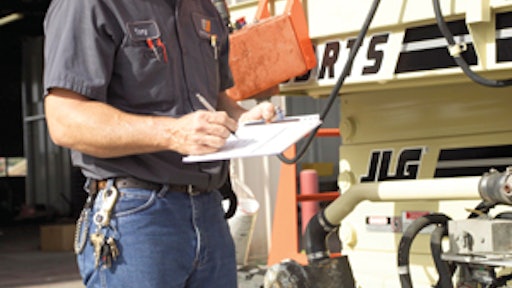 Trapeze artists might be used to working at high altitudes without a net. After all, flirting with danger far above the ground is part of the reason they're so exciting to watch. However, working without a "safety net" on a scissor lift should not be met with the same degree of flair for the dramatic.
In fact, just the opposite should hold true. Minimizing danger is an important part of your responsibilities as a contractor. A part of that means developing and implementing a preventive maintenance (PM) program for your scissor lifts to avoid premature failures.
"A successful program can not only help you detect maintenance-related issues that can lead to unexpected downtime, it can also reduce the cost of ownership and increase machine longevity and resale value," says Bill Dovey, JLG Industries.
Rick Soltas, Skyjack service representative, agrees, noting, "The primary objective of a preventive maintenance program is to keep the scissor lift operating at its safest and most efficient level. The major benefits realized from a program are low operating costs and long life span. Other benefits include contributing to a safe work site environment and maintaining productivity."
Even with these advantages, some may question whether it's really worth the investment. "It is often hard to see the upfront benefits of having a full-time preventive maintenance program," says Eric Ludwig, product manager, Genie Industries.
Ludwig admits that PMs are often viewed as tasks that generate no income, yet take time to complete. "But if [you] calculate the equipment's productivity and profitability and compare that to the money spent to maintain the equipment," he contends, "the benefits of the program to the company's bottom line quickly become clear."
Designated service
Most premature failures of scissor lifts occur at normal wear points that are not maintained, or are maintained incorrectly, notes Soltas. Therein lies the importance of implementing a PM program.
The most effective programs focus on simplicity. "Keep it simple, yet pay close attention to detail," Ludwig advises. "It is easier to deal with things little by little, rather than have premature wear on the machine and face the consequences - costly repairs and expensive downtime. It is the little things that build up over time that cost the most to repair. It is cheaper to maintain the equipment than to repair or replace it. Preventive maintenance saves money."
Another successful ingredient is designating a particular person to perform maintenance tasks. This individual should be trained in proper maintenance and inspection of all the scissor lifts your company owns/operates, says Jeff Smith, product support manager, MEC Aerial Work Platforms. "Also provide this person with the means to acquire the parts and supplies needed to maintain the units properly," he states. If the machine is a rental unit, the job foreman should mandate regular inspection and maintenance from the rental company.
By putting someone in charge, you create an environment where the mechanic can become familiar with the particular brand(s) of equipment. "A trained eye will be able to spot problems early and adjust or repair them before the lift fails and causes downtime and more costly repairs," says Soltas. "Also, repairs and adjustments are made correctly according to manufacturers' specifications, ensuring the repair will not cause further problems."
Premature failures can also be averted by training operators on proper use of the machine. "Properly trained operators know the lift and how it operates," says Soltas. "When they are doing their job correctly, they perform an inspection prior to each shift, and can spot problems early."
Service checklist
Some areas you will want to focus on in your PM program include:
Recharge/monitor the battery - For electric scissor lifts, the battery is arguably the most common failure point. Batteries take a certain amount of maintenance to keep them at top operating performance, says Smith.
Check that all terminals are clean and the charger or alternator is working correctly. Also monitor water and sulfuric acid levels in the battery. "As a battery recharges, water vaporizes," Smith explains. "If it gets too low, there can be permanent damage to the battery and it won't be able to hold as long of a charge."
Check the water level of the battery after eight hours of operation. If needed, fill it using only distilled water. "Any impurities in the water will damage the internal workings of the battery," Smith notes.
Check engine fluid levels - Be sure to include antifreeze, hydraulic oil, engine oil and fuel. Refill as necessary.
Checking fluid levels should also include a visual inspection of the entire machine. Pay attention to hydraulic hoses, especially those that can be easily damaged. O-rings can also dry out with age and crack, which can lead to leaks. "Check for leaks or damage and make sure the machine's systems are functioning properly," Ludwig says.
Don't forget to include filters. "The filter catches debris that can shorten pump and component life," says Soltas. "The oil can get water mixed in it, and the valves and metal parts can rust as the oil sits and separates from the water in the manifold, valves and lines."
Check safety-related components - Ensure that guardrails are in place and are not damaged. Also check that all decals are still affixed to the unit and are legible. New ones can be readily ordered from most manufacturers, if needed.
"About 90% of the decals are on the machine to point out safety related items, such as platform maximum capacity, pinch points, etc.," says Smith. "Others are instructional decals, such as the one for the joystick, which is located on the upper control box. If they're not on there, the person won't know how to operate the machine."
Keep it clean - At the end of the work day, wash down the machine, thoroughly cleaning off any material residue from the work site.
"Keeping the machine clean helps you to readily see damage or missing parts," says Dovey.
Lifts working in areas that are extremely dirty and dusty or extremely hot or cold need more frequent cleaning, inspections and maintenance. "Those conditions really put a burden on the machine," Dovey points out.
Any jobsite that subjects the lift to airborne dust, chemicals that cause corrosion, sandblasting or lots of water - particularly saltwater - will also call for more frequent inspections to ensure that damage and corrosion are kept to a minimum.
Keep it lubricated - Lubrication is one of the most commonly overlooked PM requirements. Properly lubricate the lift while it's still warm enough to ensure the fluid reaches all the critical points.
"This is a good time to do another visual inspection of the scissor lift," adds Ludwig, "checking for any damage incurred during operation that day. If anything does not pass immediate inspection, it needs to be noted, immediately replaced or repaired and reported to the person within the company responsible for the equipment fleet. Any repairs or replacements should also be reported to the dealer."
Watch the hour meter - Pay attention to hour meter readings to avoid surpassing manufacturer-
recommended service intervals. This is especially important if you're running equipment around the clock with multiple shifts.
Tighten loose parts - Tighten wheel lug nuts and ensure that tires are properly inflated and not damaged. Make sure all fasteners are tightened correctly, and any removable pins are put back in place and undamaged. Pay special attention to railing pins and fasteners.
"Spend the time for scheduled maintenance when you're not using the machine," Smith stresses. "Doing it then can prevent a service call, and you can use the machine without problems."
Companies in this article