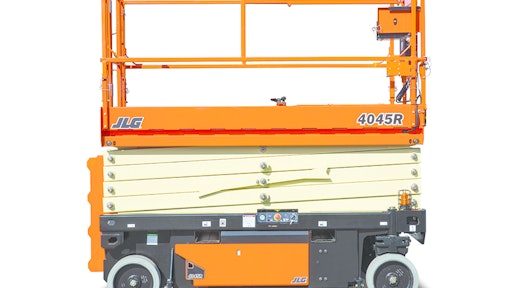 JLG Industries, Inc. has introduced two new electric scissor lifts, the 4045R and 1532R. These scissors will be available globally mid-year 2017.
"The new 4045 features a slim line design for seamless movement in and around tight work areas, offering a 45-in. machine width — the narrowest offered among competitive manufacturers in its size class," says Paul Kreutzwiser, JLG Industries global category director, aerial work platforms. "Machine width is extremely important when used in distribution centers and warehouse applications, where machines are maneuvered through tightly spaced aisles. The compact footprint of the 4045R enables side-by-side transport on most trucks and inside containers for lower transportation costs and improved efficiency."
The 4045R is the first JLG electric scissor lift to feature side forklift pockets, allowing a range of forklifts to be used for loading or unloading. In addition, the lift's innovative self-centering feature uses a five-level scissor design with fewer linkage points. Fewer linkage points improve operator comfort when working at the machine's maximum 40-ft. height, resulting in greater worker confidence for improved productivity.
The 4045R is one of the only scissor lifts in its category with both an indoor and outdoor rating. Operators can drive the machine at full height indoors and at a maximum 28 ft. outdoors for enhanced versatility.
The 1532R features compact dimensions, including a 32-in. machine width, allowing it to fit through narrow spaces and work in confined areas. A platform height of 15 ft., platform capacity of 600 lbs. and a layout that optimizes serviceability combine to deliver maximum jobsite efficiency.
Both the 4045R and the 1532R include benefits common to other units in the R Series, including:
Reliable and simple pothole protection system with a single limit switch and harness, along with fewer moving parts for reduced service requirements
Easier access to internal machine components for simplified servicing
Improved battery charger to allow technicians to program changes that optimize charge curves for conventional wet or AGM batteries through a simple USB port
All-steel platform, steel component trays and recessed ground control panel for long-term machine durability
Request More Information
Fill out the form below to request more information about
JLG 4045R and 1532R Electric Scissor Lifts