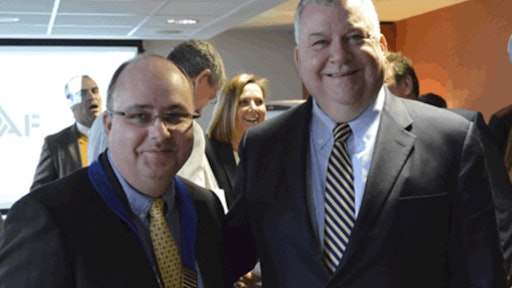 Nick Selley, group business development director at AFI Uplift, has taken over as IPAF's president, replacing Andy Studdert of NES Rentals who has completed his two-year period of office, it was reported by Access International.
Speaking at the IPAF annual general meeting in London before the Summit conference and IAPA awards dinner on April 4, Selley paid tribute to Studdert for his "excellent stewardship of IPAF and in particular for his contribution to the launch of the IPAF online training program."
Selley highlighted a number of priorities for his own presidency, with safety being one of them. He said IPAF needed to do more than just training; "we do need to be more involved in other areas and to be more proactive in raising industry standards. We don't just want to report accident statistics – we also need to develop further initiatives to reduce them."
He said IPAF should take a strong stance on members who do not always adhere to the required safety standards; "Safety is paramount and our members need to believe in these values. Frankly, if people can't accept the need to adhere to safety standards they shouldn't be part of IPAF."
Selley said IPAF should become more active in promoting the powdered access industry to young people; "They are the leaders of tomorrow, and during my presidency I will be strongly promoting the need for our members to further develop their apprenticeship programs... IPAF needs to increase the industry's profile to encourage more young people to come on board."