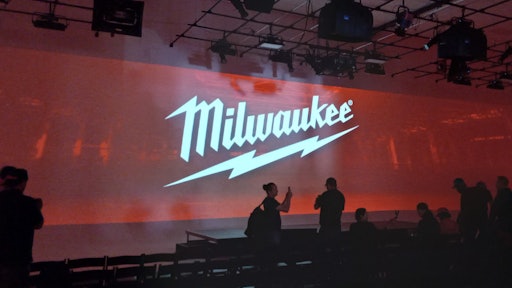 Roughly 75 social media personalities from various areas of construction sat in a large room - some tool reviewers, a few from electrical, plumbing, etc. White curved walls took the perimeter allowing a seamless transition from floor to wall. Soon, the room turned red and sound bites from contractors across the country started the day. Milwaukee Tool's PIPELINE annual event returned to be in-person in August 2023 after going digital for two years during the COVID-19 pandemic.
Over 60 tools and light equipment were on display. Later, attendees were given the afternoon to get up close, ask questions, and try the products out themselves. Milwaukee Tool's PIPLINE is an "exclusive source of truth for what's new" from the company. The event started 16 years ago as a "New Product Demonstration." According to Milwaukee, "this is just the beginning."
An admirable statement considering the amount of products the company has put forth in the last decade.
For Milwaukee Tool, it's about people and culture. Speak to any representative of the company and you'll find both. They'll be celebrating 100 years in business next year (2024), but 18 years ago marked a significant turn. Milwaukee Tool was 207 people. Today, there are over 9,000 team members in the U.S. with 18 facilities.
Products were grouped by core trade categories: General Contracting, Electrical, Power/Utility, Pluming, Mechanical & HVAC, Landscaping & Tree Care, Automotive & Equipment Maintenance, and Carpentry & Remodeling.
New products included new products on the M12, M18, MX FUEL lines, as well as the brand-new FORGE battery platform.
A New Battery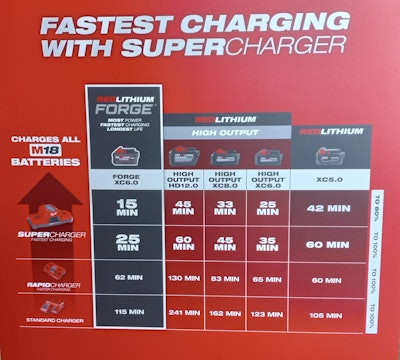 With 2022's addition of the M12 HIGH OUTPUT, Milwaukee continued to aim its focus on replacing small engine gas motors. "You're going to see us continue that journey," says Paul Fry, executive vice president of product management. "A journey that does not end."
The big "star" of the day was the new workhorse battery, FORGE. Based on the MX FUEL REDLITHIUM line, Milwaukee Tool says that its FORGE will deliver "the most power, fastest charging, and longest life batteries in the industry."
"This is the work of over 150+ engineers designers, quality managers, [and] product managers that are laser focused on driving technology to continue to make you more productive on the site," says Andrew Lentz, vice president of product management. Lentz is responsible for Milwaukee Tool battery and charger technology.
FORGE will launch will XC8.0 and HD12.0 batteries along with a SUPERCHARGER that should be capable of recharging REDLITHIUM HD12.0, XC8.0, XC6.0 and XC5.0 batteries to 80% in 45 minutes or less. (Reportedly over two times faster than their prior generation charger.)
Engineers reassessed every component in the REDLITHIUM battery pack with the goal of improving performance, durability, and life. MX FUEL REDLITHIUM FORGE feature a tabless cylindrical cell technology that shortens the distance energy has to travel which significantly lowers resistance, allowing it to get more current out of the system (power) as well as run cooler.
The battery also includes an advanced laser welding process to connect the well straps to the cell to improve the thermals with a better connection and improve vibration protection - allowing the battery to run a plate compactor or a 6 hp full size cut off saw, for example. Even more protection comes from an over mold wrapping to protect from day-to-day abuse.
Highlights
Check out just a handful of the highlights in this playlist featuring a walk-around of the FORGE battery and SUPERCHARGER, MX FUEL Plate Compactor, MX FUEL 14 in. Cut Off Saw with new Rapid Stop safety technology, M18 FUEL SDS Plus D-Handle Rotary Hammer, MX FUEL 4 in. Green Concrete Saw, a walk-through of the latest in Packout Modular Storage, the BOLT Helmet and accessory line, MX FUEL 24 in. Walk Behind Edging Trowel, NEW QUIK-LOK attachments, M18 FUEL Blower, M18 FUEL 17 in. Dual Battery String Trimmer, and M18 Telescoping Pole Pruning Shears in the playlist below.
60+ Products
In total, PIPELINE 2023 included the following, some of which have already been announced but keep watch for official releases with more details as they come available.
Power Utility & Electrical
Electrical hand tools
M18 FUEL 3/8 in. Controlled Torque Compact Impact Wrench with Friction Ring
M18 FORCE LOGIC 5-in. Underground Cable Cutter with Wireless Remote
M18 FORCE LOGIC ingle Channel Strut Shear and Strut Shearing Dies
M18 FORCE LOGIC 12T Latched Linear Crimper
M18 FORCE LOGIC 12T Kearney Linear Crimper
M18 FORCE LOGIC 11T Dieless Latched Linear Utility Crimper
M18 FORCE LOGIC 6T Latched Linear Utility Crimper
Carpentry & Remodeling
NITRUS CARBIDE Universal Fit OPEN-LOK Oscillating Multi-Tool Blades
M12 Brushless

Rotary

Tool
M12 Brushless 2 in. Planer
M12 FUEL Jig Saw
M12 FUEL 18 Gauge Compat Brad Nailer
M18 Compact Brushless Drills & Impact Drivers
M18 FUEL 1/2 in. Router Muli-Base
M18 FUEL 16 Gauge Straight Finish Nailer
Automotive & Equipment Maintenance
Tap & Die Threading Solutions
Mechanics Hand Tools
M12 Auto Technician Borescope
M12 FUEL INSIDER Extended Reach Box Ratchet
M18 FUEL 1/2 in. High Toruqe Impact Wrench
Landscaping & Tree Care
QUIK-LOK Attachments
M18 Brushless Telescoping Pole Pruning Shears
M18 FUEL Telescoping Pole Saw
M18 FUEL 17 in. Dual Battery String Trimmer
M18 FUEL Blower
M18 FUEL Dual Battery Backpack Blower
General Contracting
DIAMOND ULTRA Segmented Blades
ONE-KEY
M18 Red Exterior Dual Slope

Rotary

Laser & M18 Red Exterior

Rotary

Laser
M18 Green Interior

Rotary

Laser Level Kit with Remote/Receiver & Wall Mount Bracket
M18 FUEL 1 1/4 in. SDS Plus D-Handle

Rotary

Hammer with ONE-KEY & M18 FUEL HAMMERVAC 1 1/4 in. Dedicated Dust Extractor
MX FUEL 36 in. Walk-Behind Trowel
MX FUEL 24 in. Walk-Behind Edging Trowel
MX FUEL 20 in. Plate Compactor
MX FUEL 4 in. Green Concrete Saw
Plumbing, Mechanical & HVAC
Faucet Swap-Out Wrenches
Aluminum Self-Adjust Pipe Wrenches
M18 FUEL 5 CFM Vacuum Pump
M18 100 ft. Flexible Pipeline Inspection System
M18 FUEL High Speed Chain Snake for 1 /2 in. to 4 in. Pipes
M18 FUEL 4 1/2 in. / 5 in. Dual-Trigger Braking Grinder
MX FUEL Pipe Threading Machine & Universal Pipe Threading Dies
MX FUEL Core Rig & DIAMOND ULTRA Wet

Core

Bits
Batteries, Chargers & Power Supplies
M18 and MX FUEL REDLITHIUM FORGE
M18 and MX FUEL Super Chargers
ROLL-ON 7200W/3600W 2.5kWh Power Supply
...It's Not Over
The products announced and seen during this year's PIPELINE aren't the end - nowhere near close. As they said in their opening presentation, this is just the beginning. There's more to come from Milwaukee Tool, for sure. After signing an NDA, attendees were presented with a sneak-peek preview of a REDACTED which should reportedly REDACTED INFORMATION and REDACTED INFORMATION. Of course, Milwaukee will be maintaining compatibility with everything on their battery system. The NDA limits the details on what we can talk about, but "impressive" is a good word here.
We'll be sure to keep watch for as more of the products, tools, and light equipment Milwaukee Tool are known for continue to be announced from here until PIPELINE 2024.