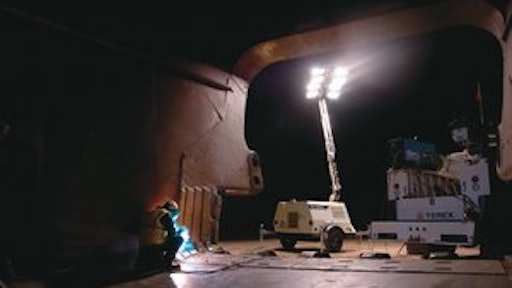 AL8000 HT Light Tower
The AL8000 HT features a hydraulic-powered mast that offers a full range of motion to position light where its needed.
28 ft. of vertical height, 20 ft. of horizontal outreach and 359° of powered-boom rotation
Light bar tilts 180° vertically, allowing operators to extend and rotate the mast into multiple positions
Each light pivots front-to-back and 360° side-to-side to position the fixtures in a precise direction
Comes with four 1,000-watt lights, a 13.6-hp Kubota engine producing 10 kW of electrical power and a 30-gal. fuel tank
TEREX
Floodlight Balloons
The high-powered Powermoon floodlight balloon lights are compact and lightweight (18 lbs.) and can be set up within 20 seconds.
Use halogen or metal bulbs for illumination
Umbrella-like steel spring system opens and closes the fire-resistant, nylon balloon-shaped diffusion cover
Ballast base mounts on a lightweight tripod for infield use
Weatherproof and wind resistant up to 70 mph
Operate using a small portable generator or 100V power source
Powermoon Enterprises, Inc.
GloBug
GloBug light towers are lightweight and illuminate to distances in excess of 150 ft.
Offered as a standalone unit or with a cart for an optional generator
Two models with maximum mast heights of 13 and 16 1/2 ft.
Water-resistant balloon or optional drum and reflector balloon packages
1,000-watt metal halide lamp provides glare-free illumination
9.5-amp units use 120-volt power
Multiquip Inc.
Ingersoll Rand L20
The Ingersoll Rand L20 by Doosan Infracore Portable Power features a 32-hp Mitsubishi diesel engine and 20-kw generator, supplying sufficient power to light a wide area and provide up to 16 kw of energy to power trailers, power tools, heaters and more.
Four 1,000-watt metal halide lamps mounted to a telescoping mast offering 360

° rotation and extension from 12 to 30 ft.

Generator delivers up to 80 amps at 240 volts and 160 amps at 120 volts when lighting system is not in use

Standard auto start/stop capability and optional AutoLamp feature for automatic light engagement from dusk to dawn

Standard 27-gal. or optional 50-gal. fuel tank


The Ingersoll Rand L20 by Doosan Infracore Portable Power is a combination light tower and mobile generator. Ideal for environments where no reliable power source is present, the L20s 32-hp Mitsubishi diesel engine and 20 kw generator provide enough power to light a wide area while simultaneously providing up to 16 kw energy to power jobsite trailers, power tools, heaters and more. A 27-gal. fuel tank is standard with the option to upgrade to a 50-gal. tank.
Doosan Infracore America Corp.
Meteorlite SY22050
The Meteorlite SY22505 is a Class I heavy-duty potted vehicle safety strobe with a high-intensity LED source.
Consists of a durable, polycarbonate lens and aluminum base with amber, blue or red replaceable LED lamp
Available in high or low profiles with permanent or magnetic mounts
Includes 24 LEDs per head with up to 11 built-in selectable flash patterns
Superior Signals, Inc.
Mirror 15/20
The 15/20 incorporates two rugged, stainless steel mounting adapters that let you choose from a range of Whelen Class 1 beacons.
Weather-resistant stainless steel U-bolt mount for existing "West Coast" style side mirror brackets
Unobstructed warning light visible around truck body and payload
Lights placed high and above the drivers line of sight
Whelen Engineering Co. Inc.
Nite Lite
The Nite Lite portable work zone light provides a non-glaring white light for all moving and static nighttime construction projects.
Lightweight and easily transportable
Microprocessor-controlled electronics ignite the 400-watt Pulse Start Metal Halide lamp
Draws only 4 amps at 120 volts AC from a 60-Hz electrical source
Light output rated at 42,000 lumens for lighting up to a 15,000-sq.-ft. area
Work Area Protection
Radioray
The RADIORAY Model 7901 searchlight features a programmable wireless remote.
Suction cup and magnetic mount shoe
15-ft. cord with cigarette plug for 12-volt DC
Measures 7 in. x 7 in. x 8 in.
Golight Inc.
Sirocco 3K
The Sirocco 3K HTI is designed to replace traditional floodlights on light towers.
Glare-free light
Can be adapted to existing tower
Will illuminate 72,000 sq. ft., 360° with 300,000 lumens
Airstar America
Wireless Flashing Solar Strobe
The high-visibility Safety Alert wireless flashing solar strobe light features a simple unit located on/off control that will recharge in either the "on" or "off" position.
Four LEDs emit a light intensity of 4.1 candelas
360

° horizontal nighttime visibility of over 2 miles

Capable of flashing 60x per minute

Self contained with no direct and/or external wiring

Will automatically activate at dusk to dawn in the "on" position

Available in red, green, blue, amber and white
Rodon Corp.
Xtreme Charge
The Xtreme Charge 12-volt battery charger will simply and safely charge any 12-volt lead acid battery.
Intelligent testing and evaluation circuitry featuring 12 LED status indicators
Proprietary computer-integrated system determines and delivers the appropriate charge
PULSE technology minimizes the size of sulfation buildup on battery plates
Includes a charger with fuse-protected quick-disconnect battery clamps and lugs
Eliminates worry about charging in an improper or potentially unsafe manner
PulseTech Products Corp.