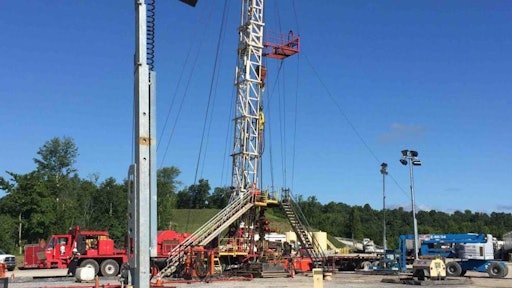 Generac.
Often, your project doesn't follow a 9-to-5 working schedule and the daylight hours turn into nights. Because of this, many projects require portable lighting solutions, such as light towers.  
The decision of whether to temporarily rent a light tower versus purchasing a unit for your fleet is typically determined upon project budget justification. However, whatever you decide, it's essential to understand what to look for and how it applies to your application. 
Choosing the Power Source
The most common power source is a diesel engine light tower. Sometimes your jobsite will be in a remote location where access to electric power is limited or non-existent. Even though diesel-powered light towers are common, it's important to still consider models that offer low fuel consumption or a larger fuel tank capacity to avoid constant refueling. This will not only reduce their environmental footprint but will also help ensure the project is cost-efficient as the fuel burned on a project is typically the largest expense.  
If your work site provides easy access to an electrical power source, you may wish to consider electric-only light towers, which represent the latest breakthrough technology due to their exceptional plug-and-light capabilities. These towers allow users to connect easily to any single power source, like a small portable generator or directly into the grid.  
Certain electrical light towers also offer the benefit of modular connectivity, which enables multiple light towers to be linked together and powered by a single generator. This provides for greater service and maintenance efficiency by not having multiple engines to pay attention to, helping to improve your budget and efficiency.  
However, despite it being easy to connect multiple units together to cover a large area, it's important to note that a single electric light tower is only able to illuminate an area of up to 32,300 sq. ft., which is lower than diesel-driven variants. Additionally, electric-only light towers are not only quieter and more environmentally friendly, but they also ensure lighting operations are carried out without the interruption of refueling or additional maintenance required to service mechanical parts. 
There's also some hybrid powered light towers that are being introduced to the market. Solar-powered or solar assisted technology is a new alternative. There are certainly some benefits of not having to pay for your fuel source, however, with every pro, there is often a con. Solar towers and heavy machinery on a jobsite rarely mix well, kicking up dust in the air or transporting units on site is a recipe for damage to the more delicate towers.  
Diffused or Traditional Lighting Options
Confused about the difference between traditional and diffused lighting options? Diffused, or balloon lights, filter the light through a translucent shade or balloon that lights up the surrounding area. Traditional light towers mount each bulb separately inside an adjustable reflective light fixture.  
While both light options can be used on most jobsites, advantages of electric balloon lights include quiet operation with zero emissions, non-glare light, and small size portability, which is ideal for indoor work and emergency command posts. Some say balloon lights are going to be a requirement on more road construction sites where a significant amount of work is done at night.  
Curious how to decide which option is best for you? Here's a list of comparisons between traditional and balloon lights to help you decide: 
Electric Balloon Lights 
Diffused, glare-free,

 and

 reduced shadow lighting

 
3

60

°

 of working light on the jobsite

 
No sound or exhaust emissions

 
Can be stand-alone units or mounted onto mobile construction equipment such as pavers and milling machines to move the light along with the equipment operator

 
Balloon light kits are available to retrofit traditional light tower lamp fixtures with balloon lights

 
Often designed as a smaller unit

,

 which can be easier to store and transport

 
Requires a separate power source

 
Made of fabric and designed to handle only so much wind speed and stress

, meaning t

hese lights will need to be taken down before towing to prevent damage

 
Require some component assembly when attaching and expanding the balloon and setting up supports

 
Traditional Lights
Designed to cover large areas with lamps raised up to 30 ft

.

 above work

 

site
Allows the option of directing the light to specific areas of the jobsite with adjustable lamps

 
Not designed to be mounted on construction equipment

, so they 

must be continually repositioned for mobile road construction work

 
Faster set up and take down

 
Completely self-contained with their own on-board generator power

 
On-board generator can also provide power for jobsite tools, etc

.

 
LED vs. Halide
Before deciding between LED and halide, and especially for someone who isn't aware of the latest light tower technologies, we recommended first assessing the site and square footage that needs to be illuminated and the intensity of the lighting needed. Take a look at the diagrams below to see how a LED light tower differs from the metal halide. LED lights will also typically use 25% of energy wattage draw compared to a halide bulb, which relates to potential fuel consumption. 
| | |
| --- | --- |
| LED: | Halide: |
| LED Light Tower CoverageGenerac | Metal Halide Light Tower CoverageGenerac |

What about the Mast
?
Light towers with vertical masts have lately been replacing horizontal mast versions worldwide. This is because the former can be transported and deployed in a vertical position, enabling safer transportation and installation. As a result, light towers with vertical masts have a reduced footprint, and it's possible to transport up to 18 units on a single truck versus 12 horizontal units. The smaller footprint is also much more efficient for storage.  
Also, there is a noticeable difference in light pattern and intensity as shown below as an example: 
Vertical Mast Example - Commonly 23 to 25 ft. in height. 
Horizontal Mast Example  - Commonly 28 to 30 ft. in height. 
| | |
| --- | --- |
| Generac | Generac |

To choose the best mast for a project's needs, it's essential to look at the application. For example, if the light tower is being used on a time-sensitive rental project, then a hydraulic mast is ideal. This is because the mast can be raised or lowered at the touch of a button, which helps reduce downtime and increase productivity through simpler, safer, and quicker operation.  
Recent advances in technology have also seen light towers developed with hydraulic masts that automatically retract in high winds to ensure jobsite safety. However, if the light tower doesn't need to be deployed quickly and won't be installed for a long time, opting for a light tower with a manual mast is a good choice as it's a relatively simple procedure to raise the mast by winding a handle and locking it in place. 
Which 
O
ption do I 
C
hoose? 
Ultimately, choosing a light tower depends on the end users' individual needs. It is recommended that customers work with their local equipment dealers and rental businesses that represent quality OEMs to ensure they select the right product for their specific application.  
During this process, it is important to consider all the variables of where the light tower will be deployed, location, the specific working environment and ambient conditions, power supply, size of the site, and required coverage, etc.  
Light towers offer enhanced levels of durability and value due to the multitude of options that are now available. Customers no longer need to compromise by settling for a one-size-fits-all solution. 


Jennifer Moore is content and advertising manager at Best Line Equipment. She can be reached at jmoore@bestline.com.
Best Line Equipment was founded 35 years ago by Mike Houseknecht. What started as a one-man-show eventually grew into a small crew of hard-working people and has now become a dedicated team of over 400 employees. Their family-oriented culture has helped placed them as one of the Top 100 Best Places to Work in Pennsylvania for two consecutive years and is what sets them apart from others.
Companies in this article