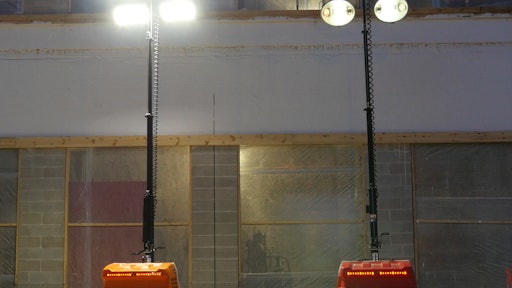 Thanks to fuel savings, a lower cost of ownership and other benefits, it's not surprising that LED light towers are gaining more acceptance within the construction industry. In fact, most manufacturers now offer LED fixtures as a factory-installed or aftermarket option.
This is not to say that LED (light emitting diodes) will make metal halide (MH) bulbs obsolete overnight. But the light tower market is heading in that direction. Just how soon it gets there depends on several factors, not the least of which is narrowing the gap between the initial cost of LED and its many benefits.

Lower Fuel and Operating Costs
The construction industry is well positioned to take advantage of LED lighting. Deree Bivins, product manager, Doosan Portable Power, puts fuel cost savings and cost of ownership high on the list of reasons why. "Light towers with LED fixtures are much more fuel efficient than those with MH bulbs, using 50% less diesel fuel," she states. "The fixtures will also outlast MH bulbs multiple times over."
Doosan, which has four light towers that can be fitted with LED fixtures, recently published an interactive cost-savings calculator to help drive this point home for potential users. The calculator compares LED and MH, factoring in the cost of diesel fuel and the shift run time for the light tower multiplied by the number of shifts per month.
The initial example provided with the calculator shows delivered diesel fuel at $3.25/gal., with the light towers being used on 10-hour shifts 20 times throughout the month. The savings for LED added up to $162.50 per month or an annual savings of $1,950. That's a sizeable figure that alone puts a dent in the higher acquisition cost of LED.
[VIDEO] LED Fixtures Use Half the Fuel on Doosan LSC Light Towers
"LED fixtures will also perform for at least 50,000 hours, which means they will virtually outlive the light tower that houses them," Bivins adds. "Compare that to the relatively short life span of MH bulbs and the cost and inconvenience of replacing them. LED lamps are more durable, too, and won't break while moving the light tower over rough terrain, something that is characteristic of the filament in MH bulbs."
The savings in fuel and operating costs can be dramatic, especially for contractors that routinely employ light towers on jobsites. Yet, there are other benefits.
"The additional run time alone for LED saves handling fuel, something that can be very time consuming and costly in more remote locations," says Eric Massinon, business development director, Chicago Pneumatic. "When used in combination with a photo eye/timer option on our CPLTV5+ tower that turns the light on and off automatically, the longer run time could mean you won't need to visit it for up to two weeks."
Of course, time and cost savings are not exclusive to those working in remote locations. "How many times have you driven through a road construction site during the day and observed a seemingly endless row of light towers? All will need to be turned on, turned off and routinely refueled," Massinon comments. "LED would reduce refueling requirements while the photo eye eliminates the tedious on/off task."
He adds, "LED is more like daylight and travels further than light emitted from MH. The fixtures are also instant on and instant off."
"Elephants" Both Big and Small
The big elephant in the room for LED is its initial purchase cost, which likely adds close to a few thousand dollars per light tower. But there are baby elephants, too.
"The average LED light tower in the U.S. uses 960 watts compared to 4,000 for MH. Depending on how much area you plan on lighting, the application may require more LEDs. The impact is mitigated in part because the white light given off by LED seems brighter," says Ben Froland, light tower product manager at Wacker Neuson. He notes the company plans to release next-generation LED for its new LTV light tower; the factory installed option will include four 240-watt LED fixtures.
Just how much light LED gives off compared to MH is, as Bivins points out, in the "eye of the beholder." What isn't subject to debate is that an MH fixture — while brighter out of the box with approximately 60,000 lumens — has a significant depreciation factor that will get it closer to the Doosan LED's 23,000-lumen output in a short amount of time.
JR Fraher, Generac senior product manager, describes just how dramatic this depreciation can be. "The LED's depreciation over 10,000 hours is only 3%, compared to 50% for MH," he states. "The white light generated by LED is not only more consistent, unlike MH it can also be focused to be very specific for the application.
"We have to remember that LED today is really a first-generation effort," he continues, "and the technology is moving so rapidly that new LEDs will be more powerful and less expensive than those on the market."
A smaller "elephant" for LED is the potential for engine wet stacking, since LED doesn't require as much power as MH. "Diesel engines like to work. If they don't, they may not reach the optimum operating temperature, causing fuel to be unburned," says Froland. "This, in turn, can lead to fouled injectors, unseated rings and other problems that reduce the engine's efficiency and shorten its life span."
The effect can be avoided by ensuring the generator and engine are correctly matched for the light tower system. "Diesel engines all have unique operating characteristics due to differences in design. Extensive testing in cooperation with engine manufacturers helped us select an existing light tower engine that runs inherently well lightly loaded," Froland asserts. "This allows the Wacker Neuson LED light tower to retain long-term durability, extended service intervals and maximum available export power while also realizing significant fuel savings. No additional components are necessary."
"Two of the newest LED light towers from Generac solve the issue with their ECOSpeed engines," reports Fraher. "The multi-speed engines feature a temperature management system that ensures proper operation regardless of load. Together, the ECOSpeed engine and ultra-efficient LED lights provide a much longer run time than traditional MH towers."
Onboard banking can also be used to keep a diesel engine working hard. If not "load banked," any spare energy can be utilized to power tools or other items on site.
LED's elephants are small compared to its benefits. In addition to fuel and cost savings, Fraher notes that like MH, LEDs are suitable for any activity or application that requires lighting.
"LED bulbs provide a more relaxing, natural light than MH bulbs," he adds. "As technology improves and more suppliers enter the manufacturing space, costs will be driven down. A longer run time of 215 hours for our two units and a 750-hour service interval helps reduce operating costs."