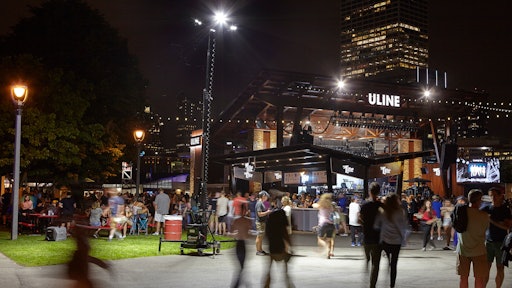 Electric light towers have traditionally been deployed in the entertainment world, where noise is an issue, or indoors where the use of diesel engines is prohibitive. That's changing and changing rapidly. These units with LED technology now shed light on construction sites, remote areas, and virtually anywhere shore power or a generator is being used. 
Manufacturers that market diesel-powered light towers now make room in their lineup for at least one if not several plug-in models. Rental stores are getting into the mix, as well, again making room on their floors for a plug-in option for customers.
Allmand's Night-Lite E-Series (NLE) has been on the market now for a year.  "We've seen a huge uptick in demand for electric light towers," says Brian Northway, field service manager at Allmand. "When our NLE was first introduced, we thought it would primarily be a fit for the entertainment industry, but now they're going everywhere. These units are significantly less expensive because buyers are not paying for a diesel engine and a generator.  They require less maintenance and don't need to be refueled every day.  Rental stores also like them since there's very little customers can do to damage them."
Northway emphasized the NLE model is built to the same high standard as the generator models in the company's light tower lineup, including having the same five-section tower with a wind rating of 50 mph. Among features are a manual winch, an on/off timer and photocell, and four LED fixtures that have an output of 154,000 lumens.
"As with any new product, the challenge is to get the word out," adds Northway. "Rental stores are helping us do that. Additionally, they are educating us as to how broad and diverse the market for this product really is."
More ways to go
FTG Equipment Solutions, the exclusive distributor in the U.S. for Trime light towers, offers five electric light tower options. Choices include the Eco-Chain, a plugin unit; the Eco-Chain P, a plugin unit with explosion-proof lights; X-Battery, a skid unit powered by a battery; X-City T, a towable, compact tower powered by a battery; and the X-Hybrid, as its name implies, a hybrid model. All five have a mast height of 23 feet. "The plug-in model features four LED fixtures with an output equivalent to four 1000W metal halide lamps," states FTG Managing Director Steve Scattolini. "These units are very compact, draw only 7.5 amps, and can be daisy chained to provide even more light. The battery-powered and hybrid units have slightly less output, covering approximately 50 to 60 percent of what a traditional light tower covers."
He notes the battery-only model has a run time of 36 hours and recharges in eight hours with a built-in charger. "The hybrid unit offers a long run time, especially well-suited for remote locations where refueling can be difficult. Depending on run time, this unit may only need to be refueled every three months."
"In temporary working sites where light is needed and electric power is available, electric light towers are a good alternative for four primary reasons," according to Angel Nieto, product manager, power and light for Atlas Copco. "They have 1) a lower capital investment, 2) a lower cost of ownership because of extremely low maintenance and no diesel expense, 3) no or little noise output, and 4) they can be easily used in sensitive environments."
The company has several plug-in models for different applications. Nieto explained that Model HiLight E3+ features an especially sturdy design ideal for the rental industry, along with a larger light coverage than the rest, thanks to 4 x 160-watt LED lights and a mast height of 23 feet. Model HiLight V3+ is mounted on a robust trailer where a small portable generator can be placed to power up the lights. This makes it especially suitable for applications where the light tower needs to be moved frequently, e.g., for road work. It can be moved by one operator and without the need to extend power cords along the work site."
Model HiLight P2+ is a stationary balloon-style light tower that features a special lighting optic built into a PE (polyethylene) rigid housing with built-in cooling. A dimmable floodlight spreads light 360 degrees.
"For additional light coverage, up to three E3 units can be daisy chained," says Nieto. "Simply extend the power cord from one unit to another and you will have multiplied by three the light coverage using less than 2,000 watts, low enough for any small portable gas generator."
The LED factor
LED technology is driving the many changes in the light tower industry. LED fixtures are more durable than metal halide lamps, last much longer and draw less power. The latter has made a dramatic impact on both the diesel engine and plug-in light tower market.
"Because LED fixtures draw less power, generators now have extra capacity for another application at a jobsite," Allmand's Northway points out. "For example, if a generator that previously powered a metal halide light tower had 2 kw in reserve, it would now have 5 kw in reserve with LED fixtures."
For the plug-in market, the reduced power draw has added to light tower versatility, allowing them to be powered by a small portable generator or, as mentioned above, daisy-chained together to provide additional lighting.
"Daisy chaining light towers together can also be very cost effective," adds Michael Goche, Generac Mobile Products. "Consider a remote location where you might need three light towers. Instead of having three diesel engine light towers, you could have one and then easily connect two of our less-expensive PLT240 plug-in LINKTowers, saving on fuel and maintenance costs, as well. A third plug-in tower could be added to the 'chain,' with the proper combination of cords and connections."
The PLT240 features two retractable handles and two caster wheels for easy one-person maneuverability, along with an adjustable 16-foot  mast. Generac offers a second plug-in model, the CTF10, with a higher mast and no wheels. "Some customers prefer the CTF10 setup if for no other reason it's less susceptible to theft," said Goche.
Lind Equipment offers four models of its Beacon LED Towers, a flat-mast version with two or four lights and a vertical-mast version, again with two or four LED fixtures. The flat-mast towers extend to 20 feet compared to 17 feet for their vertical counterparts. "All can run on a small suitcase generator, making it ideal for a remote location, or they can be deployed indoors or at an outdoor entertainment setting where external power is available," says Lind Equipment President Brian Astl. "A single tower light needs only 6 amps to run, so a 15-amp/120-volt circuit will power two Beacon LED towers.
"Depending on the model, the towers weigh anywhere between 300 to 380 pounds and have a wind rating of 45 mph. Their light weight makes these units very portable, so two Beacon LED towers can fit in the back of a standard-size pickup with ease. Both versions of the tower can also easily go through man doors. He notes the units also feature a lockable steel cabinet for a small generator that will run approximately 45 hours on a standard 2000-watt generator with an included auxiliary fuel tank."
Astl emphasizes that since Lind Equipment is a lighting company exclusively, it offers a variety of lighting solutions for the construction and rental industries, including having a selection of flood and wide-area lights. Its portable wide-area flood light extends to 10 feet high and can be retrofitted to virtually any base.
Different directions 
LED technology is making its way into the rental market, but there's still some customers who are resistant change and the cost of LED fixtures is still higher than metal halide, making the purchase a difficult one for some store owners.
"Reportedly, every year LED output increases by 10 percent whereas cost decreases by 10 percent," states Generac's Goche. "Whether that's completely accurate or not, the trend is unmistakable, and costs soon will not be an issue.
LED costs aside, Goche sees three areas of growth for LED light towers. "Deploying a combination of an engine light tower and plug-in models is bound to get more popular as rental customers and other users realize the benefits of one engine-driven light tower powering up to three additional light towers.
"Dusk to dawn features that incorporate smart technology to automatically turn light towers on and off will continue to grow in popularity to save on operating and maintenance costs. Controller interface simplicity is also needed to serve the wide range of customers operating our products," he says.
Goche also anticipates an uptick in the hybrid light tower market being led by fuel-conscious European markets. Battery technology is improving along with lower power requirements of LED lights to help drive hybrid products. Again, the current stumbling block is the additional cost for a battery, engine and generator. "Still," says Goche, "there are applications that are ideally suited for a hybrid light tower. Entertainment or sport venues needing quiet operation at night and recharging the battery during the day would be one such occasion."
The plug-in market will grow as rental customers and other users become aware of benefits like ease of setup, no fuel costs and maintenance, smaller carbon footprint, and virtual noiseless operation. As Allmand's Northway points out, rental stores have two important roles to play in this market: 1) to educate customers about these benefits, and 2) to help educate manufacturers about just how and where customers plan to use these lights.