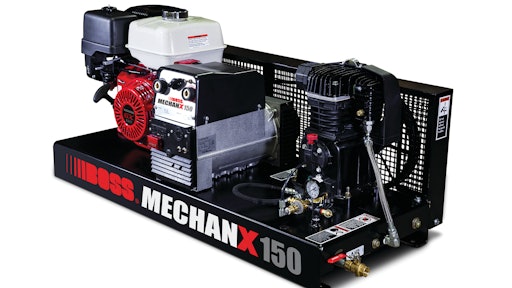 "The MechanX 150 is a combination of simplicity and performance for the do-it-yourselfers. Offering 13 cfm of air, 4.0kW of AC power and 150 welding amps. This product is ideal for the Construction and Tire service industry," says Chuck Hamilton with BOSS.
The MechanX 150 features a 14-hp Kohler engine with electric-start capabilities and automatic engine idle. The welder feature includes a two-pole direct-current brushes rotating welder with auto resettable thermal overload breaker for welder protection.
Remote air tank options include 10, 22 and 28 gal.
Additional features include: an Atmospheric Unloading System, rubber engine oil drain extension, 1/2-in. shut-off valve, finned aftercooler, stainless-steel reed valves, and a heavy-duty steel belt guard base.
The heavy-duty single stage pump features a cast-iron cylinder. The MechanX 150 has an IP23 rating and an ASME safety relief valve.
"The MechanX 150 is a starter or entry level product that has performance of a higher valued product, but we do offer multiple products in the MechanX line, with each one adding a feature and/or a specific product enhancement for just about any situation the product can serve," Hamilton adds. "The future demand in the Multi-Function category is currently the most sought after product in the air compressor marketplace. This is the reason we introduced different models within the MechanX line to fit a multiple application requirements, from price all the way thru performance."