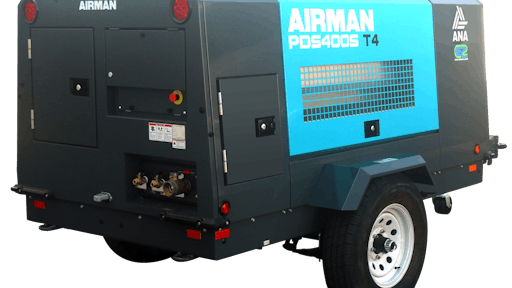 ANA Inc., has introduced, the PDS400SC-6E1, a new model of AIRMAN Air Compressor with built in aftercooler. Powered by a 110.4 HP Kubota Diesel engine, this portable compressor can deliver 400 cfm at 100 psi. The built-in aftercooler cools the discharge air through a radiator and removes all water and oil from the discharge air. This model joins the PDS400S 400 cfm unit, PDS310 150/200 psi Dual Pressure, and PDS375 100/150 psi Dual Pressure unit to complete the AIRMAN High Production series, distributed by ANA.
"AIRMAN continues to produce the most reliable and highest performing air compressors in their class." said Kevin Day, president of ANA. "We are excited to be able to add this latest specialized model to our offering."
Units are available now for immediate delivery.
Request More Information
Fill out the form below to request more information about
ANA Introduces PDS400SC-6E1 Air Compressor with Aftercooler