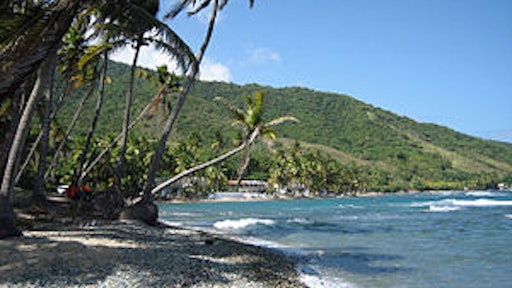 SAN JUAN, Puerto Rico — On a late afternoon last week, the two overhead ceiling fans in the living room of the 200-year-old La Posada slowed to a standstill. The soft purr of the central air conditioning stopped.
The silence was jarring. The four people in the room, acutely attuned to the silence of a power outage, stopped talking and listened.
Jenny Garcia, a psychologist and owner of the villa, formally known as La Posada de Juana la Loca (Juana was a crazy nun), looked at her sweating guests and made a decision. "I'm going to turn on the generator even though it makes so much noise."
The roar of the generator brings back bad memories of those weeks when Federal Emergency Management Agency workers stayed in the house after Hurricane Maria — the 10th-most intense Atlantic storm on record. It hit Puerto Rico on Sept. 20.
The power blackout following the hurricane was the worst in U.S. history, and the second-longest in world history (after Typhoon Kalyan in the Philippines in 2013). It was the strongest hurricane to make landfall in Puerto Rico since 1928.
Garcia noted that generators, rain and wind are sounds that are difficult to hear for many people on the island suffering from varying degrees of post-traumatic stress disorder in the aftermath of the storm. Marriages splintered from enormous burdens; families were separated; food, water and medical care were scarce. But, slowly, residents are regaining their footing, she said.